SpaceX's 1st Starlink Internet Satellite Megaconstellation Launch in Photos!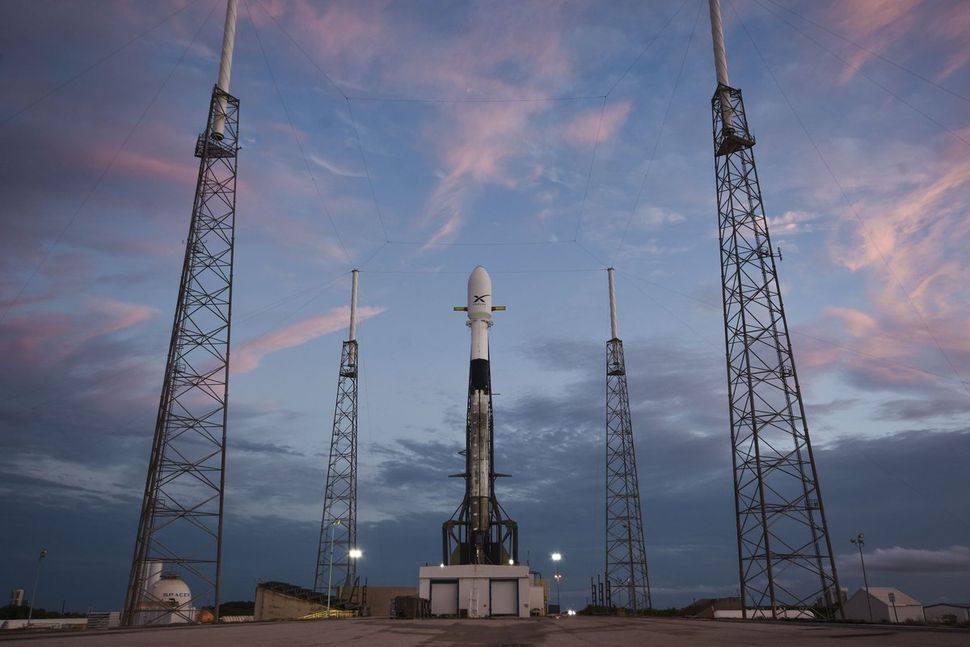 On May 23, 2019, SpaceX launched its first 60 Starlink internet satellites for a planned megaconstellation using a previously flown Falcon 9 rocket. See the mission in pictures here!
In this view, a SpaceX Falcon 9 rocket is prepared to launch the Starlink satellites into orbit from Space Launch Complex 40 at Cape Canaveral Air Force Station in Florida. The pink-hued clouds make for a picturesque scene.
LIFTOFF! After a week of delays, SpaceX launched the Starlink satellites at 10:30 p.m. EDT (0230 GMT) from Cape Canaveral Air Force Station, Florida.
Here's a look inside the fairing of the Starlink satellite payload section. You can see the 60 Starlink satellites are sandwiched together in a colossal tower. In fact, they made up the heaviest payload SpaceX has ever launched.
This view shows just how full the Falcon 9 payload fairing was with the 60 Starlink satellites stowed for launch. They were stacked so close, SpaceX did not include any deployment mechanism at all. As you'll see later in this slideshow, the Starlink satellites were destined to be released en masse.
A view of the Starlink 1 mission's Falcon 9 rocket ride before launch. Look closely at this picture. See that dark scoring around the bottom portion of the rocket? It's soot from previous flights. This Falcon 9 first stage rocket made its third trip to space launching the Starlink satellites. It was only the second time so far SpaceX had flown a booster more than twice!
It did take a few tries for SpaceX to get its first 60 Starlink satellites off the ground. Here's a view from an earlier launch attempt that was foiled by high upper-level winds. SpaceX would ultimately delay a second time to allow time for extra hardware checks.
The nine Merlin engines on SpaceX's Falcon 9 first stage propel the rocket on its third flight to space May 23 to deliver the Starlink satellites into orbit.
This view shows two camera angles on the Falcon 9 rocket just after payload fairing separation, when the rocket sheds the nose cone covering its satellite cargo. You can see the stacked Starlink satellites in the upward looking view on the right. The left-side image may appear dark, but it's a view looking down on the first stage of the Falcon 9. Those fuzzy bright areas in the upper left corner are actually city lights on the U.S. East Coast.
Since SpaceX likes to reuse rocket boosters, every flight can include many different things at once. Here, the Falcon 9 first stage relights its engines for a reentry burn in order to guide itself back to Earth. Meanwhile, at right is the upper stage engine on the rocket firing to get its payload to orbit.
Touchdown! SpaceX's Falcon 9 rocket booster aces its third landing after a successful flight. The rocket landed on SpaceX's drone ship Of Course I Still Love You in the Atlantic Ocean amid raucous cheers from SpaceX engineers watching via a webcast from the company's mission operations center in Hawthorne, California. The video cut out just at the moment of landing, but telemetry confirmed a successful touchdown.
As SpaceX's Falcon 9 first stage was returning to Earth, its upper stage was busy hauling the 60 Starlink satellites into orbit. Here's a truly jaw-dropping view of the Starlink satellites with the Earth in the background as seen from SpaceX's upper stage payload camera.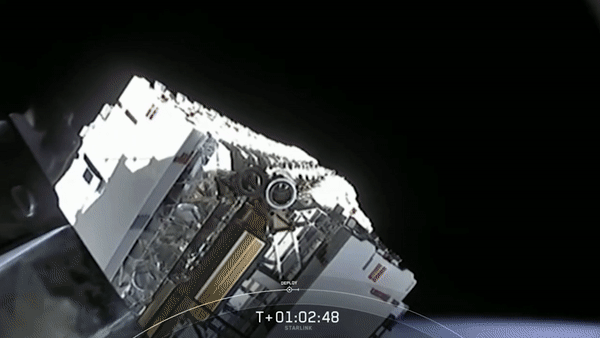 And here it is! Watch all 60 SpaceX Starlink satellites deploy at once in this video animation of views form the upper stage camera as the spacecraft were released all at once.
SpaceX managed to recover both halves of the payload fairing that protected the 60 Starlink satellites during launch. Here, one half is seen aboard a SpaceX recovery ship.
There's much more work ahead for SpaceX's first Starlink satellites. They'll have to deploy their life-giving solar arrays (seen here in an animation) if they're going to survive long in space.
And finally, here's a glimpse at SpaceX's mission emblem for the first Starlink mission. The many white dots represent the full coverage of SpaceX's internet satellite constellation, while the traditional shamrock for luck is visible at bottom. A rendering of a Starlink satellite is seen in yellow at top.
Looking for more awesome SpaceX news? Check out our full archive here for the latest SpaceX launches, missions and news!