The U.S. Navy confirms the existence of "top secret" files about a 2004 UFO sighting, government studies conclude that 2019 was the second hottest year on record, and scientists find the oldest material on Earth — ancient stardust. These are just some of the top stories this week on Space.com.
Last year was the second hottest year on record.
Last year's extreme climatic events weren't some random coincidence: 2019 was the second hottest year on record, according to two new studies by NASA and the National Oceanic and Atmospheric Administration (NOAA). Their analyses show that the five hottest years on record since 1880 were the five years beginning in 2015. NOAA's temperature report showed that 2019 was the 43rd year in a row that saw above-average global land and ocean temperatures.
Full story: 2019 was the second hottest year on record, NASA says
Satellites can see that recent earthquakes have changed the Puerto Rican landscape.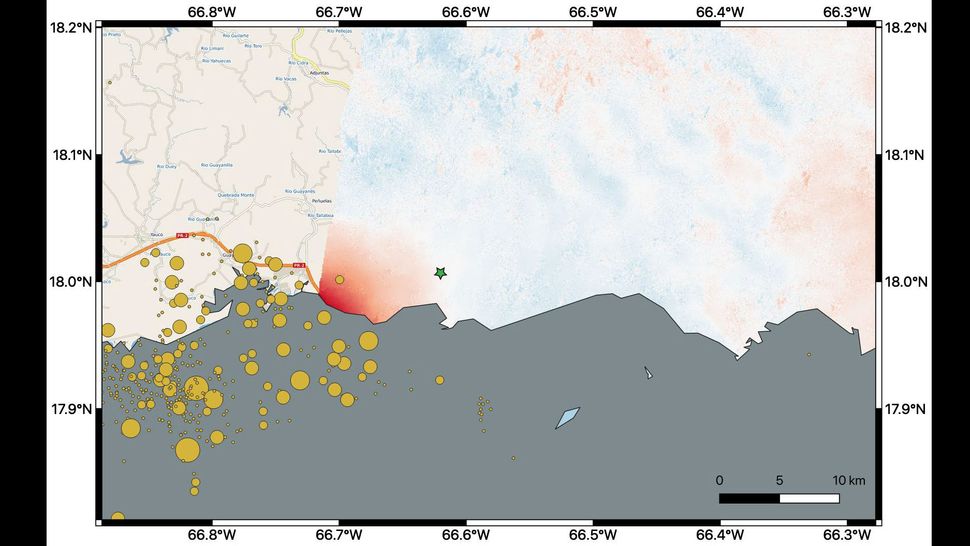 Puerto Rico's landscape has changed following the earthquakes that have shaken the island in recent weeks. Scientists are using satellite imagery to track the changes, according to a statement issued by NASA officials on Jan. 10. NASA is making its data and scientific expertise available to aid response and recovery efforts in Puerto Rico, and the United States Geological Survey is providing regular updates about the earthquakes.
Full story: Earthquakes in Puerto Rico have changed the landscape. Satellites can see it from space.
Meteorite stardust is the oldest known material on Earth.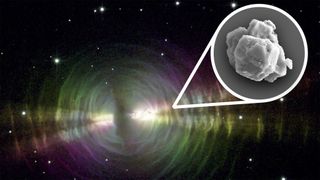 There is stardust on Earth that is older than the sun, new research reveals. When a massive meteorite fell over Australian in 1969, it carried ancient interstellar dust down to Earth with it. Scientists recently identified that these tiny grains are 7 billion years old.
Full story: 7 billion-year-old stardust is oldest material found on Earth
Second all-woman spacewalk in history.
On Jan. 15, the astronauts that performed the first all-female spacewalk in history stepped outside the International Space Station to conduct the second all-female spacewalk. NASA astronauts Jessica Meir and Christina Koch performed their 7.5 hour extravehicular activity and were tasked with replacing the batteries of a pair of solar-arrays.
Full story: Astronauts upgrade space station batteries in second all-woman spacewalk
Volcanic eruption in the Philippines seen from space.
Taal volcano in the Philippines erupted on Jan. 12, sending ash plumes high into the sky. Satellites operated by Japan, NASA and the National Oceanic Atmospheric Administration (NOAA) captured views of these 9-mile high (14-kilometer high) plumes from their vantage point in space. The activity has caused extreme weather events around near the volcano's location just south of the country's capital city, Manila.
Full story: Huge Philippines volcano eruption blasts ash 9 miles up as satellites watch (video)
The French spaceflight company Arianespace made its first launch of 2020 this week. On Thursday (Jan. 16), an Ariane 5 rocket brought two satellites — the Eutelsat Konnect from Europe satellite and the GSAT-30 from India — into geosynchronous orbit. The rocket launched from the Guiana Space Center near Kourou, French Guiana.
Full story: Ariane 5 rocket launches communications satellites for India, Eutelsat into orbit
China launched mystery payload into space.
China made its first launch of 2020 when a Long March 3B rocket carried a mysterious satellite into space on Jan. 7. The country has kept silent about this launch, but usually identifies who owns or will use the satellites it carries into space, so analysts think the payload is connected to the military.
Full story: China kicks off 2020 with mystery satellite launch: report
See Also: China lofts 4 satellites into orbit with its second launch of 2020
Thirty Meter Telescope controversy touched on during a major astronomy conference.
The American Astronomical Society convened in Honolulu, Hawaii this month, and during certain moments of the conference, the controversy about the construction of the Thirty Meter Telescope on the island's Maunakea summit came up. One such moment occurred at the end of the conference, when two protestors of the telescope construction shared their thoughts to astronomers and offered an invitation to their outpost on Maunakea.
Full story: Controversy over giant telescope roils astronomy conference in Hawaii
Scientists spot another exoplanet around the closest star to the sun.
A new study reports that the closest exoplanet to Earth may have a companion. The red dwarf star Proxima Centauri is the closest stellar neighbor to our sun, and in 2016, researchers spotted its exoplanet, Proxima b. Now, new research suggests Proxima b has a planetary sibling that is at least 6 times more massive than Earth.
Full story: Proxima Centauri, the sun's nearest neighbor, may host a 2nd alien planet. Meet Proxima c.
See also: 2 potentially habitable 'Super-Earths' and a record-setting 'Cold Neptune' found in exoplanet haul
U.S. Navy has "top secret" files about a 2004 UFO sighting.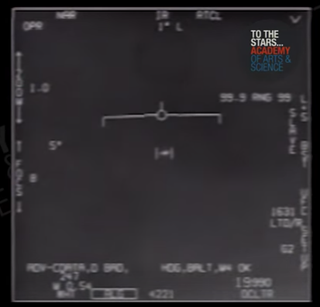 Vice reported that a spokesperson from the U.S. Navy's Office of Naval Intelligence confirmed The Navy possesses several top-secret documents and one classified video pertaining to a UFO sighting from 15 years ago, according to a Vice report. A spokesperson from the Navy's Office of Naval Intelligence confirmed this in response to a recent Freedom of Information Act request. The November 2004 sighting was made by several Navy pilots stationed in the Pacific Ocean.
Full story: Top-secret UFO files could 'gravely damage' US national security if released, Navy says