A teenager finds an exoplanet around two stars during a NASA internship, SpaceX destroys one of its rockets for an important flight abort test and the Spitzer Space Telescope will soon take its final observations after 16 years of gazing at the universe in the infrared. These are just some of the top stories this week from Space.com.
SpaceX destroys its rocket for launch abort test.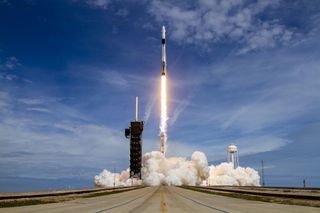 SpaceX conducted an in-flight abort (IFA) test by intentionally destroying one of its rockets. The Jan. 19 test brought the company's Crew Dragon crew capsule one step closer to launching humans safely into space.
Full Story: SpaceX aces Crew Dragon launch abort test, destroys rocket on purpose
See Also: SpaceX's Crew Dragon returns to shore after successful abort test (photos)
Meir and Koch perform third all-woman spacewalk.
The pair of space flyers who performed the first all-woman spacewalk in October 2019 completed their third extravehicular activity (EVA) this week. The procedure took place on Monday (Jan. 20), Martin Luther King Jr. Day. NASA astronauts Jessica Meir and Christina Koch honored King's legacy during the 6-hour and 58-minute spacewalk.
Full Story: Astronauts honor Martin Luther King, Jr. and replace ISS batteries on 3rd all-woman spacewalk
TESS' first circumbinary exoplanet sighting was spotted by a teenager.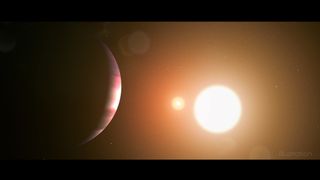 A teenager who had just wrapped up his junior year of high school discovered a distant planet orbiting two stars, or circumbinary exoplanet. Wolf Cukier found the exoplanet during a NASA internship at the space agency's Goddard Space Flight Center. The data he looked at came from a mission called TESS, or Transiting Exoplanet Survey Satellite.
Full Story: High school student discovers alien planet with twin suns just days into a NASA internship
Scientists identified oldest known impact crater on Earth.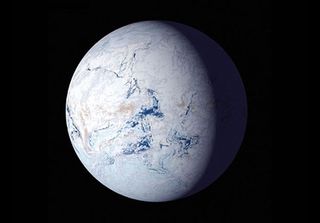 On Jan. 15, the astronauts that performed the first all-female spacewalk in history stepped outside the International Space Station to conduct the second all-female spacewalk. NASA astronauts Jessica Meir and Christina Koch performed their 7.5 hour extravehicular activity and were tasked with replacing the batteries of a pair of solar-arrays.
Full story: Astronauts upgrade space station batteries in second all-woman spacewalk
Spitzer Space Telescope mission will soon end.
Science missions come and go, and this month, NASA will say goodbye to one of its four Great Observatories. On Jan. 30, NASA will turn off its Spitzer Space Telescope. The 16-year old mission takes infrared light observations to let scientists peer deep into the universe, past clouds of dust and gas that obstructs other telescopes from viewing distant objects.
Full Story: The Spitzer Space Telescope will shut down Jan. 30. NASA celebrates its legacy this week.
Mars 2020 rover will get a new name.
The car-sized Mars 2020 rover is set to launch this summer, sometime between July and August 2020. NASA asked grade school students to submit new names for the future Red Planet mission, and officials selected three submissions from each of these three age categories — grades K-4, 5-8 and 9-12. The nine mission-name finalists are: Endurance, Tenacity, Promise, Perseverance, Vision, Clarity, Ingenuity, Fortitude and Courage.
Full Story: NASA's next Mars rover will get one of these 9 names
China to launch next-generation crew capsule in a few months' time.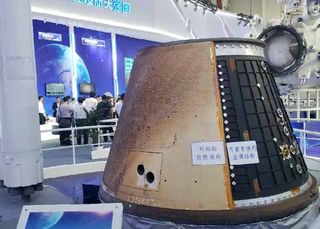 China's new deep-space crew capsule arrived at a coastal spaceport on Monday (Jan. 20) for a test flight. The yet-to-be-named spacecraft will launch sometime in the next few months and is currently sitting at Wenchang Satellite Launch Center on Hainan island in the South China Sea. The crew capsule will be capable of carrying six astronauts into space and can survive the radiation environment of deep space, according to the China Manned Space Agency.
Full Story: China readies its new deep-space crew capsule for 1st test flight
Park ranger spotted rare mounds of crystalline mineral in Utah.
A mineral known as mirabilite has emerged above the surface of Utah's Great Salt Lake, and scientists think its molecular structure might also exist on Mars. Scientists think the Martian version of this mineral could preserve traces of microbes that may have lived within Mars' ancient saltwater lakes. Four white mounds of mirabilite measuring up to 3 feet (1 meter) high were first seen in October 2019 by a park ranger.
Full Story: Strange 'martian' mineral mounds rise up from Utah's Great Salt Lake
"Terminator Tape" will get another orbital test soon.
The "Terminator Tape" module is designed to unfurl and catch space-junk in Earth orbit. The notebook-sized module features a strip of electrically conductive tape and was first deployed by the Prox-1 spacecraft in September 2019. The CEO of the company that built the ''Terminator Tape'' recently stated that the module did its job in a space-junk test. It will get another orbital test soon.
Full Story: 'Terminator Tape' did its job in space-junk test — and it will be back
Cygnus spacecraft named after first black astronaut.
Representatives of Northrop Grumman, an American company from the aerospace and defense technology sector, announced on Martin Luther King Jr. Day (Jan. 20) that their 13th Cygnus spacecraft will be named the "S.S. Robert H. Lawrence" for the first black astronaut, Robert Henry Lawrence, Jr. who was tragically killed in the crash of a supersonic jet at the age of 32 in 1967. In his short life, Lawrence participated in test flights that helped inform the landing performance of NASA's space shuttle orbiters. Lawrence was the first black astronaut, but not the first to fly into space; that came two decades later when Guion "Guy" Bluford launched into space in 1983.
Full Story: Northrop Grumman names Cygnus spacecraft for first African American astronaut