The Congressional Gold Medal is awarded to NASA's "hidden figures," the distant object visited by NASA's New Horizons spacecraft gets a new name and a Japanese spacecraft begins the long journey from an asteroid back to Earth. These are just some of the top stories this week from Space.com.
Mercury transits the sun.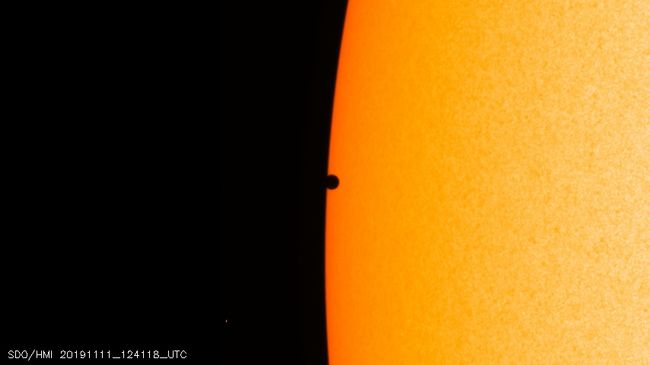 On Monday (Nov. 11), Mercury's silhouette could be seen passing in front of the sun. Also known as a Mercury transit, this event won't be seen from planet Earth until 2032.
Full Story: Rare Mercury Transit, the Last Until 2032, Thrills Skywatchers Around the World
See Also: Mercury Transit 2019: Photos, Videos and Explainers for the Rare Sight
'Ultima Thule' changed to 'Arrokoth'.
"Arrokoth" is the new name for a 21-mile-wide (34 kilometers) distant object visited by a NASA mission at the beginning of 2019. Team members from the New Horizons mission announced the new name for the object, whose former name "Ultima Thule" caused controversy, on Tuesday (Nov. 12).
Full Story: Meet Arrokoth: Ultima Thule, the Most Distant Object Ever Explored, Has a New Name
Japanese spacecraft starts year-long journey back to Earth.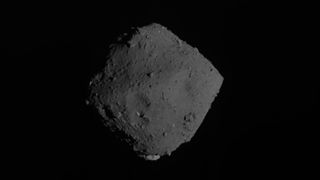 A Japanese mission visiting the asteroid Ryugu departed the space rock for a return trip back to Earth. On Tuesday (Nov. 12) the Hayabusa2 mission sent the return command to the spacecraft, which will take about a year to come home.
Full Story: Farewell, Ryugu! Japan's Hayabusa2 Probe Leaves Asteroid for Journey Home
Astronauts begin challenging spacewalks to fix dark matter experiment.
On Friday (Nov. 15), two crewmembers on the International Space Station exited the orbiting laboratory to perform one of the most challenging spacewalks ever. NASA astronaut Andrew Morgan and ESA astronaut Luca Parmitano will perform four total spacewalks over the next several weeks to repair a $2 billion experiment that studies cosmic particles in space to find evidence of antimatter and dark matter.
Full Story: Astronauts Will Take 4 of the Most Challenging Spacewalks Ever to Fix a Dark Matter Experiment
Star observed whizzing through the Milky Way.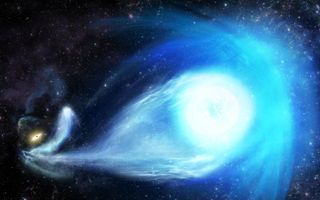 A group of researchers spotted a star in the Crane-shaped constellation Grus that was speeding through space at a rate about 10 times faster than most stars in our galaxy. This star was possibly shot out on its fast trajectory by the supermassive black hole at the center of the Milky Way, known as Sagittarius A*.
Full Story: A Star Ejected from the Milky Way's 'Heart of Darkness' Has Reached a Mind-Blowing Speed
Fireball over Missouri.
On Monday (Nov. 11), over 120 sightings of a fireball were reported across multiple cities in Missouri, including St. Louis and Columbia (which are about 125 miles, or 200 kilometers, apart.) A video shows the bright object streaking over the Gateway Arch in St. Louis.
Full Story: Watch a Brilliant Fireball Flash Over St. Louis' Historic Arch (Video)
Oxygen readings from Curiosity Mars rover puzzles researchers.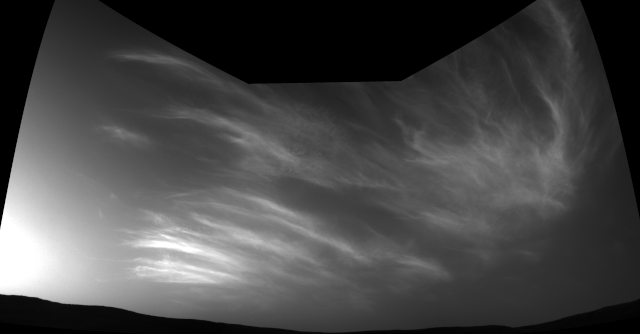 A new study published on Tuesday (Nov. 12) reports that NASA's Curiosity rover observed peculiar changes to the levels of oxygen in the Martian atmosphere. Oxygen's behavior does not repeat perfectly every season on Mars, scientists said, which might be attributed to a geological (and not biological) process.
Full Story: 1st Methane, Now Oxygen: Another Possible 'Biosignature' Gas Is Acting Weird on Mars
NASA's OIG releases 53-page report.
On Thursday (Nov. 14), NASA's Office of Inspector General released a new 53-page report that says regular crewed missions on SpaceX's Crew Dragon and Boeing's Starliner will not happen before summer 2020, which is slightly later than the spring 2020 timeline advertised by the Trump administration. The OIG also found that NASA overpaid Boeing in the commercial crew arrangement.
Full Story: Regular Crew Launches by SpaceX, Boeing Likely Won't Start Until Summer 2020, NASA Inspector General Says
See Also: White House Wants More Moon Money for NASA's Artemis Program
SpaceX launches 60 Starlink satellites.
On Monday (Nov. 11) SpaceX launched another 60 internet satellites into space as part of its Starlink constellation. The growing constellation, which concerns several astronomers, launched atop a Falcon 9 rocket, making this the private spaceflight company's 9th Falcon 9 launch this year.
Full Story: SpaceX Just Launched 60 Starlink Satellites (And Nailed a Milestone Rocket Landing)
See Also: Why Astronomers Worry About the Brightness of SpaceX's Starlink Satellite Megaconstellation
The highest civilian award in the United States will honor NASA's 'hidden figures,' the black women who contributed to NASA's journey to the moon. The Congressional Gold Medal will be provided to mathematician Katherine Johnson and engineer Christine Darden, and posthumously to engineer Mary Jackson and Dorothy Vaughan.
Full Story: NASA's 'Hidden Figures' to be Awarded Congressional Gold Medals