An asteroid passes through the foreground of a Crab Nebula image, museum representatives describe the funny smell a meteorite gives off and China unveils its Mars explorer. These are just some of the top photos this week from Space.com.
HiRISE Snaps View of InSight on Mars
NASA's InSight Mars lander appears in this newly released bird's eye view taken by HiRISE, or High Resolution Imaging Science Experiment, a camera aboard NASA's Mars Reconnaissance Orbiter. "Taken on Sept. 23, 2019, at an altitude of 169 miles (272 kilometers) above the surface, the new image is NASA's best view yet of InSight from space," NASA officials wrote on Wednesday (Oct. 16) in a description of the photo.
(Image credit: NASA/JPL-Caltech/University of Arizona)
Full Story: NASA Spots InSight Mars Lander and Curiosity Rover from Space (Photos)
China Unveils Mars Explorer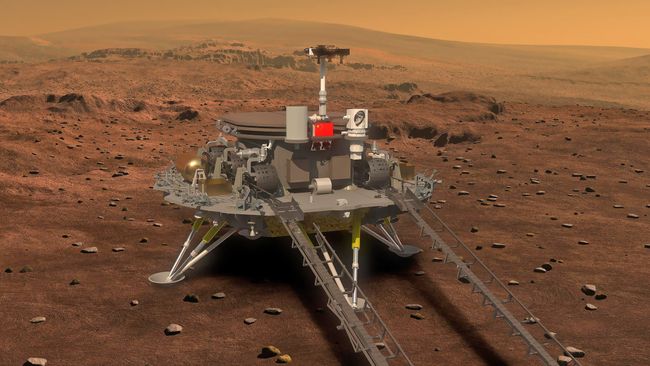 China's new Mars explorer debuted in this image issued by the China Aerospace Technology Corporation. The encapsulated spacecraft sits within its cocoon-like aeroshell in this picture published Oct. 12 via Twitter. "If [there's] no surprise, the Mars explorer is going to be launched in 2020, and land before 2021," according to Ye Jianpei, chief scientist of Space Science and Deep-space Exploration with the Chinese Space Technology Academy, who was quoted on state-run China Global Television Network (CGTV).
Full Story: This is the 1st Photo of China's Mars Explorer Launching in 2020
'Aguas Zarcas' Smells Like Brussel Sprouts
This unassuming mudball meteorite from Costa Rica has a distinct smell, and it now calls Chicago home. The object is called Aguas Zarcas, weighs about 4 lbs. (1.8 kilograms), and smells like cooked Brussel sprouts. That's how representatives at the Field Museum of Natural History in Chicago described the meteorite, whose organic compounds produce the smell.
Full Story: 'Cosmic Mudball Meteorite' Smells Like Brussels Sprouts, Finds New Home at Museum
Welcome, Orionids!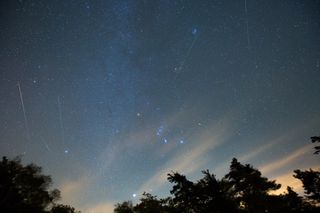 The constellation Orion the Hunter glimmers in the center of this image as the 2017 Orionid meteor shower streaked over the Catskill Mountains in New York. The Orionid meteor shower normally lasts from Oct. 16 to 26, and usually offers some of the most visible displays of "shooting stars" throughout the year. The moon will be just past its last quarter phase on Tuesday (Oct. 22) when they peak, potentially obstructing their visibility this time around.
Full Story: The Orionid Meteor Shower 2019 Peaks Soon: Here's What to Expect
Meir and Koch Make History!
On Friday (Oct. 18), NASA astronauts Jessica Meir (left) and Christina Koch (right) made history by completing the first all-women spacewalk. This NASA image shows them inside the Quest airlock preparing the U.S. spacesuits and tools they would use on their first spacewalk together. Their list of tasks include repairing a battery charge/discharge unit on one of the solar arrays that failed after Koch and NASA astronaut Nick Hague replaced a battery during a spacewalk one week prior.
Full Gallery: The 1st All-Woman Spacewalk: Photos, Videos and Celebratory Tweets
First Female Spacewalker
The first woman to complete a spacewalk, or extravehicular activity (EVA), was Soviet cosmonaut Svetlana Savitskaya, who spacewalked during her second flight to orbit in July 1984. She also became the second woman to fly to space in 1982 with the Soyuz T-5 mission to the Salyut 7 space station. — Clara Moskowitz
Full Gallery: Women in Space: A Gallery of Firsts
Milky Way Over ALMA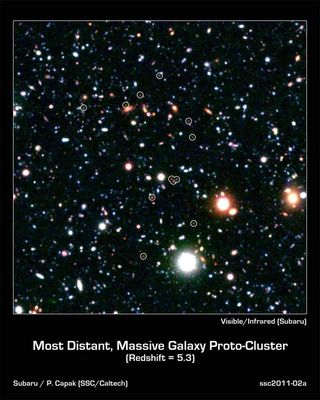 The Milky Way glistens above four antennas of the Atacama Large Millimeter/submillimeter Array (ALMA), a telescope array in northern Chile. The antennas, which are located at ALMA's Array Operations Site on Chajnantor plateau, are at an altitude of about 16,400 feet (5,000 meters), and the facility is one of the highest human-made structures in the world. — Hanneke Weitering
A Feathered 'Photobomber' at La Silla
A mysterious bird and its seemingly huge talons photobomb an all-sky camera's view of the cosmos in this lucky shot from the La Silla Observatory in Chile. The all-sky camera constantly streams live views of the Danish 1.54-meter telescope, allowing online spectators to see the telescope in action, observe the Milky Way — and occasionally catch a glimpse of the local wildlife. Officials with the European Southern Observatory, which operates the telescope facility, have not yet been able to identify the species of the bird that perched on this all-sky camera, but they suspect it was a nocturnal bird of prey. — Hanneke Weitering
Astronaut's View of the First Quarter Moon
The first-quarter moon rises over Earth's thin, blue atmosphere in this photo taken by an astronaut at the International Space Station. One of the six Expedition 61 crewmembers on board captured this view on Oct. 5, when the moon was waxing. It became full on Sunday (Oct. 13), and the moon will once again be half illuminated on Monday (Oct. 21) when it reaches its third quarter phase. — Hanneke Weitering
Asteroid Zips Across the Crab Nebula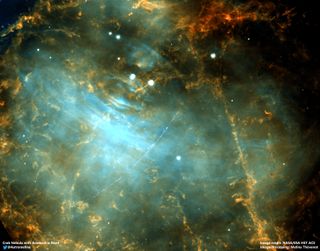 While capturing an image of the Crab Nebula, the Hubble Space Telescope inadvertently also caught a view of an asteroid in our solar system passing through the foreground. The Crab Nebula is a supernova remnant located approximately 6,300 light-years from Earth in the constellation of Taurus, the Bull. An asteroid, designated 2001 SE101, can be seen streaking across the frame from the bottom left toward the top right of the image. Citizen scientist Melina Thévenot from Germany discovered the asteroid photobomb in this 2005 Hubble image as part of the European Space Agency's "Hubble Asteroid Hunter" citizen science project. — Hanneke Weitering