An amateur astronomer captures the flash from an asteroid hitting Jupiter, an astrophotographer notices a comet is orbited by a little moon, and the Perseid meteor shower dazzled skywatchers across the world. These are just some of the top space photos this week on Space.com.
Asteroid Strikes Jupiter
Amateur astronomer Ethan Chappel captured the sight of an asteroid striking Jupiter's Southern Equatorial Belt. The bright spot on the left side of the gas giant in these two views appeared on Aug. 7, and was produced by a rock that astronomers estimate in about 16.5 feel to 65 feet (5 to 20 meters) across. These strikes are not uncommon, as Jupiter's large mass attracts about one to five hits from space rubble every month.
Full Story: Something Just Smacked Jupiter and Here's the Photo to Prove It
Space Crew Views August Moon
Crew members aboard the International Space Station captured this beautiful view of a nearly full moon on Tuesday (Aug. 13). According to a NASA description of the photo, the space lab was orbiting 270 miles (434 km) above the South Pacific Ocean when this shot was taken. The full moon appeared a few days later, on Thursday (Aug. 15).
Full Story: The (Nearly) Full Moon of August 2019 Wowed Astronauts in Space. Here's What YOU Can See
Churymoon!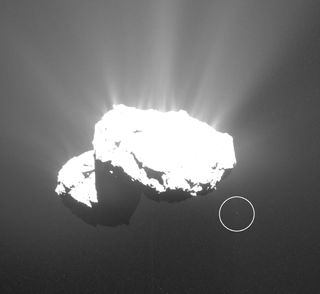 This dazzling sight is the latest gem to emerge from Europe's Rosetta mission to Comet 67P/Churyumov-Gerasimenko. The plethora of imagery beamed back to Earth from this spacecraft's 2015 journey is still revealing new and exciting findings, and earlier this year, Spanish astrophotographer Jacint Roger noticed a small chunk of orbiting debris from images taken on Oct. 21, 2015. Rosetta team members have dubbed this 13-foot-wide (4 meters) object ''Churymoon.''
Chinese Military Buildup Seen From Space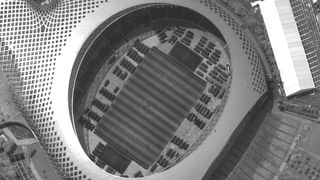 On Monday (Aug. 12), DigitalGlobe's WorldView-1 satellite took this image in which Chinese paramilitary vehicles can be seen inside the Shenzhen Bay Sports Center, located just outside of Hong Kong. This paramilitary police force belongs to the Cho\inese People's Armed Police Force, which focuses on riot control and counterterrorism, according to a report from Business Insider. The protests in Hong Kong began over 10 weeks ago in response to the proposal of an extradition bill that would allow local authorities to detain and extradite people to mainland China and Taiwan. Hong Kong currently doesn't have extradition agreements with these places.
Full Story: Satellite Photo Shows China's Military Buildup in Response to Hong Kong Protests
Perseid Meteor Shoots Over A Shipwreck
A bright Perseid meteor shines above an old shipwreck on the coast of New Jersey in this photo by Jeff Berkes. He captured this photo on the morning of Aug. 11. This annual meteor shower peaked overnight on Aug. 12-13, and in an average year, about 60 ''shooting stars'' can be seen per hour.
Full Story: Perseid Meteor Shower 2019 Dazzles Skywatchers Despite a Bright Moon
'Diamond Ring' Over Argentina
In this timelapse image of the Great South American Eclipse on July 2, the sun sets behind the Andes mountains as the moon crosses directly in front of it, creating a stunning "diamond ring" effect in the evening sky. Astrophotographer Chirag Upreti created this composite using images he captured from Bella Vista, Argentina.
"Totality occurred about 11 degrees above the horizon, and it was emotionally exhilarating to the naked eye, especially because it formed a beautiful connection with the Earth being so close to the horizon," Upreti told Space.com. — Hanneke Weitering
Andromeda and the Perseids
Two meteors dart across the night sky near the Andromeda galaxy, the Milky Way's closest galactic neighbor, in this starry image captured by astrophotographer Omid Qadrdan during the peak of the Perseid meteor shower. Andromeda's tiny satellite galaxy Messier 110 is also visible in this photo, appearing as a fuzzy "star" above and to the left of the galaxy's bright core. — Hanneke Weitering
Fire and Fireballs Over Macedonia
Several bright Perseid meteor dash across the sky near a wildfire in Macedonia in this fisheye view by Stojan Stojanovski. He captured this photo during the peak of the Perseid meteor shower on Monday (Aug. 12). In the center of what appears to be a ring of smoke, the Milky Way galaxy is faintly visible behind four bright meteors, and one smaller meteor can be seen in the distance. — Hanneke Weitering
Milky Way Shines Over VISTA
The arc of the Milky Way galaxy sparkles above the European Southern Observatory's Visible and Infrared Survey Telescope for Astronomy (VISTA) at the Paranal Observatory in Chile in this colorful night-sky photo by astrophotographer Petr Horálek. Barely visible on top of a mountain peak in the background is ESO's Very Large Telescope array. — Hanneke Weitering
An 'Inky Abyss'
In this new image from the Hubble Space Telescope, what looks like a top-down view of a jellyfish glowing in deep space is actually the planetary nebula NGC 2022. The cosmic orb of ionized gas was expelled from a dying red giant star located at its center. As the star sheds material into space, its core shrinks and grows hotter while emitting ultraviolet radiation that illuminates its gassy shell. — Hanneke Weitering