The Curiosity rover takes a bleak image of its Martian surroundings, Mercury transits the sun in a rare celestial event and a lunar "halo" lights up the sky over an observatory. These are just some of the top photos this week from Space.com.
Mercury Transit from Washington D.C.
From Washington D.C., NASA photographer Bill Ingalls captured this stunning shot of the Mercury transit on Monday (Nov. 11). The silhouette of the smallest solar system planet took roughly 5.5 hours to cross the star's disk.
Full Story: The Mercury Transit of 2019 in Photos! The Best Views Until 2032
'Nightingale'
Managers of NASA's OSIRIS-REx mission are narrowing down the four tag-site candidates for next year's rendezvous with asteroid Bennu. This image shows "Nightingale," the northernmost site option on the diamond-shaped space rock. "The site contains mostly fine-grained, dark material and has the lowest albedo, or reflection, and surface temperature of the four sites," NASA's Goddard Space Flight Center said about the site on Twitter.
Full Story: See the 4 Sites Where a NASA Spacecraft May 'Tag' Asteroid Bennu Next Year (Photos)
'Sandpiper'
This is the fourth and southernmost landing site option for NASA's OSIRIS-REx mission. It's "on the southeast floor of a large crater with a radius of 103 ft (31.5 m)," NASA Goddard shared on Twitter." The site itself is a relatively flat area with a 16 ft (5 m) radius."
The mission's goal is to collect a sample from Bennu and return it to Earth for analysis.
Full Story: See the 4 Sites Where a NASA Spacecraft May 'Tag' Asteroid Bennu Next Year (Photos)
Astronaut Honors Veterans Day
NASA astronaut Andrew Morgan took to Twitter to celebrate this year's Veterans Day (Nov. 11), and shared this image from the space station's cupola. "It's a privilege to honor our nation's veterans today," Morgan wrote on Nov. 11 in an accompanying message via Twitter. "My own family's military service extends through multiple generations, representing every branch. I honor all vets by bringing reminders of my family's military legacy to space with me. Your service inspires me! #VeteransDay"
Full Story: Astronauts in Space and on Earth Mark Veterans Day 2019
Curiosity's 'Emo' Imagery
This photo of Mars taken by NASA's Curiosity rover on Nov. 1 shows a bleak landscape of hills and hazy crater mountains. The huge ridge in the background is the rim of Gale Crater, which surrounds Curiosity for about 50 miles (80 kilometers) in every direction.
Full Story: The Curiosity Rover Just Took a Very Emo Photo of Its Rocky Martian Prison
Lunar Halo Over La Silla
A lunar "halo" lights up the night sky above the 3.6-meter telescope at the La Silla Observatory in Chile. This phenomenon happens when the moon is at an altitude of about 22 degrees above the horizon, where light refracts through icy cirrus clouds. "Light rays that do this tend to 'bunch up' at the angle that represents the least amount of deviation from their original path. For the particular shape of ice crystal lurking within the cirrus clouds, this minimum deviation angle happens to be around 22 degrees," ESO officials said in a description. — Hanneke Weitering
Apollo 12: A Happy Moon Return
Apollo 12 astronauts Pete Conrad (front) Richard Gordon (left) and Alan Bean (center top in background) walk out to the Astrovan for the trip to the launch pad at NASA's Kennedy Space Center in Florida ahead of their Nov. 14, 1969 launch. The launch of Apollo 12, 50 years ago this week, kicked off NASA's second crewed moon landing mission, and the first pinpoint lunar landing. Conrad, the mission's commander, and Bean as lunar module pilot landed their Intrepid lander within a short moonwalk of NASA's Surveyor 3 spacecraft. — Tariq Malik
Goodbye, Ryugu!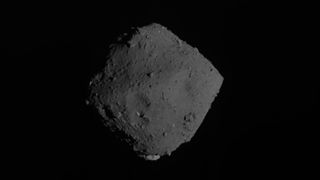 Japan's Hayabusa2 spacecraft departed from the asteroid Ryugu this week to begin its journey back to Earth. This is one of the photos Hayabusa2 took of Ryugu shortly after its departure. The spacecraft will continue to do "farewell observations" of the asteroid as it drifts farther away in space. It will arrive back on Earth at the end of next year with samples from the asteroid's surface. You can see the latest images from Hayabusa2 here. — Hanneke Weitering
Tiny Mercury Transits the Sun
Can you spot the teeny-tiny planet Mercury in this photo of the sun? The European Space Agency's Proba-2 satellite captured this image of Mercury's transit on Monday (Nov. 11) at 10:43 a.m. EST (1543 GMT), about half an hour after Mercury passed the halfway point in its 5.5-hour journey across the sun's disk. The planet appears as a black dot just above and to the right of the sun's center. Still struggling to see it? You can find more photos of the rare Mercury transit in this gallery. — Hanneke Weitering
Mercury's Transit Begins
Monday, November 11, 2019: The tiny planet Mercury scoots across the sun's hot corona and onto its bright disk to mark the beginning of the planet's rare transit on the morning of Nov. 11. The transit began at 7:35 a.m. EST (1235 GMT), when Mercury made its way across the sun's edge. It spent 5 hours and 28 minutes traveling across the face of the sun. — Hanneke Weitering