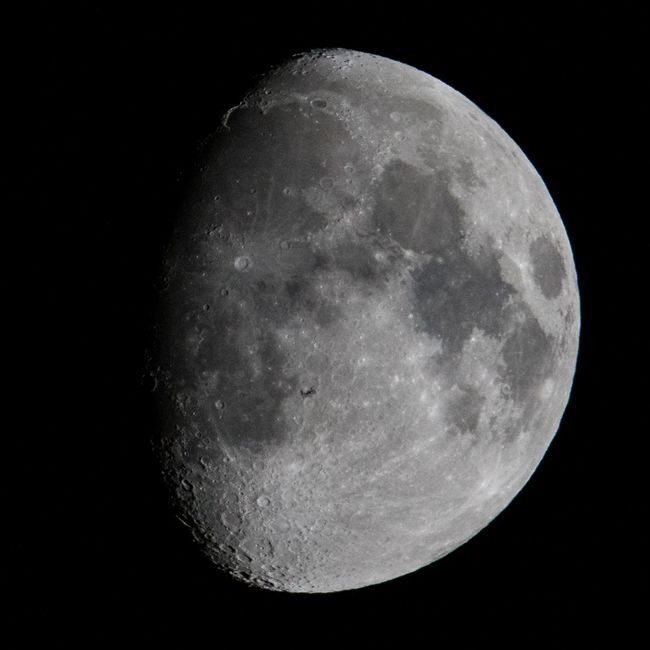 Five individual frames came together to form a new composite image showing the International Space Station as it passed in front of the moon's face. NASA photographer Joel Kowsky caught the orbiting laboratory transit the moon on March 16 from Chantilly, Virginia.
Credit: NASA/Joel Kowsky
[Full Story: Watch the International Space Station Photobomb the Moon in These Awesome NASA Views]
This is the first-ever image of a black hole. About 200 collaborators with the Event Horizon Telescope project created this picture of the supermassive black hole churning away at the center of the elliptical galaxy Messier 87.
Credit: National Science Foundation
[Full Story: All Your Questions About the New Black Hole Image Answered]
Colorful lights appeared over the Norwegian night sky on April 5 when NASA launched a new rocket system from the Scandinavian country to learn about the wind flow in the upper atmosphere of Earth, according to agency officials. The purple, blue and yellow lights were the result of chemical tracers that help researchers track the flow of particles.
Credit: NASA Wallops
[Full Story: 'Alien' Lights in Norway Were a NASA Test, Not an Extraterrestrial Visit]
The bright crescent sliver seen here shining at one corner of the moon is direct sunlight. But the rest of the lunar face is visible because of Earthshine, or the sunlight that reflects off the planet and up towards the moon. Saturn can also be seen in this picture, at the upper right edge of the moon as a white-yellow elongated dot in this Feb. 2 photograph. Astrophotographer Miguel Claro took this image from Alandroal, Portugal.
Credit: <a href="http://www.miguelclaro.com/">Miguel Claro</a>
[Full Story: 'Earthshine' Lights the Way to a Saturn Moon in Stunning Night-Sky Photo]
NASA astronauts Anne McClain, Christina Koch and Nick Hague show off their homemade pizza dinner in this photo from April 5, 2019. The astronauts living on the International Space Station (ISS) indulged in a pizza dinner April 5. "Making pizza in space is similar to making pizza on Earth," NASA astronaut Nick Hague wrote on Twitter. He added, "the only difference is our ovens look a little different and our pizza can float!"
Credit: NASA/CSA
[Full Story: Astronauts Whipped Up a Pizza Dinner to Prep for Spacewalk (And It Looks Tasty)]
This view of the far side of the moon was captured by the Beresheet lander during its lunar orbital insertion on April 4, 2019. The Israeli mission entered into an orbit around Earth's moon in preparation for an April 11 landing to the lunar surface, which it didn't survive.
Credit: SpaceIL/Eliran Avital
[Full Story: Israeli Lunar Lander Snaps Amazing Photos of the Far Side of the Moon]
A cyclonic storm churns through Jupiter's northern hemisphere in this new view from NASA's Juno spacecraft. The swirling cloud formation looks a lot like a hurricane on Earth, with fluffy clouds popping up from the storm's spiral arms. Juno captured this view with its JunoCam imager on Feb. 12, when it was about 5,000 miles (8,000 kilometers) above Jupiter's cloud tops. — Hanneke Weitering
Credit: NASA/JPL-Caltech/SwRI/MSSS/Gerald Eichstadt/Sean Doran
Earth's reflection looks like a beautiful "blue marble" on the visor of Canadian Space Agency astronaut David Saint-Jacques, who took this selfie during a spacewalk outside the International Space Station on April 8. — Hanneke Weitering
Credit: NASA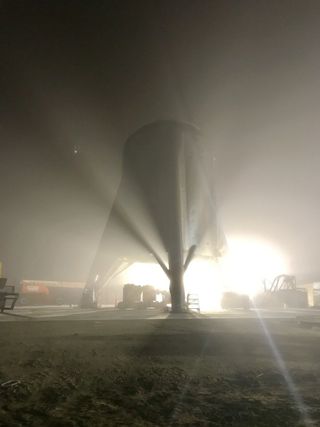 <a href="https://www.space.com/spacex-starhopper-test-hop-end-of-tether.html">SpaceX's Starhopper prototype</a> is seen during testing operations at the company's launch site in Boca Chica, Texas near Brownsville, Texas in this photo released by CEO Elon Musk on April 7, 2019. Starhopper is a prototype for SpaceX's larger Starship spacecraft and its Super Heavy booster. The prototype will make test hops to suborbital altitudes to prove technologies needed for SpaceX's 100-person Starship spacecraft for deep-space flights to the moon, Mars and beyond. — Tariq Malik
Credit: Elon Musk/SpaceX <a href="https://twitter.com/elonmusk/status/1114768707882868737">via Twitter</a>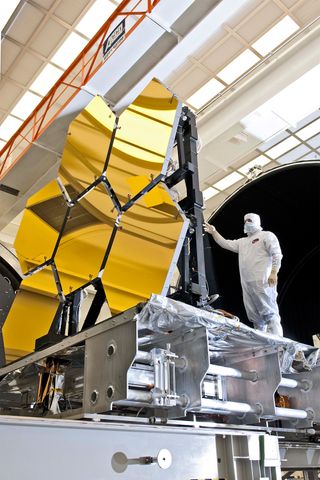 Engineers prepare the optical portion of NASA's James Webb Space Telescope for integration with its rocket at a Northrop Grumman facility in Redondo Beach, California. The new space observatory is scheduled to launch in 2021 on an Ariane 5 rocket. — Hanneke Weitering
Credit: Chris Gunn/NASA