An astronaut spots a beautiful sunrise with a guest appearance from Venus, a photographer catches the moon's blue glow through barren tree branches, and NASA celebrates 10 years of the Lunar Reconnaissance Orbiter mission. These are just some of the top photos this week from Space.com.
This ethereal blue curve is sunlight refracting in Earth's atmosphere at sunrise. NASA astronaut Christina Koch took this beautiful photo from the International Space Station. The planet Venus also makes an appearance as a glimmering spot at the bottom of the image.
(Image credit: NASA)
Full Story: Astronaut Snaps Stunning View of Venus Over an Earth Sunrise
Engineers of NASA's next rover to the Red Planet, called Mars 2020, took a moment for a selfie after attaching the robot's remote sensing mast on June 5, 2019, at the Jet Propulsion Laboratory in Pasadena, California. The team also installed a suspension system and wheels; while the former will be a permanent feature of the mission, the wheels will eventually come off.
(Image credit: NASA/JPL-Caltech)
Full Story: NASA's 2020 Mars Rover Gets Its 1st Wheels, and a Mast, Too (Ahoy!)
A lunar corona peeks through barren tree branches in this night-sky photo. When the water droplets in thin clouds drift in front of the moon's face, the moonlight is diffracted, causing this optical phenomenon. Photographer Miguel Claro captured this image from Évora, a UNESCO World Heritage site located in Portugal's Dark Sky Alqueva Reserve.
(Image credit: Miguel Claro)
Full Story: Blue 'Lunar Corona' Frames the Full Moon in Eerie Night-Sky Photo
This week marks the 10th anniversary of NASA's Lunar Reconnaissance Orbiter (LRO) launch to the moon on June 18, 2009. The orbiter uses seven instruments to examine the lunar surface, and among its most notable achievements is finding extensive evidence of water ice on the lunar surface. This is an LRO view of Wargo Crater, an impact crater on the northwest edge of the moon's Joule T crater.
(Image credit: NASA)
Full Gallery: Amazing Moon Photos from NASA's Lunar Reconnaissance Orbiter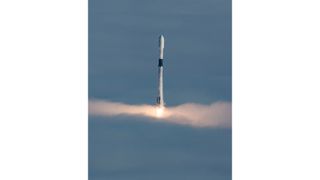 A SpaceX Falcon 9 rocket pierces through a layer of clouds after lifting off in the thick morning fog at Vandenberg Air Force Base in California on Wednesday (June 12). The rocket successfully delivered three Earth-observing satellites into Earth orbit for the Canadian Space Agency before returning to Earth to stick a landing. — Hanneke Weitering
The arc of the Milky Way galaxy stretches over the Atacama Large Millimeter/submillimeter Array (ALMA) in northern Chile in this panoramic shot by European Southern Observatory photo ambassador Petr Horálek. Also visible in the night sky here are the Crux constellation (also known as the Southern Cross), located above and to the right of the nearest antenna, and the Carina Nebula, a reddish-pink emission nebula to the right of the Southern Cross. — Hanneke Weitering
Countless stars fill the cosmic void around the irregular galaxy IC 10 in this deep-space image from the Hubble Space Telescope. Located 2.2 million light-years from Earth in the constellation Cassiopeia, IC 10 is the closest known starburst galaxy, or a galaxy that is undergoing rampant formation of new stars. It is a member of the Local Group, a collection of more than 50 galaxies that includes the Milky Way. This image won 10th place in the Hubble Hidden Treasures competition, which called on the public to help sift through Hubble's enormous collection of images to find the most beautiful ones that did not receive the fanfare they deserved. — Hanneke Weitering
(Image credit: NASA/ESA/F. Bauer; CC BY 4.0)
Ten years ago today, NASA's Lunar Reconnaissance Orbiter (LRO) soared into space atop an Atlas 5 rocket, together with the agency's Lunar Crater Observation and Sensing Satellite (LCROSS). The rocket with the two spacecraft lifted off from Launch Complex 41 at Cape Canaveral Air Force Station in Florida on June 18, 2009, at 5:32 p.m. EDT (2132 GMT). LCROSS intentionally crashed into the moon a few months later, but LRO is still going strong today. — Hanneke Weitering
(Image credit: Tom Farrar, Kevin O'Connell/NASA)
A new photo of Earth from space offers a clear view of southern Italy, a peninsula commonly referred to as "the boot," and the island of Sicily. The northern part of the country is obstructed by a blanket of clouds that stretches as far as the eye can see. An astronaut at the International Space Station captured this view of Italy as it was passing over the Mediterranean Sea on June 9. At the time, the space station was orbiting at an altitude of 255 miles (410 kilometers), which is more than high enough to be able to see the curvature of the Earth. — Hanneke Weitering
(Image credit: NASA)