These are just some of the Top Photos this week from Space.com.
Tropical Storm Barry from Space
An astronaut caught a vast spread of clouds from Tropical Storm Barry as it approaches Louisiana and Mississippi. NASA astronaut Christina Koch shared on Twitter her vantage point from the International Space Station on Thursday (July 11). Those clouds threaten parts of Louisiana and Mississippi with 10 to 20 inches (25 to 50 centimeters) of rain, and a few locations may even see 25 inches (64 cm), according to the National Hurricane Center.
(Image credit: NASA)
Full Story: Astronaut Spots Tropical Storm Barry Menacing the Gulf Coast
Touchdown for Hayabusa2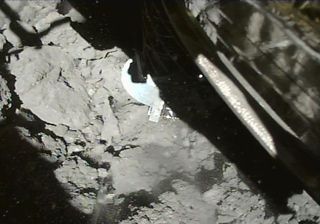 A camera located on Hayabusa2 captured this image 4 seconds after the spacecraft touched down on the surface of asteroid Ryugu Wednesday (July 10). This hours-long maneuver allowed the Japanese spacecraft to retrieve its second sample of the space rock.
(Image: © JAXA)
Full Story: Touchdown! Incredible Photos Show 2nd Asteroid Landing by Japan's Hayabusa2
Proba-2 Sees Partial Solar Eclipse

The European Space Agency's Proba-2 satellite witnessed four partial solar eclipses in space while skywatchers in South America saw a total solar eclipse on July 2, 2019. Proba-2 circles Earth at an altitude of about 435 to 500 miles (700 to 800 kilometers) in a sun-synchronous orbit, which means it has a nearly continuous view of the sun.
(Image credit: ESA/Royal Observatory of Belgium)
Full Story: A Satellite Watched the July 2 Solar Eclipse from Space (Video)
Rupture Caused By Earthquake Seen From Space
The desert town of Ridgecrest experienced a 7.1-magnitude earthquake last week, the most powerful to hit Southern California in two decades. The temblor created a rupture in the Earth's crust, which Dove satellites (built and operated by the San Francisco-based company Planet) captured from space on July 6.
(Image: © Planet Labs Inc.)
Full Story: Surface Rupture from Ridgecrest Earthquake Spotted from Space (Photo)
Dust Storm on Mars
The European Space Agency's (ESA) Mars Express orbiter viewed multiple storms swirling near Mars' north pole over the past few months. On May 29, the mission captured the sight of this dust storm, one of at least eight such events that Mars Express saw from May 22 to June 10.
(Image: © ESA/GCP/UPV/EHU Bilbao)
Full Story: Red Planet Dust Storms Rage in Mars Express Photos
Airglow and the Moon
The moon lights up the star-filled night sky as an effect called "airglow" gives Earth's atmosphere a subtle green glow in this photo taken by an astronaut at the International Space Station. This green luminescence is the result of interactions between atmospheric particles and ultraviolet radiation coming from the sun. — Hanneke Weitering
(Image credit: Nick Hague/NASA)
Lightning and Star Trails
A long-exposure photo of lightning storms seen from space makes Earth look like it's scattered with fluffy bits of dryer lint. Meanwhile, Earth's city lights streak across the land below, an effect caused by both the Earth's rotation and the swift orbit of the International Space Station, where NASA astronaut Christina Koch captured this image. In the background, star trails circle around Polaris, the North Star. — Hanneke Weitering
(Image credit: Christina Koch/NASA/Twitter)
Solar Prominences Appear at Totality
During the total solar eclipse last Tuesday (July 2), bright-pink solar prominences became visible around the sun's atmosphere as the moon blocked its bright surface from view. These prominences are made of tangled magnetic field lines that hold on to plasma in the sun's chromosphere, and the features can extend all the way out into the sun's corona. Prominences are only visible during a total solar eclipse, when the brightest part of the sun is blocked from view by Earth's moon. — Hanneke Weitering
ExoMars Rover Camera Meets Martian Meteorite
The Close-Up Imager (CLUPI) camera set to launch on the European Space Agency's ExoMars rover in 2020 gets ready for its Mars mission by studying a Martian meteorite on Earth. Named "Exhibit 0102.226," the meteorite was discovered in Oman in 2001. Scientists at ESA's ESTEC technology center in the Netherlands loaned the space rock from the Natural History Museum in Bern, Switzerland, to calibrate the instrument before it goes to the Red Planet. — Hanneke Weitering
(Image credit: ESA)