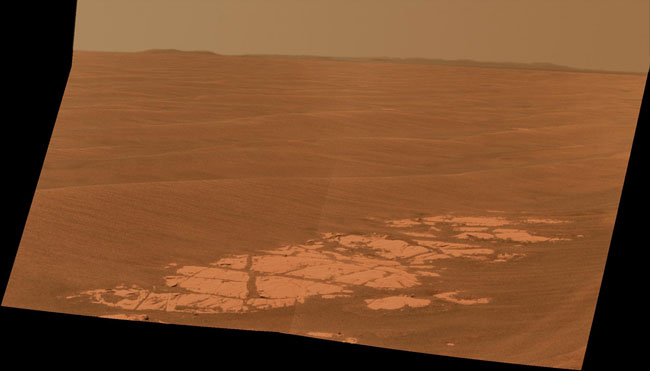 NASA's Opportunity Mars rover has snapped a new picture of its next destination, the distant Endeavour crater.
Opportunity, which began its seventh year on Mars along with its sister rover Spirit in January, has been making a marathon drive toward the giant crater Endeavour since September 2008 after spending two years exploring the somewhat smaller Victoria crater.
The new Mars photo shows an outcrop of rocks at the foot of the rover and beyond these rocks rippled dunes, which are about 8 inches (20 cm) tall. A portion of the rim about 8 miles (13 km) away appears on the horizon at the left edge of the image, along with the rim of an even more distant crater, Iazu, on the right.
Endeavour is Opportunity's biggest crater target yet. It is 13 miles (21 km) in diameter, about 25 times wider than Victoria.
Opportunity?s intended route, about 12 miles (19 km) long, has the rover headed south before turning east in order to bypass potentially hazardous sand ripples to the east, larger than the ripples in the image.
If all goes well, Opportunity is set to match the Viking 1 lander?s record for longest-running mission on Mars of six years and 116 days. Spirit already broke the Martian record on April 30, assuming it wakes up from its winter hibernation.
Opportunity will match Viking 1?s record on May 20.
Most Amazing Mars Rover Discoveries

Mars as Seen by Spirit and Opportunity, Part 2

Video ? Opportunity?s Mars Marathon