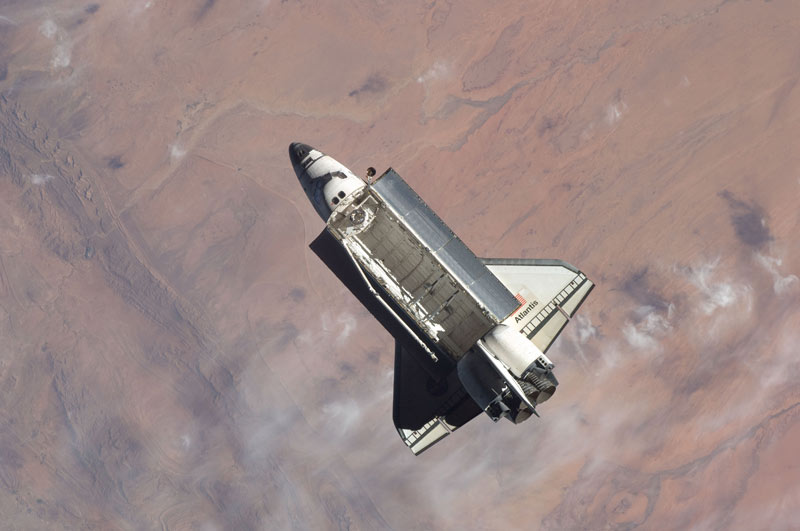 The seven astronauts aboard space shuttle Atlantis are hoping for clear skies above Florida so they can return home today.
Atlantis is due to land at 9:44 a.m. EST (1444 GMT) to cap an 11-day delivery mission to the International Space Station. The weather is expected to cooperate, mission managers said.
?I can tell you already, it?s looking pretty good,? said entry flight director Bryan Lunney.
Atlantis is poised to land at NASA?s Kennedy Space Center, where the shuttle launched on Nov. 16, after a week-long stay at the space station. Astronauts performed three spacewalks to deliver nearly 15 tons of huge pumps, tanks, gyroscopes and other large spare parts that will keep the space station going long after NASA retires its three remaining space shuttles next year.
Atlantis is also ferrying astronaut Nicole Stott back to Earth after her three-month stay on the station. Stott launched to the station in August and is the last station crewmember to be switched out using a NASA shuttle.
Mission Control roused the shuttle crew early Friday with the song ?Home Sweet Home? by Motley Crue, a tune selected for the entire crew.
?The whole crew says, ?Thank you very much!?? Stott said. ?Especially this one!? Stott is looking forward to seeing her husband and young son for the first time in months.
Returning to Earth aboard Atlantis with Stott are shuttle commander Charlie Hobaugh, pilot Barry Wilmore and mission specialists Leland Melvin, Randy Bresnik, Mike Foreman and Robert Satcher, Jr. The astronauts spent the Thanksgiving holiday in space, and even managed to have the space version of a turkey dinner. ?
Bresnik is especially hopeful for an on-time landing today and is looking forward to holding his new baby daughter Abigail for the first time. She was born last week just after his first spacewalk.
Video - Astronauts Celebrate Thanksgiving in Space

Video - Space Crew Celebrates Birth of Astronaut's Daughter
SPACE.com is providing complete coverage of Atlantis' STS-129 mission to the International Space Station with Staff Writer Clara Moskowitz and Managing Editor Tariq Malik. Click here for shuttle mission updates and a link to NASA TV.