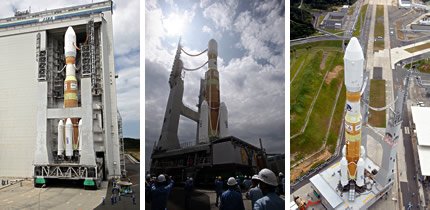 Japan?s first-ever spacecraft to fly vital supplies to the International Space Station is poised to make its inaugural launch today.
The H-2 Transfer Vehicle (HTV), a new unmanned spacecraft capable of hauling tons of food, experiments and other supplies to the space station, is slated to blast off at 1:01 p.m. EDT (1701 GMT) from Tanegashima Space Center in southern Japan. It will be 2:01 a.m. Local Time when Japan?s JAXA space agency launches the spacecraft on its maiden voyage.
?HTV-1 is opening up new horizons for JAXA?s undertaking of human spaceflight,? said Masazumi Miyake, deputy director of JAXA?s Houston office. ?I like to say that JAXA is now entering a new era.?
Amazing vehicle
The new HTV spacecraft is the latest in an international fleet of cargo ships to support the space station, which is the $100 billion product of 16 different countries and the largest structure ever built in space. Six astronauts currently live aboard: two Americans, two Russians, a Belgian and a Canadian.
?It?s an amazing vehicle and it?s a pleasure to have it in the fleet,? said Mike Suffredini, NASA?s space station program manager.
NASA space shuttles and Russian Soyuz vehicles ferry new crews to the station. Russia?s unmanned Progress space freighters and Europe?s large Automated Transfer Vehicles also haul precious food, water and other supplies to sustain astronauts aboard the station.
The shuttle Discovery just left the space station Tuesday and is due to land in Florida later this evening, only six hours after the HTV-1 launch attempt.
Japan?s HTV, however, stands apart from other unmanned cargo ships in that it can haul supplies for use inside the station and large unpressurized experiments and equipment to remain outside. For its flight debut, the HTV-1?s external cargo drawer is filled with two experiments - one for JAXA and one for NASA - to be attached to the Kibo lab?s external porch.
The cylindrical spacecraft weighs 16 1/2 tons and is about 33 feet (10 meters) long and 14 feet (4.4 meters) wide. It is designed to haul up to six tons of supplies to the space station, but is packed with 3 1/2 tons of cargo for the debut flight.
The vehicle is powered by solar panels attached to its hull, and blasts off on the equally brand new H-2B rocket, which is derived from Japan?s workhorse H-2A rocket family.
If all goes well, the HTV-1 will arrive at the International Space Station on Sept. 17 where, unlike other unmanned spacecraft, it will hover just off the bow of the outpost?s NASA segment while an astronaut uses a robotic arm to pluck it from orbit.
?Everyone is anxiously awaiting its first mission,? said Dana Weigel, NASA?s lead station flight director for the test flight.
Japan has until Sept. 30 to launch the first HTV spacecraft, but only seven opportunities to actually attempt a liftoff because of the time required to empty and refuel the spacecraft?s H-2B rocket.
If JAXA cannot launch by end of the month, it would likely have to wait until February to avoid dropping rocket components into Japanese fishing grounds off the coast of the seaside launch site.
Critical test flight
With NASA?s space shuttle fleet slated to retire by 2010 or so, the space station will grow more reliant on cargo shipments from Russia, Europe and Japan.
?This system is critical for us and this particular flight is critical because we need to prove this system out,? Suffredini said.
The HTV spacecraft has been in development since 1997, Miyake said. To date, the space agency has spent about $680 million to build the HTV, and the debut ship alone costs about $220 million, he added.
?This HTV-1 vehicle is the demonstration flight to verify its functionality and components,? Miyake said. ?After the completion of this HTV mission, we are planning to launch one operational HTV per year.?
The cargo ship is also Japan?s newest contribution to the space station. JAXA, the Japan Aerospace Exploration Agency, built the station?s massive laboratory Kibo, which means ?Hope? in Japanese. Construction of the $1 billion lab, which is as large as a tour bus, was completed in July. It has its own robotic arm, small airlock, external science porch and an attic storage room.
For its inaugural mission, the HTV-1?s pressurized section has been packed with about 3 1/2 tons of supplies that include food, laptop computers and a smaller robotic arm for the Kibo lab to be used for delicate operations. After a week of rendezvous and emergency abort tests, the spacecraft is expected to creep close to the station so NASA astronaut Nicole Stott can grab it with the outpost?s robotic arm.
?My understanding of the hardware is that it?s going to be a very stable vehicle,? Stott said earlier this month. ?I think the excitement of it is that it really is this new capability for us.?
JAXA will watch over the HTV mission from its Tsukuba Space Center in Tsukuba, Japan, which is also home to the agency?s Kibo mission operations center.
?We are confident the HTV-1 mission will be a success,? Miyake said.
Video - Japan?s Spaceship Dreams: Part 1, Part 2
Video - Inside Japan?s New H-2B Rocket
Video - Maiden Flight of Japan?s Space Freighter