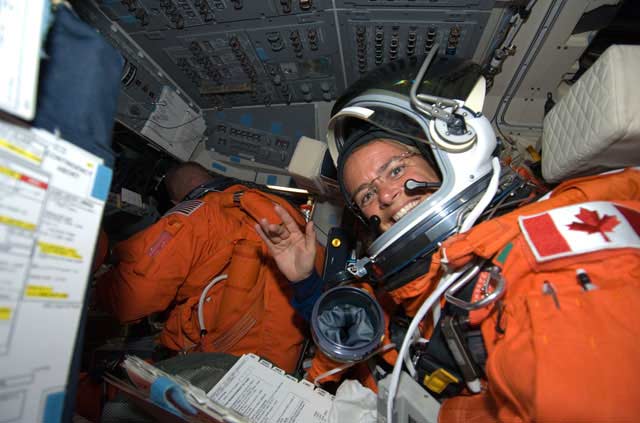 The space shuttle Endeavour and its seven-astronaut crew plan to arrive at the International Space Station Friday for a long-awaited visit more than a month overdue.
The shuttle is set to catch up with the station at 1:55 p.m. EDT (1755 GMT), capping a two-day high speed orbital chase. Endeavour finally launched Wednesday after being held on the ground by a gas leak and a persistent string of bad weather.
When the seven newcomers join the existing International Space Station (ISS) crew of six, the total population onboard will be a record 13.
Endeavour commander Mark Polansky, pilot Doug Hurley, and mission specialists Chris Cassidy, Julie Payette, Tom Marshburn, Tim Kopra and Dave Wolf will make for a crowded station when they join ISS crewmembers Gennady Padalka, Roman Romanenko, Michael Barratt, Robert Thirsk, Frank De Winne and Koichi Wakata. All five space station member organizations - NASA, the Russian Federal Space Agency, the Canadian Space Agency, the Japanese Aerospace Exploration Agency, and the European Space Agency - will be represented.
Kopra is set to replace Wakata as an ISS Expedition 20 flight engineer, while Wakata will ride home aboard Endeavour in his place.
Despite the imminent crowding on the station, the two crews are looking forward to seeing each other again.
"I?m sure there?s going to be a lot of emotion as you see your friends up there and it?s always an exciting time to do that," Polansky said in a preflight interview. "And then after about five minutes of, 'Boy, this is really cool!' back to work."
Before Endeavour docks at the space station, Polansky will guide the orbiter through a backflip so astronauts inside the station can photograph the heat shield tiles lining its belly. The maneuver is a now-standard part of NASA?s shuttle heat shield inspections to look for signs of damage from launch debris.
During Endeavour?s launch, the shuttle?s fuel tank lost an unusual amount of foam from its external tank. Some minor nicks to tiles were also seen.
The two crews have a busy schedule planned for Endeavour's 11 days docked at the station. A primary task is to install a new outdoor experiment platform on the Japanese Kibo laboratory. The segment - used to expose science projects to the space environment - will complete the huge Kibo complex. Endeavour's crew also plans to unload a cache of spare supplies on the station to keep the outpost running after the shuttle fleet retires, planned for 2010.
For the six long-duration station crewmembers awaiting the shuttle, the influx of new faces and supplies will be very welcome.
"We?re hoping to get some fresh mail and some fresh fruit, and it?s a great crew that?s coming up and we?re really looking forward to working with them," Barratt said in a NASA interview.
New Video - The Kibo Lab: Japan's Hope in Space - Part 1, Part 2
SPACE.com is providing continuous coverage of STS-127 with reporter Clara Moskowitz and senior editor Tariq Malik in New York. Click here for mission updates and SPACE.com's live NASA TV video feed.