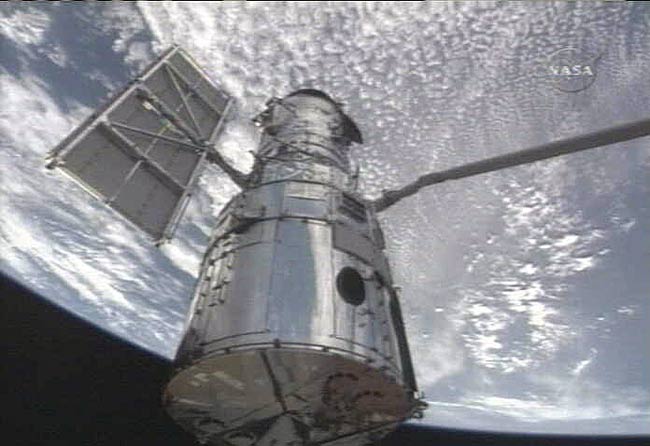 This story was updated at 9:20 a.m. EDT.
HOUSTON - Atlantis astronauts kicked off an ambitious five-day marathon to fix the ailing Hubble Space Telescope Thursday when two spacewalkers floated outside to boost the observatory?s vision.
Veteran spacewalker John Grunsfeld and first-time spaceflyer Andrew Feustel stepped outside Atlantis at 8:52 a.m. EDT (1252 GMT) to install a brand new camera eye aboard Hubble and repair a vital data handling device that beams the 19-year-old space telescope?s cosmic images back to Earth.
?This is fantastic, you?re going to love it Drew,? Grunsfeld told his spacewalking partner. Grunsfeld is an astrophysicist-astronaut making his third trip to Hubble, and his sixth career spacewalk.
The spacewalk began a bit later than planned, but is slated to last about 6 1/2 hours and set the stage for four more back-to-back spacewalks to make major upgrades and attempt unprecedented repairs on the aging Hubble. Atlantis has a four-man team that will work in pairs to tackle the grueling spacewalk schedule.
?I?m looking forward to seeing our old friend Hubble the space telescope and seeing if it?s aged at all,? Grunsfeld said in a crew video beamed to Earth late Wednesday.
Hugging Hubble
Grunsfeld last visited Hubble in 2002 alongside Atlantis skipper Scott Altman and fellow spacewalker Michael Massimino. But this mission is the fifth and final flight to send humans to revive and renew Hubble.
?Let?s do this,? Feustel said as he floated into the shuttle payload bay.
NASA initially canceled the $1.1 billion flight in 2004 citing it as too risky in the wake of the Columbia shuttle disaster, but later reversed that decision after successfully resuming shuttle flights and testing inspecting and repair techniques. If all goes well, the Atlantis astronauts hope to extend Hubble?s life through at least 2014.
Atlantis launched toward Hubble on Monday and arrived two days later at the telescope?s 350-mile (563-km) high orbit. NASA is keeping a lookout for space debris, which is present in higher numbers in Hubble?s neighborhood than the 220-mile (354-km) altitude of the International Space Station.
A remnant from a weather satellite destroyed in a 2007 Chinese anti-satellite test zipped close by Atlantis late Wednesday, but not close enough to require the astronauts to fire the shuttle?s engines and dodge the space junk, NASA officials said. NASA has a second ship, the shuttle Endeavour, on standby as a rescue craft if needed.
New cosmic vision
During their spacewalk today, Grunsfeld and Feustel will install Hubble?s new Wide Field Camera 3, a replacement for an older camera that has been the space telescope?s workhorse imager for nearly 16 years.
They will have to watch what they grab at the beginning. Images of Atlantis? cargo bay turned up some white particulate contamination on handrails near their work site and the astronauts must make sure they don?t stir it up into Hubble?s delicate inner workings.
The new camera weighs 900 pounds (408 kg) and is about the size of a baby grand piano. Hubble scientists hope to use the new camera to probe deeper into the evolution of galaxies and the shed new light on the mysteries of dark matter and dark energy.
?We expect a huge amount of science to come out of it,? NASA?s astrophysics division director Jon Morse told reporters here at the Johnson Space Center.
Wide Field Camera 3 will replace its predecessor - Wide Field Camera 2 - which holds a special place in the hearts of Hubble scientists. The last image from the older camera was taken the day Atlantis launched.
Installed in 1993, that older camera carried some of the first corrective mirrors for Hubble?s blurry vision and is responsible for capturing many of the telescope?s iconic cosmic images, such as the ?Pillars of Creation? in the Eagle Nebula. Since 2007, when Hubble?s main Advanced Camera for Surveys failed, the older imager stepped up to help fill in for the lost instrument, mission managers said.
Grunsfeld and Feustel will pack the older camera away for the return trip to Earth and then turn their attention to a vital repair.
They plan to replace a device on Hubble that routes data and images from the telescope to its mission operations center in Earth.
The system failed unexpected last fall - just weeks before the Atlantis astronauts initially planned to launch toward Hubble. The glitch forced NASA to delay Hubble?s last overhaul for seven months until a spare could be rebuilt.
Grunsfeld and Feustel will wrap up their first spacewalk by adding a docking berth at the end of Hubble so a robotic spacecraft can fly up to the telescope when its mission is ultimately over and send it to a fiery death in Earth?s atmosphere.
?Seeing Hubble coming into the payload bay was pretty amazing, and rendezvous was fun,? Feustel said Wednesday in a crew video. ?Now we?re ready to go.?
SPACE.com is providing continuous coverage of NASA's last mission to the Hubble Space Telescope with senior editor Tariq Malik in Houston and reporter Clara Moskowitz in New York. Click here for mission updates, live spacewalk coverage and SPACE.com's live NASA TV video feed.
New Videos - Hubble's New Camera, New Tools

New Video Show - Hubble's Final Shuttle Service Call

Image Gallery - The Hubble Repair Missions: Part 1, Part 2