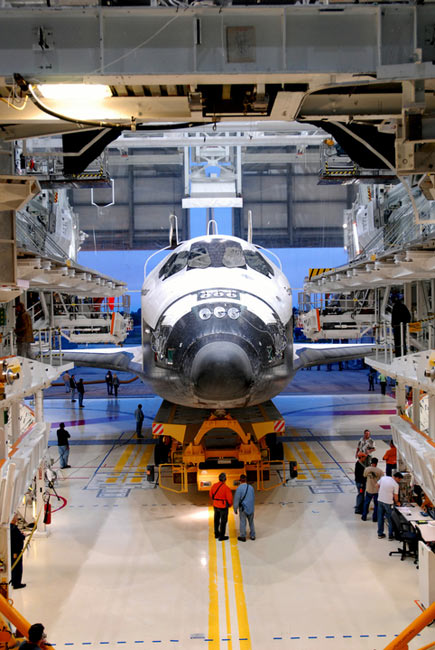 CAPE CANAVERAL, Fla. -- NASA intends to resume on May 1 the orderly shutdown of the shuttle program, a move directed toward carrying out national space policy while safely flying nine more missions by the end of next year.
Initiated in 2004, the step-by-step shutdown was put on a temporary hold last year by Congress to ensure that the new president had time to weigh in. That hold expires April 30, and President Barack Obama has indicated that he intends to stay the course and retire the fleet in 2010.
"The plan all along has been that we would follow the course that already had been laid out and resume a slow and methodical phasedown of the shuttle program," NASA spokesman Mike Curie said. "We have to do this to meet the budget allocations we have been given for this year and next year."
The action is required "to be sure we have the money needed to fly the remaining nine missions safely," he said.
Several lawmakers with ties to Kennedy Space Center have proposed extending shuttle flights beyond 2010, but it is unlikely that action would be taken before April 30.
"You have heard me say that hope is not an effective management tool on many occasions," Shuttle Program Manager John Shannon told colleagues recently in a widely distributed e-mail. "It is my position that we cannot continue to spend money to retain the capability to fly additional space shuttle missions, hoping that someone will recognize the national assets we are giving up.
"We have to take our destiny in our own hands and manage within the limited budget we have been given and ensure that we will fly the full manifest and leave the International Space Station in the best configuration possible."
U.S. Rep. Suzanne Kosmas, D-New Smyrna Beach, said she still is fighting to eliminate the "hard deadline" for shuttle retirement.
Kosmas also asked the House Appropriations Committee to provide NASA an extra $2 billion to keep the shuttle fleet flying and to accelerate the development of next-generation Ares rockets and Orion spacecraft.
"I will fight at every turn to give NASA the flexibility to fly the shuttle past 2010 in order to safely complete the scheduled launches and retain the highly skilled work force at Kennedy Space Center," Kosmas said.
U.S. Rep. Bill Posey, R-Rockledge, is standing behind bipartisan legislation that he introduced to essentially achieve the same goals.
"If we don't act to address the space gap, this path will lead to the government laying off thousands of highly skilled American workers and outsourcing their jobs to Russia," he said.
NASA estimates that about 3,500 of 14,500 jobs at KSC will be lost after the shuttle fleet is retired.
Eleven months after the 2003 Columbia accident, then-President George W. Bush directed NASA to complete construction of the International Space Station and retire the shuttle fleet by Sept. 30, 2010.
He also directed NASA to develop a new piloted spaceship by 2014, then return American astronauts to the moon by 2020.
The plan called for NASA to pay Russia to launch American astronauts to the station during the gap between shuttle fleet retirement and the first piloted flights of that successor spacecraft.
NASA at that time laid out a plan to finish the station during a slow, deliberate shutdown of the $3 billion-a-year shuttle program.
As the 2008 presidential election approached, Congress directed NASA to take no further action before April 30 that would preclude shuttle flights beyond 2010.
The intent was to give a new administration a chance to review shuttle fleet retirement plans after the Jan. 20 inauguration.
Obama, who still hasn't appointed a NASA administrator, weighed in with his budget blueprint in February. It calls for NASA to finish the station and retire the shuttle by the end of 2010. It authorizes NASA to fly one additional mission if it can be done "safely and affordably" by the end of next year.
NASA plans a Hubble Space Telescope servicing mission in May. Eight more station missions -- including the extra flight -- are scheduled.
Congress still must fund the additional mission.
Video - NASA's Constellation Journey Begins: Part 1, Part 2
Published under license from FLORIDA TODAY. Copyright ? 2009 FLORIDA TODAY. No portion of this material may be reproduced in any way without the written consent of FLORIDA TODAY.