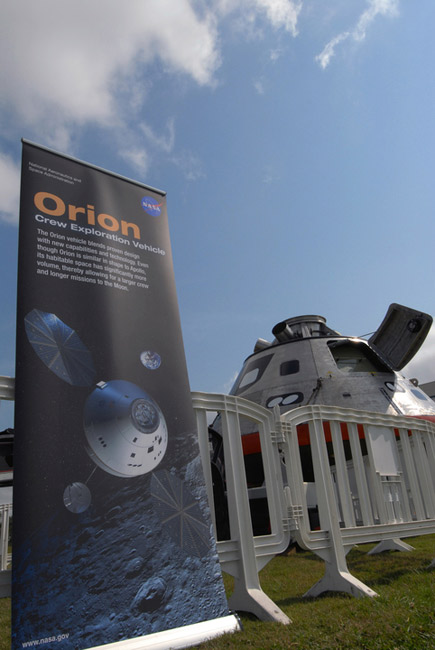 A prototype of NASA?s new Orion spacecraft that will carry astronauts to back to moon made a pit stop Thursday at the agency?s Florida spaceport as engineers prepare for its first ocean water test.
The Orion Crew Exploration Vehicle prototype is a seaworthy mockup of NASA?s space shuttle successor, a capsule-based spacecraft slated to begin ferrying astronauts to the International Space Station by 2015, and then to moon by 2020.
The craft made its way to NASA?s Kennedy Space Center in Cape Canaveral, Fla., from the Naval Surface Warfare Center in Bethesda, Md., where engineers and Navy divers began water recovery tests to understand how the 18,000-pound (8,164-kg) capsule performs after splashdown. The initial tests were performed in pool, but NASA is planning a second round of tests off the coast of Florida to see how Orion ships behave in open water.
?The goal of the operation, dubbed the Post-landing Orion Recovery Test, or PORT, is to determine what kind of motion astronauts can expect after landing, as well as outside conditions for recovery teams,? NASA officials said.
NASA?s three aging space shuttles are due to retire at the end of 2010. The Orion spacecraft are designed to launch atop the agency?s new Ares I rocket to ferry six astronauts to the space station or a four-person crew to the moon and back. The spacecraft and rocket, as well as the planned Altair lunar lander and heavy-lift Ares V booster, make up NASA?s Constellation program.
After leaving Maryland, the mock Orion capsule stopped at the National Mall in Washington, D.C., to be displayed before arriving at Kennedy Space Center, where it can be seen at the spaceport?s Visitor?s Complex until Friday.
The open water recovery test is due to begin on April 7.
Video - Mock Orion Capsule Crashes to Earth

Video - NASA's Constellation Journey Begins: Part 1, Part 2

Video - Back to the Moon with NASA?s Constellation