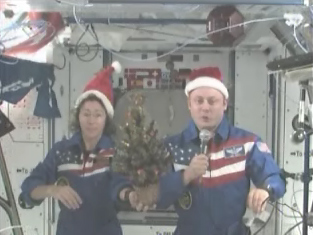 Astronauts aboard the International Space Station have sent holiday wishes to the people of Earth and may celebrate with some festive Christmas cookies today as they fly high above their home planet.
Space station commander Michael Fincke and flight engineers Sandra Magnus and Yury Lonchakov have the ingredients for the cookies at their disposal thanks to a recent cargo ship that arrived at the orbiting laboratory last month. The astronauts have a light day planned for the holiday, NASA officials said.
?Magnus made it a point to request that red, green, yellow, blue and white icing be among her foods to be used to decorate an assortment of cinnamon, shortbread and butter cookies also carried aloft,? NASA officials said in an update. ?The crew also has a variety of candies to continue the high-calorie traditions so common on Earth this time of year.?
Fincke and Magnus, both NASA astronauts, beamed their best wishes for the holiday season to Earth complete with Santa hats and a floating Christmas tree.
?It is this time of year when we can reflect on our blessings and the opportunity to advance the cause of exploration through this great global project involving nations,? Magnus said in the video message.
?We hope that Santa?s good to you,? Fincke told flight controllers on Wednesday.
Fincke, Magnus and Lonchakov, of Russia, have chocolate-covered pecans and candied yams in their pantry, with smoked turkey, cornbread dressing and mashed potatoes also available for holiday meals. Fincke has also packed away some asparagus, shrimp cocktails, dried blueberries, tropical fruit, wheat flat bread and brown rice, NASA officials said.
Christmas in space
Astronauts have celebrated Christmas and other holidays aboard the International Space Station continuously since 2000, when the outpost?s first crew arrived. This year also marks the 40th anniversary of another notable space Christmas: the historic 1968 flight of Apollo 8 around the moon, when astronauts Frank Borman, Jim Lovell and Bill Anders sent a Christmas Eve broadcast to Earth.
The Skylab 4 crew built a homemade Christmas tree out of empty food cans during their orbital holiday in 1973 aboard the U.S. space station. NASA astronauts John Blaha and David Wolf celebrated the holidays in space aboard Russia?s Space Station Mir in 1996 and 1997, respectively. The STS-103 crew of NASA?s space shuttle celebrated Christmas in space by releasing the Hubble Space Telescope back into orbit after a 1999 service call.
For Fincke and his Expedition 18 crew aboard the space station, this year?s holiday is especially sweet. The Russian-built Progress 31 spacecraft that delivered the holiday treats to the space station on Nov. 30 also included Christmas gifts for the crew from their families and friends on Earth.
?So happy holidays from the International Space Station and best wishes for a happy and healthy year ahead,? Fincke said.
? Video - Space Station Acrobatics
? Video - Space Shuttle Bloopers
? NASA's Most Memorable Missions