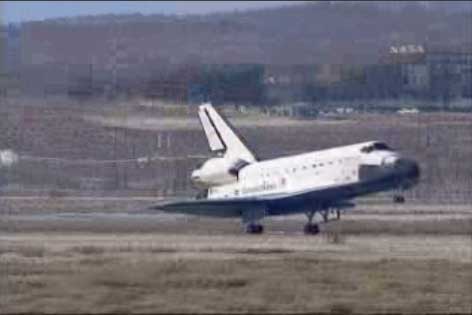 Update Dec. 9: Space shuttle Endeavour?s return from California to Florida is now scheduled to begin Wednesday at sunrise.
The Space Shuttle Endeavour's piggy-back ride from California to Florida on a modified Boeing 747 has been delayed until at least Tuesday due to weather, NASA announced today.
The flight had been tentatively slated for Sunday and then again for Monday.
For the flight, the shuttle will be mounted on the back of the 747 to get it from NASA's Dryden Flight Research Center in California to NASA's Kennedy Space Center in Florida. Shuttle program managers are watching weather conditions in the Southwest and on the route to Florida.
The shuttle landed at Edwards Air Force Base Nov. 30 after bad weather in Florida forced a diversion to the California back-up location. Now NASA must ferry Endeavour back to the Kennedy Space Center.
The flight will cost about $1.8 million. The effort is not expected to have an impact on NASA's scheduled shuttle flights during 2009, including a planned May mission to work on the Hubble Space Telescope.
The 16-day shuttle mission to the International Space Station upgraded and serviced the orbiting outpost.
The mission, which came during the 10th anniversary of the space station, included the 200th U.S. spacewalk. Astronauts added two new sleep stations to the ISS, a new galley with a refrigerator, and a water and urine recycling system and an advanced resistive exercise device.
Another update on the weather situation is expected to be announced this afternoon.
Video - Space Station Acrobatics

Image Gallery - Stunning Views Endeavour's STS-126 Night Launch

Video - Drinking Water From Space Urine