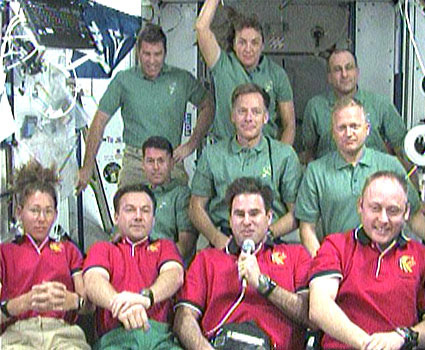 WASHINGTON - Astronauts aboard NASA?s shuttle Endeavour and the International Space Station said Friday that their joint mission is going well despite glitches with a new recycling system built to convert urine and sweat into drinking water.
The 10 astronauts aboard the station and docked shuttle have passed the midpoint of their mission to install the water recycling system and a host of new gear needed to double the orbiting lab?s crew size next summer.
?It?s just been a wonderful time up here,? Endeavour commander Chris Ferguson told reporters Friday via a space-to-ground video link. ?It?s a great time serving with this crew.?
Busy spaceflight
Ferguson and six crewmates launched toward the station on Nov. 14 carrying a new crewmember and the water recycling system, as well as two spare bedrooms, a second kitchen, extra bathroom and new gym equipment.
The astronauts have also performed two of four spacewalks to clean metal grit from a solar array-rotating gear on the station?s starboard side. The only major hitches have come from a lost tool bag in a Tuesday spacewalk - which prompted a flurry of changes for subsequent excursions - and issues testing the water recycling system?s urine processing capabilities.
?We?re very hopeful that we can still get the first round of samples through during this mission while the STS-126 [crew] and Endeavour are still here,? station skipper Michael Fincke said of the water recycler. ?We?re not worried so far and we?ve got the right team up here if we need any fixes.?
NASA engineers now believe they?ve traced the issue to the possible contact of an internal component with a vital motor that turns a centrifuge at the start of the urine distillation process. They?re hopeful the system can be activated soon so samples can be collected and returned to Earth when Endeavour lands Nov. 29.
Fincke said he?s eager to get the system up and running, despite its squeamish reputation.
?Actually, it goes through such a process, it?s no longer urine whatsoever,? Fincke said. ?It?s probably purer than most people?s tap water, so I?m not afraid to drink it.?
Turkey day in space
The joint station-shuttle crew marked the space station?s 10th anniversary on Thursday and plan to celebrate Thanksgiving together next week.
Since Endeavour is slated to undock Thanksgiving morning, the 10 astronauts may mark the U.S. holiday a day early for a traditional dinner of pre-packaged turkey, cornbread dressing, green beans, cranberry-apple desert and other space foods as a united crew, Ferguson said.
In addition to the new hardware, Endeavour also ferried American astronaut Sandra Magnus to the space station, where she?s replaced fellow NASA spaceflyer Greg Chamitoff as a member of the orbiting lab?s three-person crew.
?Life on the space station is great,? said Magnus, who last visited a much smaller version of the outpost in 2002 and will spend the next few months aboard. ?This place is absolutely huge!?
Chamitoff, meanwhile, said he?s excited to return to Earth aboard Endeavour after nearly six months aboard the station and has already had a little taste of home.
?We don?t have cold water,? Chamitoff said, adding that a new cooler delivered by Endeavour hasn?t been hooked up yet. ?The shuttle brought up some cold water, so last night I actually went over for my first cold drink in six months. That was really great.?
Chamitoff said he?s been thinking about his wife and twin toddlers more often, but is also eager to chow down on a pizza after he lands. He hopes to wash it down with a Diet Coke and some rocky road ice cream.
Of Endeavour?s seven-astronaut crew, three are making their first spaceflight but all are enjoying the wonders of weightlessness.
Mission specialist Don Pettit, who previously lived aboard the station for more than five months, said floating in space outweighs even the views of the Earth from orbit, since the planet is beautiful on the ground as well.
?That?s one of the most wonderful aspects about this place,? Pettit said. ?We can see really good views of Earth from Earth. We can?t fly.?
NASA is providing live coverage of Endeavour's STS-126 mission on NASA TV. Click here for SPACE.com's mission coverage and NASA TV feed.
New Video - Drinking Water From Space Urine

New Images - Stunning Views Endeavour's STS-126 Night Launch

Video - Space Station Acrobatics