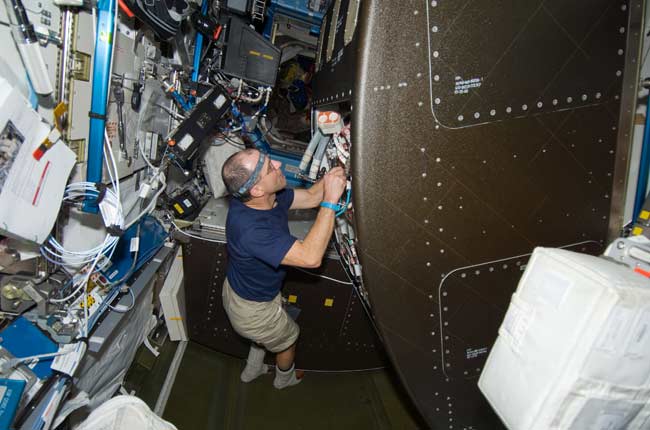 This story was updated at 4:59 p.m. EST.
NASA astronauts and engineers are tackling an odd glitch with a new recycling system designed to convert astronaut urine and sweat back into drinking water aboard the International Space Station, flight controllers said Friday.
Efforts to run the first batch of urine through station?s new Water Recovery System to test its ability to filter and purify water from the waste have hit repeated roadblocks over the last few days, station flight director Courtenay McMillan said in an afternoon update.
When commands were sent through the $250 million system?s Urine Processor Assembly to begin filtering urine late Thursday, an alarm sounded that sent station astronauts hunting for any signs of smoke or fire. It was a false, and unexpected, alarm that was even heard via radio by spacewalkers working outside the station.
The urine processer was activated for about two hours today, but shut down unexpectedly. The problem could be due to a sensor glitch or the more serious malfunction of a vital centrifuge motor used in one of the first steps of urine distillation, McMillan said.
?Right now, folks are still looking at the data,? McMillan said. ?They?re really still investigating and determining forward steps.?
Meanwhile, engineers hope to continue efforts to test the recycling system?s ability to collect wastewater and condensed sweat from the space station?s atmosphere and filter it into drinking water.
The water recycling system is part of a bounty of new life support and living equipment delivered to the International Space Station this week aboard NASA?s shuttle Endeavour. A second kitchen, extra bathroom, new gym equipment, a space food refrigerator and two spare bedrooms were also hauled to the station aboard Endeavour.
NASA flight controllers are weighing whether to extend Endeavour?s planned 15-day mission by one extra day to allow more time to troubleshoot the water recycling glitch. Endeavour is currently slated to leave the space station on Thanksgiving Day and land Nov. 29.
?We are hoping that we can try again today just to get some more time with the system before the end of the mission,? McMillan said.
Endeavour?s seven-astronaut crew was slated to continue moving supplies into the station today. All 10 astronauts aboard both spacecraft spoke with reporters on Earth this afternoon, with the shuttle crew also scheduled to take about and hour off later in the day.
The astronauts also used Endeavour?s engines to boost the space station?s orbit a mile higher to prepare for the planned Nov. 30 arrival of a Russian cargo ship.
Water in, water out
The water recycler is a key component in plans by NASA and its station partners to boost the orbital laboratory?s population from the current three-astronaut crews to six-person expeditions capable of performing more science and maintenance. That shift is slated for May 2009, but only if the water recycler and other key systems are online, mission managers have said.
If it works as designed, the system is expected to drastically reduce the amount of water that has to shipped to the station aboard NASA shuttles or Russian, European and, eventually, Japanese spacecraft.
The system is designed to recover about 93 percent of the initial wastewater fed into it and could reduce the amount of water hauled aboard or generated by visiting spacecraft by 15,000 pounds (6,803 kg) per year, mission managers have said. The resulting water can then be reused for drinking, food preparation or bathing. It could also be piped through the station?s U.S. oxygen generator to produce new air.
Water recovered through the system is filtered through a seven-step process and meets most municipal water safety standards in the U.S., said Bob Bagdigian, NASA?s project manager for the station?s environmental control and life support system before launch.
Glitches expected
NASA?s Mission Control fully expected to encounter glitches while activating the new water recycling system. When the oxygen generator was first delivered in 2006, it took several false starts before the equipment was up and running, space station flight director Ginger Kerrick said late Thursday.
?These are growing pains we expected to see,? she said. ?These are very complicated pieces of equipment with a very complicated software system to control them, and this is the first time they are all being put together in space. So it takes a while to learn lessons from that.?
Kerrick said there is ample time in the Endeavour crew?s schedule to troubleshoot the urine processor glitch while continuing tests on the regular wastewater side of the system. That part of the system can feed potable water through a local tank or feed it to a portable water dispenser on the station?s new galley.
Mission managers hope to return samples from each stage of the water recycling system, including the urine processor, back to Earth aboard Endeavour to begin quality control studies. Several months of additional testing and monitoring aboard the station after Endeavour?s flight will also be required before the system will be clear for human consumption, NASA officials have said.
?Right now, we can incorporate about a 24-hour delay in the tasks that we had planned in the timeline and still be able - assuming everything else goes nominally - to accomplish our sampling objectives,? Kerrick said. ?We think this is just a small setback.?
NASA is providing live coverage of Endeavour's STS-126 mission on NASA TV. Click here for SPACE.com's mission coverage and NASA TV feed.
New Video - Drinking Water From Space Urine

New Images - Stunning Views Endeavour's STS-126 Night Launch

Images: The First 5 Years of Space Station Assembly