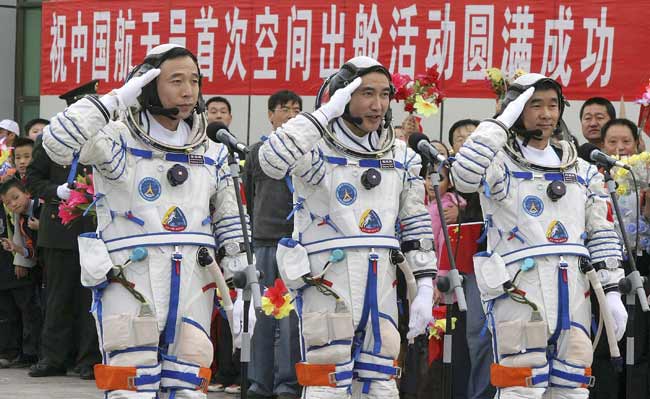 Chinese astronauts are making final preparations for their country's first spacewalk Saturday.
China's third manned mission to space, Shenzhou 7, launched Thursday from Jiuquan Satellite Launch Center in China's Gansu province.
Zhai Zhigang, the lead Chinese astronaut, or taikonaut, for the mission, is expected to become his nation's first spacewalker. He is slated to exit the spacecraft at 4:30 a.m. ET (0830 GMT) to conduct a 20-minute excursion into space. He will be assisted from inside the capsule by his crewmates, Liu Boming and Jing Haipeng.
"The Shenzhou 7 mission marks a historic breakthrough in China's manned space program. It is a great honor for all three of us to fly the mission, and we are fully prepared for the challenge," Zhai said at a press conference before launch, the official Chinese news agency Xinhua reported.
After donning his spacesuit and depressurizing the orbital module of the Shenzhou 7 spacecraft, Zhai is scheduled to exit the hatch and use handrails outside the craft to move around.
"Head first and feet later," Wu Bin, an expert in charge of astronaut training with the China Astronaut Research and Training Center, told Xinhua. "The astronaut is expected to greet to a camera on the spaceship surface as soon as his head and hands are out," Wu said.
Once outside the vehicle, Zhai, a 42-year-old fighter pilot, plans to collect a test sample of solid lubricant from the surface of the spacecraft that was placed there before the launch. Then the spacecraft will release an 88-pound (40-kilogram) satellite which will circle the ship and send back images to mission control.
A major test during the activity will be whether the new, Chinese-built spacesuit Zhai wears will work as designed. The suit (called "Feitian," meaning "fly the sky" in Chinese) reportedly cost 30 million yuan (about $4.4 million), and must protect Zhai from the harsh temperatures and radiation of space.
"If you had something going wrong during the spacewalk, I think that would come across as a very significant loss of prestige and face," said Dean Cheng, China analyst with Alexandria, Va.-based think tank CNA Corp. "Particularly if the Chinese-made spacesuits weren?t suitable for space."
The Feitian suit has 10 layers, weighs about 265 pounds (120 kg), and takes up to 15 hours to assemble and put on, Xinhua reported.
Within the suit's pressurized, temperature-controlled environment, Zhai should be able to move about in space while tethered to the vehicle through an electric cable.
While Zhai is conducting his activities outside, Liu Boming will help out from inside the de-pressurized orbital module, while wearing a Russian-built Orlan spacesuit. Russian experts will also be advising the mission from the ground along with Chinese space officials, the Associated Press reported.
The third astronaut, Jing Haipeng, will stay inside the re-entry module of the spacecraft, which is set to carry all three taikonauts back to Earth. After a 68-hour voyage into space, Shenzhou 7 is scheduled to land in Inner Mongolia on Sunday.
Conducting a successful spacewalk would demonstrate a crucial ability for China's space program, which hopes to eventually build a space station and possibly land on the moon. To do either requires being able to rendezvous and dock two vehicles in space, and for astronauts to maneuver outside the confines of a ship.
"This is going to be china's first EVA [extravehicular activity, or spacewalk]," Cheng told SPACE.com before launch. "They?ve been trumpeting this. A whole lot of technology and equipment are all bound up in this mission."
China plans to broadcast tomorrow's spacewalk live as it happens.
"Broadcasting live is huge step forward in recognizing the need for transparency as well as their confidence," said Joan Johnson-Freese, an expert on the Chinese space program at the Naval War College in Newport, R. I.