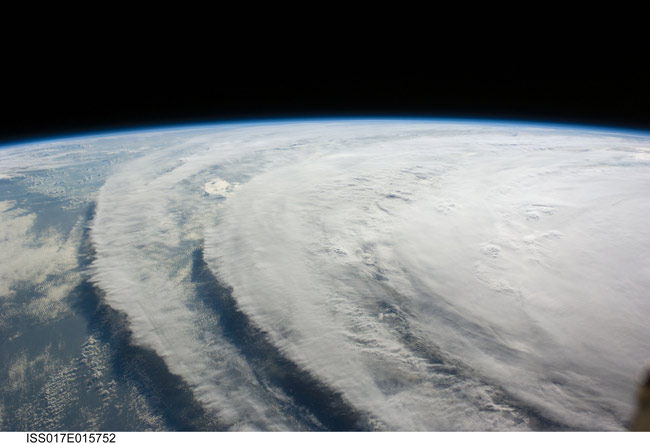 NASA still aims to move Endeavour out to Kennedy Space Center's launch pad 39B this week, and it appears that the ongoing recovery from Hurricane Ike in Houston will not delay the agency's next two shuttle missions, officials said Monday.
In a widely distributed e-mail, NASA shuttle program manager John Shannon said employees whose lives have been disrupted by Ike should take care of their families first.
Many who evacuated in advance of the monster storm have not been able to return to their homes in communities that surround Johnson Space Center, which escaped major damage, but will remain closed to all but recovery crews this week.
The weeklong closure will stall astronaut and flight controller training for the Oct. 10 launch of Atlantis on a Hubble Space Telescope servicing mission and the Nov. 12 launch of Endeavour on an International Space Station outfitting flight.
But NASA says the dates nonetheless remain achievable.
"We don't have any data that says we should have to delay the launches," NASA spokesman Mike Curie said.
Recovery crews at the home of NASA's Mission Control Center and astronaut corps restored commercial power Sunday, and have been inspecting buildings to identify and prioritize any repairs that might be necessary.
The roof at Mission Control was damaged during the storm, and heavy rains swamped areas of the center, particularly those closest to Clear Lake, a body of water that connects with Galveston Bay three miles from Johnson Space Center.
Surrounding communities - particularly Seabrook - struggled to restore power, as well as sewer and phone service.
Back at Kennedy Space Center, technicians in the Vehicle Assembly Building began preparations for the planned rollout of Endeavour at 12:01 a.m. Thursday.
The 4.2-mile move to pad 39B is expected to take six to eight hours.
Endeavour will be on standby to fly a rescue mission should Atlantis - which is on nearby pad 39A - sustains critical damage during its Hubble servicing mission.
The Atlantis astronauts would not be able to seek safe haven on the space station because it is in a different orbit, and the shuttle would not have enough fuel to get there.
The rollout will mark the first time since 2001 - and only the 16th time in history - that vehicles have been on the pads simultaneously.
A practice countdown for the Atlantis astronauts remained scheduled for early next week, and a readiness review for the mission remained scheduled for Monday and Tuesday.
A firm launch date is to be set at the end of the two-day meeting.
Published under license from FLORIDA TODAY. Copyright ? 2008 FLORIDA TODAY. No portion of this material may be reproduced in any way without the written consent of FLORIDA TODAY.
Video - Hubble Service Mission 4 Countdown

New Hubble Images - When Galaxies Collide