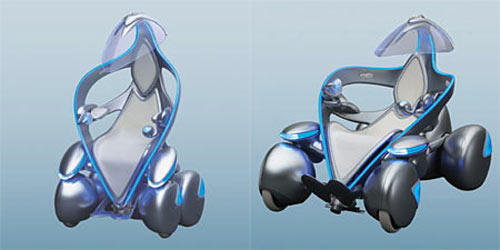 Toyota has announced a concept vehicle that is intended to provide a form of personal mobility that "seeks to attain a greater balance" for individuals who want to enjoy freedom of movement, harmony with society, and harmony with the Earth's natural environment. This accomplished by supporting the
union of the driver and the vehicle
.
The i-unit has the following features:
Seamless transformation between vehicle and human movement, minimizing occupied space
Variable positioning; move among other people in an upright position in low-speed mode - then recline to establish a low center of gravity in high-speed mode.
Drive-by-wire and intuitive handling, with a driver support system utilizing sound, light and vibration to facilitate interactive communication
Intelligent Transport System technology to permit safe and efficient autopilot driving.
Body color can be customized according to the individual's preferences and emotions.
This thing first reminded me of the gnomes from John Varley's novel Millenium. The gnomes were people who were so sick that most of their body functions were being performed by machines; they were actually built into small chair-like vehicles. Toyota's i-unit seems to be for the healthy. It will recline for fast speeds and then stand up for encountering other people or drivers.

Toyota's i-unit: Does it come with the costumes?
However, I started thinking that if the union of driver and vehicle is here, then the union of astronaut and spacecraft can't be too far behind. Science fiction has some interesting examples of what happens when the human pilot is either part machine himself, or connects with it in a far more intimate way that we see today.
In his 1966 novel The Moon is a Harsh Mistress, Robert Heinlein referred to cyborg pilots who were able to become more a part of the ship than normal pilots.
A more unusual example can be found in Babel-17, the award-winning novel by Samuel R. Delany. In this future Earth, people used decorative implants of such variety and extent that the most pierced person you know seems virgin unmodified homonid by comparison. In this excerpt, Rydra Wong is about to watch two pilots wrestle in an artificial gravity field:
...Brass yawned and shook his head, ivory saber teeth glistening with spittle, muscles humped on shoulders and arms; brass claws unsheathed six inches from yellow plush paws. Bunched bands on his belly bent above them. The barbed tail beat on the globe's wall. His mane, sheared to prevent handholds, ran like water...
"You can really judge a pilot by watching him wrestle?" the officer inquired of Rydra.
She nodded. "In the ship, the pilot's nervous system is connected directly with the controls. The whole hyperstasis transit consists of him literally wrestling the stasis shifts. You judge by his reflexes, his ability to control his artificial body. An experienced Transporter can tell exactly how he'll work with hyperstasis currents."
Read the Toyota i-unit press release.
(This Science Fiction in the News story used with permission from Technovelgy.com - where science meets fiction.)