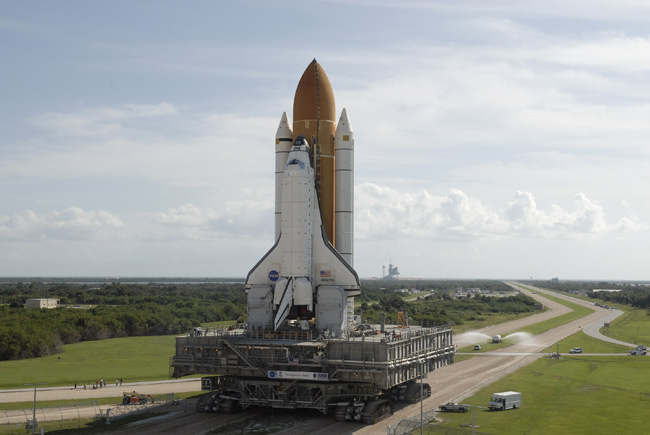 HOUSTON — NASA?s shuttle Atlantis will be at a higher risk of suffering serious damage from tiny space rocks and orbital trash than past missions when it launches to the Hubble Space Telescope next month, a top program official said Monday.
NASA shuttle program manager John Shannon said Atlantis and its seven-astronaut crew are facing the extra risk solely because of their destination.
?It?s worse for Hubble because we fly higher,? he told reporters during a briefing here at NASA?s Johnson Space Center.
Atlantis is slated to launch on Oct. 10 with seven astronauts aboard to begin an 11-day mission to upgrade the 18-year-old Hubble Space Telescope.
Commanded by veteran spaceflyer Scott Altman, Atlantis astronauts plan to perform five back-to-back spacewalks during the flight to install new cameras, replace batteries, gyroscopes, and guidance equipment, repair instruments never designed to be fixed in space and add a docking mechanism and thermal insulation.
The $900 million shuttle flight is expected to extend Hubble?s science mission, but carries more risk than NASA?s recent construction flights to the International Space Station.
The orbital observatory flies about 350 miles (563 km) above Earth, higher than the 220-mile (354 km) path of the International Space Station — the destination of NASA?s recent shuttle missions since 2005. The levels of orbital debris around Hubble have increased in recent years due to satellite breakups or even their intentional destruction, Shannon added.
That puts the estimated odds of Atlantis suffering a critical strike from a micrometeorite or orbital debris (MMOD) during its Hubble mission at about a 1-in-185 chance, up from the typical 1-in-300 chance for flights to the space station, he added.
?It?s not theoretical,? Shannon said. ?Every time we fly the vehicle back, we have MMOD damage on the space shuttle.?
The space station and Hubble itself have also sustained minor damage from orbital debris, but despite the increased odds, it would take a major hit to a critical area to seriously wound Atlantis, Shannon said.
Atlantis would not be able to reach the International Space Station, which could serve as a refuge for shuttle astronauts if their spacecraft is seriously damaged, from Hubble because of the space telescope?s higher orbit and different inclination, NASA has said.
Instead, the space agency plans to have a second shuttle poised atop its Florida launch pad to serve as a rescue ship in the event of an emergency. But Shannon said that the likelihood that the rescue mission — known as STS-400 at NASA — will be required at all, let alone due to MMOD damage, is very small.
?It would take a very rare and very significantly large-sized damage from MMOD in a critical area to cause us to require [STS-400],? Shannon said.
Shannon said he expects shuttle mission managers to discuss the micrometeorite threat on Thursday during a two-day program review. The current threshold for acceptable debris risk is about a 1-in-200 chance of a critical strike, but the benchmark is set to ensure the risk is properly discussed and assessed, he added.
Top agency officials, including NASA?s safety and engineering chiefs, will make a final decision on the added risk later this month during a Flight Readiness Review, Shannon said. They will also take into account the new heat shield repair methods and tools developed after damage from launch debris led to the tragic loss of the shuttle Columbia and its crew in 2003.
?I don?t get too hung up on the numbers,? he said. ?I want to make sure that the actions we?re taking in response to the threat are appropriate.?
Since the Columbia tragedy, astronauts have routinely used a sensor-laden extension of their space shuttle?s robotic arm to scan for damage on their spacecraft?s sensitive heat shield. Shuttle crews currently perform two scans, one just after launch and another just before landing, to clear their orbiter for reentry through Earth?s atmosphere.
NASA initially cancelled the upcoming Hubble servicing mission in 2004 following the Columbia accident due to safety concerns. The agency later studied the potential to service Hubble robotically before reinstating the astronaut-led mission in 2006.
Video - Hubble Service Mission 4 Countdown

New Hubble Images - When Galaxies Collide