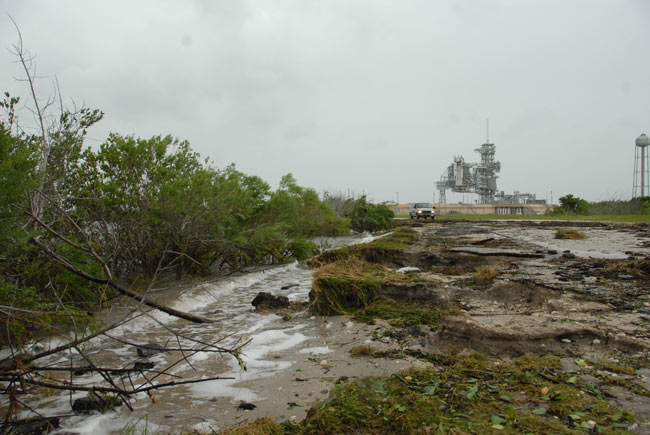 CAPE CANAVERAL, Fla. - NASA rolled the orbiter Atlantis from its processing hangar into the Kennedy Space Center Vehicle Assembly Building Friday, finally getting enough of a break from the remnants of Tropical Storm Fay to move the spaceship from one building to another.
The quarter-mile move set the stage for a huge milestone in just about seven days.
Mated with an external tank and attached solid rocket boosters, the fully assembled shuttle will creep out to launch pad 39A next weekend, in advance of NASA's fifth and final Hubble Space Telescope service mission.
Tropical Storm Fay lingered over Central Florida and soaked KSC earlier the week, forcing NASA to close the nation's shuttle homeport just as Atlantis was ready to roll over Tuesday.
More than a foot of rain poured down on parts of KSC - much less than the 23 inches recorded on the south end of neighboring Cape Canaveral Air Force Station.
A damage assessment and recovery team found no major damage when it surveyed the space center after the storm passed Thursday.
"There are some broken windows and there are some roof leaks," KSC spokesman Allard Beutel said. "But nothing major was reported."
Atlantis and a crew of seven astronauts are scheduled to blast off on Oct. 8 on a mission to service the Hubble Space Telescope.
During an 11-day mission, the astronauts will outfit the observatory to operate through at least 2013.
Led by veteran astronaut Scott Altman, the crew for the mission includes pilot Gregory Johnson and mission specialists Andrew Feustal, Michael Good, John Grunsfeld, Michael Massimino and Megan McArthur.
Atlantis will spend the next week in the 52-story assembly building and engineers will make certain the orbiter, the tank, the boosters and a mobile launcher platform all are mechanically and electrically hooked up.
Atlantis likely will make the 3.5-mile trip out to pad 39A next weekend.
The astronauts will fly to KSC soon thereafter for a practice countdown and then return to Johnson Space Center in Houston for final flight training.
? Video - Hubble Service Mission 4 Countdown
? Video - Flame Trench Repair
? NASA Closes Florida Spaceport for Tropical Storm Fay