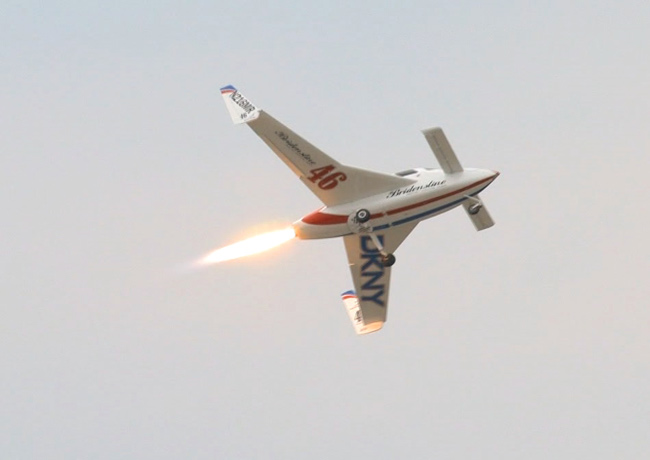 A rocket-powered racer will take the skies again for the air show crowd at Oshkosh, Wisc. this weekend, fresh from its public debut on Tuesday.
Veteran pilot Rick Searfoss piloted the ship — powered by a liquid oxygen and kerosene rocket engine developed by XCOR Aerospace — through a straightforward flight pattern on Tuesday that lasted approximately ten minutes from takeoff to landing.
"Everything went exactly as planned, exactly as practiced," said Granger Whitelaw, co-founder and CEO of the Rocket Racing League. "It performed exactly as we had laid out for the flight."
Whitelaw, a veteran of the Indianapolis 500, joined with Ansari X Prize-founder Peter Diamandis to found the Rocket Racing League in 2005. The men envisioned combining human spaceflight with NASCAR-style racing in the sky, and have planned a series of events this year showcasing the new sport.
The league boasts six teams on its roster under title sponsor DKNY Men, a New York City-based men's sportswear line that is also backing the Bridenstine Rocket Racing Team headed by former U.S. Navy jet pilot Jim Bridenstine.
Perhaps the only hiccup during the first public flight came from the intentional engine cutoff — a sound that various observers have described as a burp or bark. The racer lit its engines six times for 15 to 35 seconds, shutting it down abruptly after each time to glide.
Additional single-ship exhibition flights are planned for Friday and Saturday at the EAA AirVenture air show in Oshkosh., where an expected 700,000 spectators will have the opportunity to photograph and examine the Bridenstine racer.
"It'll be much closer to a lot of the fans," Whitelaw told SPACE.com. He added that the rocket plane would also perform some minor aerobatics ranging from aileron rolls to Immelmann turns and half loops.
Another racer from a Santa Fe Racing team had also originally planned to fly this weekend against the Bridenstine racer, but remains grounded because the Federal Aviation Administration (FAA) has yet to clear it for flight. The Santa Fe racer's engine was designed by Mesquite, Tex.-based Armadillo Aerospace to run on liquid oxygen and ethanol.
Whitelaw said he hopes that the second racer will get flight approval by September, when the rocket planes are slated to compete head-to-head at the Reno Air Races in Nevada.
Either way, a new element in the fall will involve a three-dimensional track in the sky, which fans could follow on large television screens that show views from pilot helmet displays. The added immersion factor could help bring rocket racing one step closer to mainstream entertainment, organizers said.
"We're planning on having the big screens at Reno," Whitelaw said.
Rocket racing events after this weekend will include the Reno National Championship Air Races in Reno, Nev., between Sept.10-14; X Prize Cup in Las Cruces, N.M., in late October; and Aviation Nation at Nellis Air Force Base in Las Vegas, Nev., on Nov. 8-9.
Video: Rocket Racing Visionaries

Future of Flight: Space Tourism, Investment and Technology