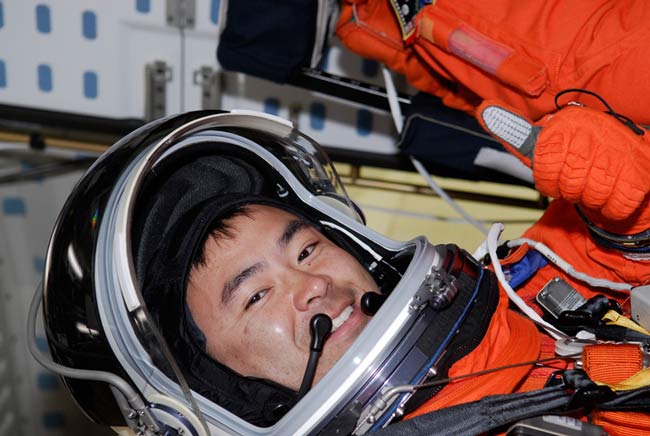 When Japanese astronaut Akihiko Hoshide launches spaceward aboard NASA?s shuttle Discovery on Saturday, he will help carry his country?s hopes - literally - into orbit.
Hoshide and six crewmates are preparing to haul Japan?s $1 billion laboratory Kibo (which means ?Hope? in Japanese) to the International Space Station. The module, a massive orbital room the size of a large tour bus, will be the station?s largest laboratory once installed.
?It?s going to be a great mission and it?s very exciting, especially for the Japanese folks,? Hoshide, 39, said Wednesday after arriving with crewmates at NASA?s Kennedy Space Center (KSC) spaceport in Cape Canaveral, Fla.
Commanded by veteran U.S. spaceflyer Mark Kelly, Discovery and its Kibo lab cargo are set to lift off Saturday at 5:02 p.m. EDT (2102 GMT) from their seaside launch pad at KSC. Hoshide, Kelly and their crewmates plan to deliver Kibo during three spacewalks, perform station maintenance and swap out a member of the outpost?s three-man crew during their 14-day mission.
?I am very excited, and also very privileged, to be on this team,? said Hoshide, who is making his first spaceflight with Discovery?s STS-124 mission. ?I am very confident we?re going to get this mission done successfully.?
For Hoshide, the trip to space began while he was a child living in New Jersey in 1968, when his father took him on a trip to NASA?s Florida spaceport, where he was awed by the size of the agency?s Saturn V moon rockets and drawn to science fiction like ?Star Trek? and ?Star Wars.?
?That had a huge impact,? he said in a NASA interview. ?All that influenced me and by the time I was probably 10, you know, I was set for space.?
Born in Tokyo, Hoshide is married and holds degrees in mechanical and aerospace engineering. He joined what is now the Japan Aerospace Exploration Agency (JAXA) in 1992 and was selected to join the country?s astronaut corps in 1999. He is rated to serve as a flight engineer aboard Russian Soyuz spacecraft.
?I am looking forward to probably a long-duration mission after this flight,? Hoshide told reporters. ?I think that?s the plan for the Japanese space agency to have everyone ready and lined up for a long-duration mission so we can get some utilization of the Kibo module done.?
But first, Kibo must reach the space station.
Flying bit by bit
Launching aboard Discovery with Hoshide is Kibo?s robotic-arm equipped pressurized laboratory, a hollow cylinder nearly 37 feet (11 meters) long and about 14.4 feet (4.4 meters) wide. Hoshide will use the space station?s robotic arm to attach the Kibo lab to an open port-side berth near the front of the outpost.
It is the second of three segments that will make up the 15.9-ton Kibo facility and follows an attic-like storage room delivered by shuttle astronauts earlier this year. Astronauts plan to move the storage module from a temporary berth to its permanent home atop the main Kibo module during Discovery?s STS-124 mission.
An external, porch-like platform will complete the Kibo lab once it launches next year, with a small airlock in the main module allowing astronauts to swap out experiments as needed.
?I think the Kibo module will have a uniqueness once we get the exposed platform installed,? Hoshide said.
Kibo is designed for a 10-year mission lifetime, though NASA and the U.S. have not yet decided whether to extend their involvement in the space station project beyond a planned 2014 end date.
?We do still need help from the U.S. side for the core portion of the space station,? Hoshide said. ?I?m hoping that it will be resolved in some way.?
Japanese researchers are planning a host of materials science and life science experiments for Kibo, with JAXA officials developing a homegrown cargo ship - the H-2 Transfer Vehicle - to supply the laboratory and station as a whole.
?I hope the Japanese science community will further be engaged in space exploration and we can accomplish a lot of scientific activities,? Hoshide said of Kibo?s impact. ?But more than that, I think that it would expand the possibility on orbit, especially for the Japanese community. So that is my hope.?
Hoshide is expected to open the Kibo lab in a ceremony, but how he will commemorate the event is still a mystery.
?I guess I?ll probably have to make a speech,? Hoshide said with a smile. ?But I?m still thinking about what to say.?
NASA will broadcast a launch readiness briefing for Discovery?s planned Saturday launch live on NASA TV today at 11:00 a.m. EDT (1500 GMT). Click here for SPACE.com?s shuttle mission updates and NASA TV feed.
New Images: Phoenix on Mars!