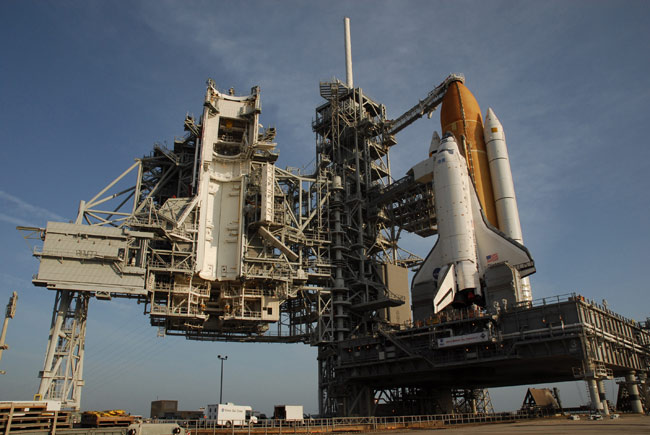 Editor's Note: This story was updated at 4:29 p.m. EDT.
CAPE CANAVERAL, Fla. — NASA?s space shuttle Discovery is on track to launch Saturday to deliver the space station?s largest laboratory and some spare parts for the outpost?s commode, mission managers said today.
Discovery and its seven-astronaut crew have an 80 percent chance of good weather for their planned 5:02 p.m. EDT (2102 GMT) liftoff, mission managers said today here at NASA's Kennedy Space Center (KSC) in Cape Canaveral, Fla. The STS-124 astronauts are slated to install the tour bus-sized Japanese Kibo laboratory on the International Space Station (ISS).
Discovery?s crew, commanded by veteran spaceflyer Mark Kelly, flew in to sunny skies here at the Florida spaceport today. They arrived on T-38 jets from Houston around 12:00 p.m. EDT (1600 GMT).
?Discovery is perched on the pad, Kibo is ready to go, the weather looks good,? said mission specialist Mike Fossum when they arrived. ?We?re about as ready as we could possibly be. I think it?s time to go fly.?
Launch controllers at KSC will begin counting down to Saturday?s planned launch at 3:00 p.m. EDT (1900 GMT) today.
?All of our systems are in good shape, countdown work is on schedule, and we have no issues to report,? said Charlie Blackwell-Thompson, NASA test director.
So far weather forecasts spot only a slim chance of thunderstorms causing this weekend's liftoff to be delayed.
?The weather?s going to be looking pretty good for launch,? said Kathy Winters, shuttle weather officer, at a preflight briefing today. ?Right now it does look good for the launch attempt for the first day.?
A recent addition to Discovery?s payload is a replacement pump for the ISS?s malfunctioning service module toilet, which has only been working ?sporadically,? said Scott Higginbotham, STS-124 payload manager.
Discovery?s mission will mark NASA?s third shuttle flight of the year, and the second of three to deliver elements of Japan?s massive Kibo lab. The STS-124 astronauts plan to perform three spacewalks during their 14-day mission to attach the 37-foot (11-meter) main segment of Kibo, relocate the module's attic-like storage compartment, and perform other station maintenance.
Image Gallery: Shuttle Mission Diary: NASA's STS-123