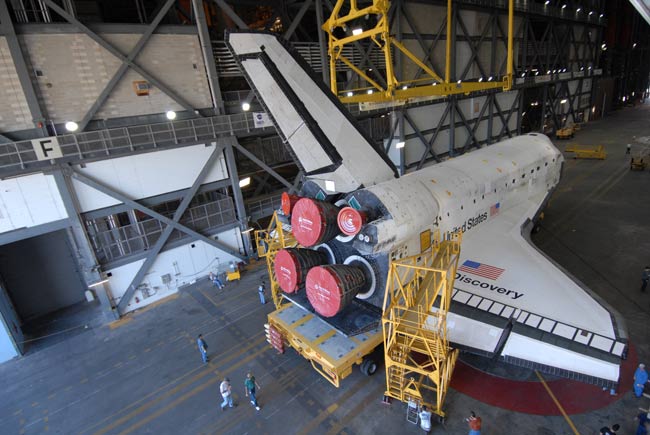 The space shuttle Discovery moved a step closer to launch early Saturday as NASA engineers hauled the spacecraft into a massive hangar to join its fuel tank and twin rocket boosters.
Discovery made the short morning move from its processing building to the cavernous, 52-story Vehicle Assembly Building at NASA?s Kennedy Space Center in Cape Canaveral, Fla., to prepare for its planned May 31 launch.
The shuttle?s seven-astronaut crew, commanded by veteran spaceflyer Mark Kelly, will deliver Kibo - a massive Japanese laboratory the size of a tour bus - to the International Space Station during a planned 13-day mission.
Engineers rolled Discovery out of its processing facility atop a 76-wheel transporter at 7:17 a.m. EDT (1117 GMT) and into the Vehicle Assembly Building at about 8:05 a.m. EDT (1205 GMT), where engineers will hoist it into a vertical position for external tank attachment. The move occurred two days earlier than planned due to swift work by shuttle workers, NASA officials said.
?That?s usually a pretty good sign when you can gain some time in the schedule,? NASA spokesperson Allard Beutel told SPACE.com. ?They just didn?t encounter a lot of problems and things have been going extremely well.?
The extra two days will give shuttle workers more flexibility should they encounter any unexpected issues later, Beutel added.
Discovery is slated to roll out to its Pad 39A launch site at 12:01 a.m. EDT (0401 GMT) on May 3, where shuttle workers will prepare it for a planned 5:02 p.m. EDT (0902 GMT) liftoff on May 31.
During their mission, Kelly and his crew will install the 37-foot (11-meter) Kibo laboratory, relocate its attic-like storage module delivered on an earlier flight and swap out one member of the space station?s crew. Two spacewalks are planned for the mission, NASA said.
Discovery astronauts will perform a full dress rehearsal of their launch day on May 9.
Kibo?s delivery will mark the second laboratory added to the space station this year. Astronauts installed Europe?s Columbus laboratory during a February shuttle mission, with a March flight delivering Kibo?s storage module and a Canadian-built maintenance robot.
IMAGES: NASA's STS-123 Shuttle Mission in Pictures