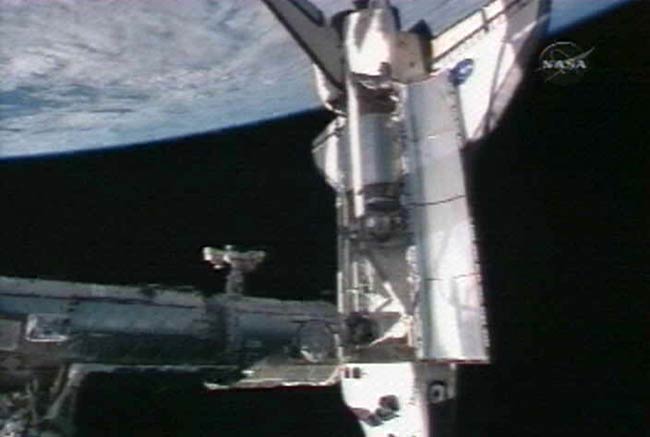 This story was updated at 7:33 p.m. EST.
HOUSTON — NASA delayed a planned Sunday spacewalk outside International Space Station (ISS) because of medical concerns with a crew member, mission managers said.
Seven shuttle Atlantis astronauts docked with the ISS Saturday afternoon and began preparing for tomorrow's installation of Europe's new Columbus science laboratory. But John Shannon, deputy shuttle program manager here at NASA's Johnson Space Center (JSC), said medical problems with an astronaut prompted the agency to delay the seven-hour excursion.
NASA extended the 11-day mission by one day and may extend it yet another day, Shannon said.
"The crew called down for [a private medical conference] during the rendezvous, which was a little bit of a surprise to us," Shannon said, referring to the docking of Atlantis with the International Space Station (ISS) today.
The spacewalk is now scheduled for Monday.
"It's not going to impact any objectives of this mission," Shannon said of the crew health problem. "It will cause us to rearrange a few activities."
Shannon noted that Hans Schlegel, a 56-year-old European Space Agency (ESA) astronaut slated to participate in the first spacewalk of the STS-122 mission, will be replaced by mission specialist Stanley Love, 42, for the event. Mission managers are still deciding whether or not Schlegel will participate in a second of three planned spacewalks with mission specialist Rex Walheim.
When asked for further details about the medical problem, Shannon said it was not life threatening but would not tell reporters what the concern was or who was affected by it.
"You guys can fish all day, but I won't bite," he said, explaining that medical issues are private matters and are not subject to public disclosure by NASA.
Inquiries e-mailed by SPACE.com to the ESA about the status of its two astronauts in space — Schlegel and Leopold Eyharts — were not returned by the time of publication. Claims by wire reports suggesting Schlegel lost his voice, a critical function during a spacewalk, were not substantiated by NASA.
Aside from the undisclosed health trouble, lead shuttle flight director Mike Sarafin said teams on the ground are busy scrutinizing photographs of Atlantis' heat shield taken today before it docked at the Harmony node. A small tear in a thermal blanket on the rear of Atlantis was given special attention during the procedure.
"You can just barely see a little tear," Sarafin said, pointing to an image of Atlantis' right Orbital Maneuvering System (OMS) pod. "It's probably not that big of an issue but we're off looking at it."
Sarafin also noted that a backup computer on Atlantis' suffered a glitch and was taken offline.
"We suspect that it's a healthy computer, we just took the precaution to not pollute the other computers by bringing it back in," Sarafin said, noting that two other computers remain to perform the orbiter's guidance and navigation tasks.
The STS-122 mission, led by commander Stephen Frick, is slated to install the ESA's Columbus laboratory, outfit the new orbital room and replace an empty nitrogen tank. Atlantis is expected to land on Feb. 19, possibly Feb. 20 if the second day is added to the mission.
The 100-ton orbiter has enough supplies to remain in space until Feb. 21 or Feb. 22 if Atlantis' fuel cells are adequately conserved, Shannon said.
NASA is broadcasting Atlantis' STS-122 mission live on NASA TV. Click here for SPACE.com's shuttle mission coverage and NASA TV feed.
SPACE.com Video

Interplayer

: NASA's STS-122: Columbus Sets Sail for ISS

Test Your Smarts: Space Shuttle Countdown Quiz

Complete Space Shuttle Mission Coverage