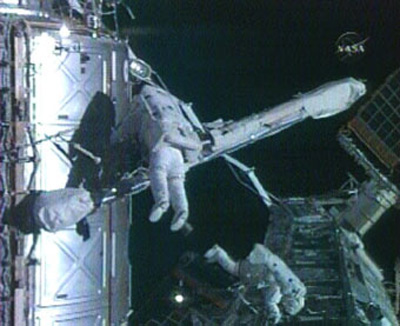 Two spacewalking astronauts wired up the International Space Station?s (ISS) newest room Saturday, capping a month-long marathon of work to prepare for the December arrival of a new European laboratory.
Expedition 16 commander Peggy Whitson and flight engineer Dan Tani spent more than seven hours routing ammonia cooling lines and cables for power and data systems between the station and its hub-like Harmony connecting module. The orbital work cleared the way for NASA?s planned Dec. 6 launch of its STS-122 mission aboard Atlantis to deliver the European Space Agency?s (ESA) Columbus laboratory to the ISS.
"Wow it's almost a full moon," said Whitson, Expedition 16 commander and lead spacewalker as she ventured outside of the station?s Quest airlock at 4:50 a.m. EST (0950 GMT).
"Yeah, I've been watching the past couple nights and it's very close," said Tani of the waxing lunar spectacle.
The seven-hour, four-minute spacewalk marked the third in 15 days for the station?s Expedition 16 astronauts and served as the finish line for a work marathon that began with a Nov. 9 excursion just after NASA?s shuttle Discovery left the ISS.
Discovery?s STS-120 crew delivered Harmony to the ISS, but it was up to Whitson, Tani and crewmate Yuri Malenchenko to move the node to its current perch at the front of the station?s Destiny lab. There, Harmony will serve as the hub for Columbus and a Japanese laboratory slated to launch next year.
?What we?ve accomplished in the last 15 days is the equivalent of a very ambitious shuttle assembly mission,? said ISS flight director Derek Hassmann after the spacewalk, adding that the three Expedition 16 crew achieved on their own what a team of up to 10 ISS and shuttle astronauts would normally tackle. ?Quite honestly, I am just very pleasantly surprised that everything went as well as it did.?
Solar wing joint inspection
While much of Saturday?s spacewalk chores mirrored those performed by Whitson and Tani in a Tuesday excursion, mission managers did add a new task to their orbital to-do list: the inspection of massive gear that turns the station?s starboard solar wings like a paddlewheel to face the sun.
Tani found metallic grit in the gear, known as the starboard Solar Alpha Rotary Joint (SARJ), during a late October spacewalk inspection after engineers on Earth detected odd vibrations and slight power spikes from the 10-foot (3-meter) wide structure. During Saturday?s inspection, Tani uncovered a different section of the joint and found similar contamination.
"I see the same damage I saw on the other panel," Tani said. "In fact, I would say there are more shavings here. Again, it looks exactly like ? there's this obvious magnetic attraction."
Station flight controllers have moved the starboard gear only sparingly to avoid further damage, but its counterpart on the station?s port side continues to perform flawlessly and showed no signs of contamination during a previous spacewalk inspection.
Tani and Whitson said it appeared that one of the starboard gear?s two bearing race rings appeared to be pitted or damaged.
?It sure looks like metal-to-metal damage,? Tani said.
The starboard SARJ gear will likely have to be repaired before the major component of Japan?s three-segment Kibo laboratory can be installed at the ISS next year, but mission managers said any attempt to fix the joint can wait until after December?s planned shuttle flight. Depending on the nature of repair required, the effort could take up to four extra spacewalks, but understanding the full extent of contamination is vital before any attempt is staged, NASA has said.
?I consider that to be, as it turns out, one of the key accomplishments of today?s spacewalk,? Hassmann said of the Expedition 16 crew?s SARJ inspection. ?Basically, the damage is significant and it is widespread.?
Fluid tray shuffle
Whitson and Tani spent the bulk of their Saturday spacewalk routing a 300-pound (136-kilogram), 18.5-foot (5.6-meter) tray of ammonia cooling system lines between Harmony and the ISS. The work installed the second half of cooling, power and data cables to completely fold Harmony into the space station?s systems.
"This is harder than last time," Tani said as he gripped the bulky tray, comparing it to his wrangling with an identical component on Tuesday's spacewalk.
Whitson also removed a series of launch restraints on the Harmony and finished hooking up the station?s power transfer that allows visiting shuttles to feed off the ISS power grid. The astronauts began their spacewalk more than one hour early and managed a few extra tasks, including the installation of an exterior flood light and setting up tools for spacewalks planned during December?s shuttle flight.
Saturday?s spacewalk marked the 99th dedicated to space station construction and the fourth career excursion for both Whitson and Tani. By the end of the activity, Whitson racked up 25 hours and 40 minutes of spacewalking time while Tani ended with 25 hours and five minutes.
VIDEO: ISS Commander Peggy Whitson Takes Charge

NEW IMAGES: Discovery's STS-120 Mission in Pictures

The Orbital Chef: The Top 10 Space Foods