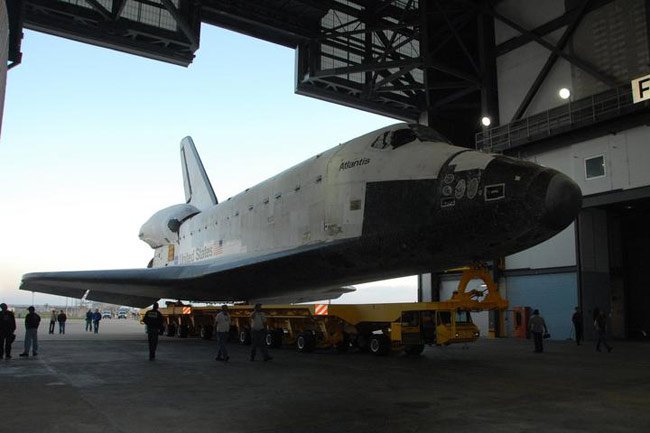 While the seven astronauts aboard NASA?s shuttle Discovery head back toward Earth, the agency is already looking ahead to the planned December launch of its next flight to the International Space Station (ISS).
Discovery?s sister ship Atlantis stands poised for flight inside NASA?s cavernous Vehicle Assembly Building at the agency?s Kennedy Space Center (KSC) in Cape Canaveral, Fla., two days after leaving its protective hangar. The shuttle is slated to launch as early as Dec. 6 pending the completion of Discovery?s current mission.
?It is successfully mated with its fuel tank and solid rocket boosters,? NASA KSC spokesperson Allard Beutel told SPACE.com of Atlantis.
Led by veteran NASA spaceflyer Stephen Frick, a commander in the U.S. Navy, Atlantis?s seven-man crew will deliver the European Space Agency?s Columbus laboratory and a new ISS astronaut to join the station?s Expedition 16 mission. The shuttle rolled out of its processing hangar early Saturday and is now undergoing a series of integration tests to ensure it is connected properly to its 15-story external fuel tank.
NASA space shuttle program manager Wayne Hale told reporters today that Atlantis?s heat shield has been cleared for spaceflight after close inspection of the protective reinforced carbon-carbon (RCC) panels lining its wing leading edges. Similar heat-resistant panels, which experience the hottest temperatures during reentry, on Discovery showed indications of exterior coating blemishes, though the orbiter was ultimately found safe to fly.
?We have no concerns with our RCC panels on Atlantis at this time,? Hale said.
If all goes well, the Columbus laboratory will roll out to NASA?s Pad 39A launch site on Wednesday, with Atlantis set to follow early Nov. 10.
Commanded by veteran shuttle flyer Pamela Melroy, the STS-120 crew successfully delivered a Harmony connecting node to the ISS, moved a massive solar power truss to the station?s port-most edge, and then unfurled its pair of wing-like solar arrays. The astronauts also stitched up a ripped solar panel during the last of four spacewalks outside the ISS.
Harmony will serve as the docking port for Europe?s Columbus module and the three-segment Kibo laboratory built by Japan.
Busy month ahead
But first, NASA must land its shuttle Discovery and prepare the ISS for Atlantis?s December arrival. Discovery undocked from the ISS early Monday and is slated to land Wednesday just after 1:00 p.m. EST (1800 GMT).
The shuttle?s return then sets the stage for a Friday spacewalk by ISS Expedition 16 commander Peggy Whitson and flight engineer Yuri Malenchenko.
Whitson, Malenchenko and flight engineer Daniel Tani plan to stage a trio of spacewalks, move a shuttle docking port to the end of the newly installed Harmony node, then move Harmony and its new berthing port to the front of the station?s U.S. Destiny laboratory before month?s end. Each of those tasks must go smoothly if Atlantis is to launch within its slim, week-long window.
?From a processing point of view, we?re on track to do that,? Beutel said of launching Atlantis. ?It all really depends on what they?ll be able to do in space.?
NASA is broadcasting Discovery's STS-120 mission live on NASA TV. Click here for mission updates and NASA TV from SPACE.com.
SPACE.com Video

Interplayer

: Delivering 'Harmony' with NASA's STS-120 Mission

Complete Space Shuttle Mission Coverage