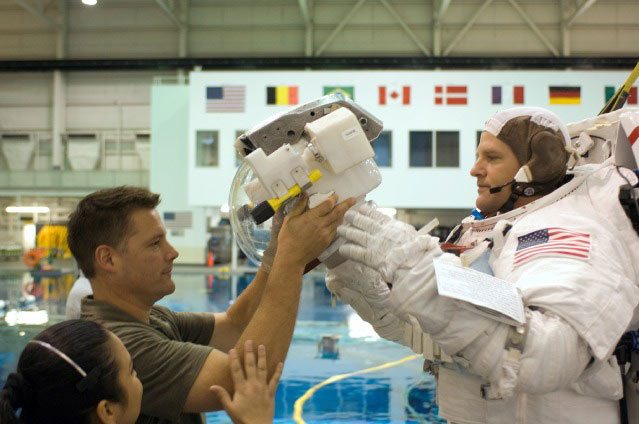 CAPE CANAVERAL, Fla. - An Olympic athlete-turned-astronaut and a rookie spaceflyer are leading a spacewalking team set to launch toward the International Space Station (ISS) aboard NASA?s shuttle Discovery this week.
Veteran shuttle astronaut Scott Parazynski and first-time flyer Douglas Wheelock are taking the first shift for the five spacewalks on tap for NASA?s STS-120 shuttle flight slated for a planned Tuesday launch. Together with their five crewmates, the spacewalkers will help a vital connecting node to the station to serve as the anchor for new international laboratories and larger ISS crews.
?It?s very exciting to think that we?ll be enabling, in small part, the future expansion of the space station, in particular the science activities,? Parazynski said in a NASA interview.
During their planned 14-day flight, Parazynski will perform four of the five STS-120 spacewalks - three with Wheelock and a fourth with crewmate Daniel Tani - to continue ISS construction. The space station?s Expedition 16 crew will conduct the fifth spacewalk.
?Grizzled? veteran
With four spaceflights under his belt, Parazynski is the most experienced spaceflyer of Discovery?s STS-120 crew and hopes to help his rookie crewmates develop the skills to lead on future missions.
?I am not the oldest, but I am the most grizzled,? Parazynski, 46, told reporters. ?I take the responsibility of developing them as one of my highest priorities.?
Parazynksi is the chief spacewalker for Discovery?s STS-120 flight. Hailing from Palo Alto, Calif., and Evergreen, Colo., he studied medicine at Stanford Medical School, where he competed on the U.S. Development Luge Team and later served as a Olympic team coach for the Philippines during the 1988 Winter Games in Calgary, Canada.
Parazynski conducted extensive studies in the human body?s adaptation to long-duration spaceflight and joined NASA?s astronaut corps in 1992 after completing his residency in emergency medicine in Denver, Colorado. But the seed for his astronaut career was planted much earlier.
?I had a wonderful upbringing, great parents, and as luck would have it, a father who worked in the space program,? Parazynski said, adding that his father worked for Boeing to support NASA?s Apollo moon program. ?So I grew up with the posters on the wall, the model rockets ?I had the dream early on and, I just never lost track of that aspiration.?
According to Parazynski?s calculations, he is also the first NASA astronaut to be born after Mercury astronaut Alan Shepard?s May 5, 1961 launch to become the first American in space. Parazynksi, who is married to wife Gail and has two children, was born on July 28 of that year.
Parazynski first launched into space aboard the shuttle Atlantis in 1994 during an 11-day Earth science mission, then flew to Russia?s Mir Space Station aboard the same orbiter in 1997 on cargo and crew exchange flight. He flew alongside former NASA astronaut John Glenn during 1998?s STS-95 shuttle flight aboard Discovery before launching to the ISS aboard its sister ship Endeavour in 2000 to help install the space station?s robotic arm.
During the STS-120 flight, Parazynski said he is looking forward to his fourth spacewalk, which is slated to test a shuttle repair technique that uses a pink goo-like material to fill in damaged heat shield tiles. The test was a late addition to the upcoming mission following tile damage to the shuttle Endeavour during its August spaceflight.
"I'm really excited about it to answer the fundamental question how is this material going to behave [in space],? Parazynski told reporters.
A pilot?s orbital Holy Grail
Considered the ?happy guy? of Discovery?s STS-120 crew by commander Pamela Melroy, Wheelock is eagerly awaiting his first spaceflight after nine years of training.
?He is the life of the party,? Parazynski said of his spacewalking partner, who goes by the nickname ?Wheels.?
Wheelock, 47, is a native of Windsor, New York, and an active U.S. Army colonel with degrees in applied science and engineering, as well as aerospace engineering. While he recalls watching the Apollo moon landings as a nine-year-old boy, Wheelock?s path to the launch pad seems to have evolved from his work as an Army aviator and test pilot.
?For me, it was more like a sort of logical progression,? Wheelock said in a NASA interview. ?Because of my engineering interest, the assembly of, and construction of an orbiting laboratory just was sort of the Holy Grail, if you will, for me as a mission specialist.?
Since joining NASA?s spaceflying ranks in 1998, Wheelock has served in a veritable cornucopia of positions ranging from ISS spacecraft communicator in Mission Control to NASA?s Director of Operations at the Gagarin Cosmonaut Training Center in Star City, Russia, where he was trained to serve as a flight engineer for Soyuz spaceflights. He also lived on the ocean floor during NASA?s 10-day NEEMO 6 expedition to the Aquarius undersea laboratory.
During his three STS-120 spacewalks, Wheelock will help install Harmony, reattach the station?s old Port 6 solar array to its final position on the outpost?s port-most edge and test shuttle heat shield repair methods. The complicated orbital work should prove among the highlights of Wheelock?s spaceflight debut, but the astronaut said he feels fully trained to tackle his tasks.
?The enormity of the task is not lost by my excitement for sure,? Wheelock said. ?I?m very well aware of the complexity of what we?re doing, and I?ve a healthy set of butterflies, you know, just sort of the feeling before the big game.?
SPACE.com Video Interplayer: NASA's STS-118 Shuttle Mission

Complete Space Shuttle Mission Coverage

IMAGES: Next Stop Mars: NASA's Phoenix Mission