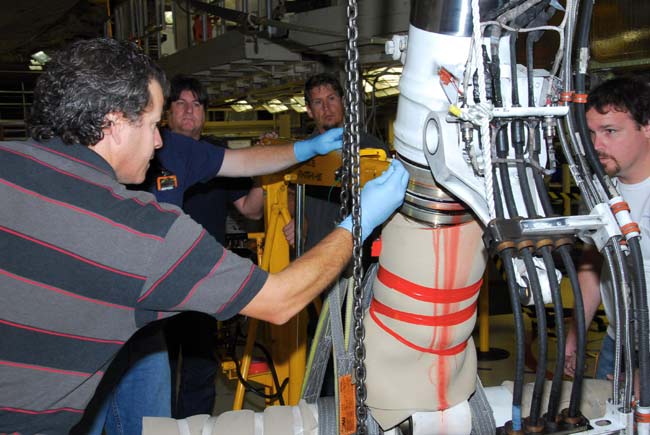 Engineers worked to fix a leaky hydraulic seal on NASA's space shuttle Discovery Wednesday as the agency weighs a possible delay for the spacecraft's planned October launch.
Discovery was slated to leave its hangar and move to the cavernous Vehicle Assembly Building (VAB) at NASA's Kennedy Space Center in Florida today to be attached to its external tank and rocket boosters. But a leak in one of four hydraulic seals on the orbiter's right main landing gear strut prompted mission managers to hold that move and await repairs. ?
"We're going to replace all four seals," Allard Beutel, a NASA spokesperson at KSC, told SPACE.com Wednesday. "They expect to have that wrapped up today."
Commanded by veteran shuttle flyer Pamela Melroy, Discovery's STS-120 mission is slated to launch Oct. 23 to deliver a vital connecting node to the International Space Station (ISS). Mission managers are keeping a close watch on Discovery's hydraulic seal repairs to determine whether the extra work will delay the planned launch by a few days.
NASA detected the leak Thursday in a strut that serves as a shock absorber during landings. Engineers had to remove the right main landing gear tires, wheels and brakes to replace the faulty seal and three others with the help of contractor BF Goodrich, Beutel said.
Tests to ensure the new seals are in proper working order could begin as early as Thursday, with Discovery's move into the 52-story VAB at NASA's Cape Canaveral spaceport slated for sometime next week, the space agency said.
NASA has five days of reserve time in its schedule to ready Discovery for the planned 14-day STS-120 mission. Once the orbiter moves into the VAB, it traditionally takes about a week for shuttle workers to attach the vehicle to its boosters and fuel tank for transport to the launch pad.
While a slight launch delay is possible for Discovery, NASA officials remain optimistic that the seal repairs will be completed in time for an Oct. 23 liftoff.
"It's still absolutely a possibility given the way the work is proceeding," Beutel said.
Melroy and her six STS-120 crewmates plan to perform five spacewalks at the ISS to install the new connecting node and relocate an old solar array segment to station's port-most edge. The new node, dubbed Harmony, will serve as the attachment point for future international laboratories at the space station.
SPACE.com Video Interplayer: NASA's STS-118 Shuttle Mission

IMAGES: NASA's STS-118 Mission in Pictures

Complete Space Shuttle Mission Coverage