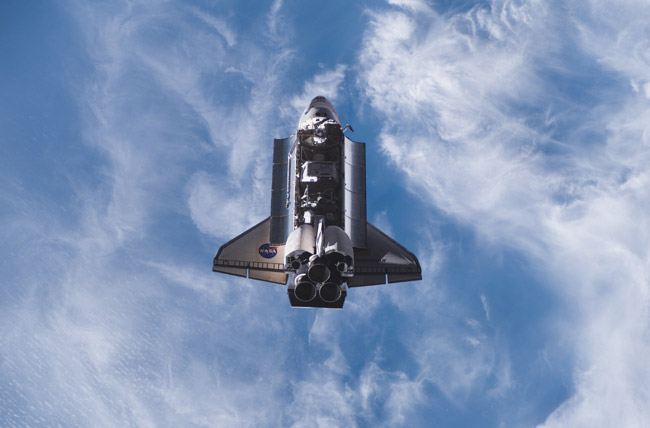 CAPE CANAVERAL, Fla. -- Seven astronauts and NASA's space shuttle Endeavour are due to return to Earth today after a successful construction flight cut short a day by earlier concerns over Hurricane Dean.
Commanded by veteran shuttle flyer Scott Kelly, Endeavour's STS-118 astronaut crew is set to land here at NASA's Kennedy Space Center (KSC) at 12:32 p.m. EDT (1632 GMT) to conclude a 13-day assembly mission to the International Space Station (ISS).
"Hopefully, we'll have acceptable weather and a really good day," Kelly told Mission Control Monday.
Strong crosswinds and a slight chance of rain within about 34 miles (54 kilometers) of NASA's Shuttle Landing Facility are the only threats to Endeavour's planned landing. NASA has two opportunities to return the shuttle and its crew today, with the second occurring at 2:06 p.m. EDT (1806 GMT).
"I think we have a pretty good chance for this time of year," said Steve Stich, NASA's launch and entry flight director for Endeavour's flight, in a Monday briefing. "I'm pretty optimistic."
Stich said Endeavour and its crew are primed for today's landing, and reiterated that a small, deep gouge in the orbiter's underbelly will pose no risk to the spacecraft during reentry. The ding, he added, will likely have little impact in Endeavour's refurbishment for a planned February 2008 mission.
NASA is looking into possible fixes for the fuel tank foam that caused the damage, shuttle officials said Monday.
Returning to Earth with Kelly are Endeavour pilot Charlie Hobaugh, teacher-turned-spaceflyer Barbara Morgan and her fellow mission specialists Tracy Caldwell, Rick Mastracchio, Alvin Drew, Jr. and Canadian Space Agency astronaut Dave Williams.
The seven astronauts successfully repaired a broken ISS gyroscope, delivered more than two tons of cargo and installed a new spare parts platform along with an $11 million starboard-side girder at the orbital laboratory during their mission.
Morgan, NASA's backup for Teacher in Space Christa McAuliffe before the 1986 Challenger tragedy, left pair of expandable plant growth chambers and basil seeds aboard the ISS for station astronauts to cultivate as part an educational program.
Returning home
Endeavour is landing one day earlier than planned due to measures taken late last week to ensure that NASA's Mission Control operations in Houston, Texas were not interrupted by Hurricane Dean. At the time, it appeared the massive storm could swing north to hit coastal Texas and prompt an evacuation of Mission Control.
As of late Monday, however, the storm was continuing on a course towards central Mexico, according to the National Hurricane Center.
"Hurricane Dean is kind of trending away, so we don?t think that?s going to be a factor," NASA astronaut Chris Ferguson told Endeavour's crew from Mission Control Monday.
By coincidence, should Endeavour wave off its first landing attempt today, the 100-ton spacecraft would pass over Hurricane Dean at an altitude of about 180,000 feet (54,864 meters) for the 2:06 p.m. EDT (1806 GMT) touchdown, NASA said. But its astronaut crew would not be able to see the storm through Endeavour's windows due to the shuttle's flight path, the space agency added.
NASA has the capability of landing Endeavour at a backup runway at California's Edwards Air Force Base in the Mojave Desert today, but will likely forgo that option and wait for Wednesday should a Florida touchdown prove untenable this afternoon, Stich said.
By landing in Florida, NASA can cut down the amount of time required to prepare an orbiter for its next flight, as well as save about $1.7 million in extra costs associated with hauling a shuttle across the U.S. to its Florida launch site.
Stich said preparing for today's landing has been considerably more palatable than pondering the earlier implications of Hurricane Dean.
"It's much more like a normal landing day," he said.
NASA is broadcasting Endeavour's STS-118 mission live on NASA TV. Click here for mission updates and SPACE.com's NASA TV feed.
NEW VIDEO: STS-118: Coming Home

VIDEO: Teaching the Future: Teacher-Astronaut Barbara Morgan

Complete Space Shuttle Mission Coverage