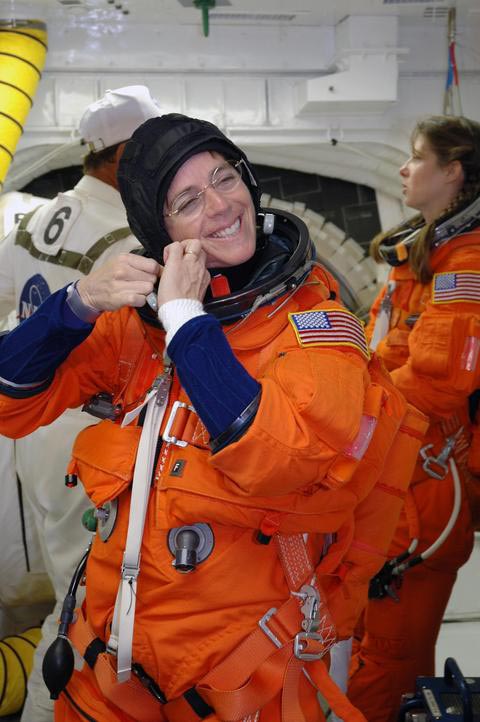 Teacher-turned-spaceflyer Barbara Morgan strapped into the space shuttle Endeavour with her six crewmates Thursday for a launch dress rehearsal, 22 years to the day that she first joined NASA's astronaut corps.
Morgan and her STS-118 crewmates donned their bright orange pressure suits for a day of launch and shuttle escape drills in preparations for a planned Aug. 7 liftoff from NASA's Kennedy Space Center (KSC) in Cape Canaveral, Florida.
"It really does seem like yesterday," Morgan told reporters Wednesday of her first assignment at NASA.
The space agency first selected Morgan on July 19, 1985, when she was chosen as the backup spaceflyer to New Hampshire schoolteacher Christa McAuliffe during NASA's Teacher in Space project.
The two teachers underwent spaceflight training for NASA's STS-51L mission aboard the space shuttle Challenger. But McAuliffe and six NASA astronauts died tragically during Challenger's January 1986 launch when the orbiter blew apart shortly after liftoff.
"What happened with Challenger was wrong," Morgan said. "But what the crew and NASA were trying to do was absolutely right, and I'm grateful to continue that on."
Morgan represented McAuliffe as her Teacher in Space Designee before retuning to her Idaho classroom in 1986. In 1998, she was once more selected by NASA for spaceflight, this time as a full fledged mission specialist and educator astronaut rather than as a civilian teacher. She was assigned to the STS-118 mission aboard the Endeavour orbiter, which NASA commissioned to replace Challenger and was named by schoolchildren, in 2002.
Commanded by veteran shuttle astronaut Scott Kelly, Endeavour's STS-118 mission will deliver about 5,000 pounds (2,267 kilograms) of cargo, spare parts and new starboard-side piece of framework to the International Space Station (ISS) during an up-to 14-day mission. The spaceflight will mark Endeavour's first mission since late 2002, when NASA pulled the orbiter from flight status to perform an extensive overhaul.
Astronauts said Wednesday that their orbiter appears to be in fine shape for its planned return to space next month.
"There are always minor things that they work on all the way up through launch," Kelly said. "So far there's nothing that concerns or me, or that I anticipate to be a problem."
Launch day nears
In addition to Thursday's launch dress rehearsal, Endeavour's STS-118 astronauts are expected to look over the ISS spare parts platform, Starboard 5 (S5) spacer truss segment and pressurized SPACEHAB cargo module that they will haul to the space station during their mission. The activities, along with others earlier this week, are part of NASA's standard Terminal Countdown Demonstration Test (TCDT) that precedes every shuttle flight.
"It couldn't have gone better, it was very smooth," NASA spokesperson George Diller said of the STS-118 crew's TCDT activities. "There were some lessons learned here, and there were no new surprises."
Morgan, Kelly and their STS-118 crewmates are slated to return to NASA's Johnson Space Center in Houston, Texas later Thursday.
At KSC, engineers are expected to begin priming Endeavour for the three-day fueling process of its orbital maneuvering and reaction control systems engines, as well the shuttle's auxiliary power units, Diller said.
"We're right where we should be," he added.
Click here to learn more about NASA's education programs planned for the STS-118 mission.
NASA

'

s STS-118: Teaching the Future Through ISS Assembly

SPACE.com Video Interplayer: Space Station Power Up with NASA's STS-117

Complete Shuttle Mission Coverage