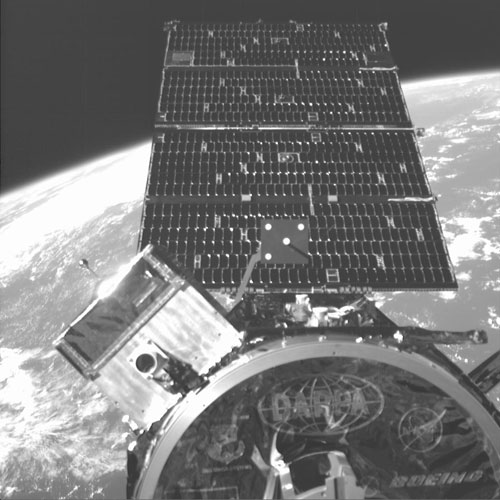 WASHINGTON - Decommissioning of a pair of experimental Pentagon satellites known as Orbital Express is due to begin today and wrap up two days later, bringing the 120-day satellite-refueling demonstration to an irreversible end.
Led by the U.S. Defense Advanced Research Projects Agency (DARPA) with an assist from NASA, the Orbital Express mission was launched March 8 on an Atlas 5 rocket to show that two specially-built satellites could link up on orbit and transfer fuel and hardware with limited interaction from the ground.
Despite some early glitches, the mission is considered a success, with the two Orbital Express spacecraft completing their final rendezvous and capture maneuver June 29. It was the second successful grapple of the Ball Aerospace & Technologies-built NextSat by the Boeing-built Autonomous Space Transport Robotic Operations (ASTRO) servicing spacecraft.
In a July 3 e-mail, DARPA spokeswoman Jan Walker described the decommissioning process, which she said would get underway after the United States' Independence Day holiday July 4.
"The decommissioning process will consist of de-mating the two satellites, separating them to approximately 1,000 [kilometers] apart, dumping propellant from the ASTRO, and then decommissioning the computers," Walker wrote. "We expect to de-mate the satellites on 5 July, and decommission the computers on 7 July."
The two satellites will eventually re-enter the Earth's atmosphere and burn up. NextSat, the lighter of the two satellites, is expected to re-enter in three to five years, according to Walker, while Astro should remain in orbit for another 12 to 15 years before coming in.
DARPA and NASA had been quietly lobbying to keep Orbital Express in service a while longer to test techniques applicable to future Mars sample return missions, according to sources familiar with the situation, but were rebuffed by the U.S. Air Force.
A glimpse of the behind-the-scenes jockeying is provided by an e-mail DARPA director Tony Tether sent June 29 to nearly two dozen U.S. government officials, including Air Force Secretary Michael Wynne and NASA Administrator Michael Griffin discussing the impending deactivation of Orbital Express.
"It was hoped that [Orbital Express] would continue for NASA missions. However the Air Force is unable to support any further Orbital Express mission; rationale unknown at least to me," Tether wrote, "but offers of paying the ground station cost for the next three weeks were rejected."
According to sources, three weeks was the amount of time NASA needed to prepare for a hand off of the Orbital Express spacecraft to its flight controllers.
NASA spokesman Dwayne Brown denied any disagreement between NASA and the Air Force about ending the mission when speaking to Space News June 29. "There is no dispute," Brown said. "We elected not to pay to do an extended mission."
VIDEO: The View from Orbital Express

VIDEO: A Look at the Orbital Express Mission