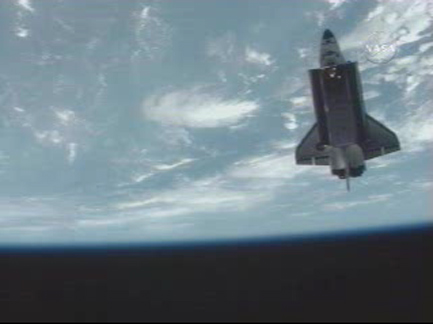 This story was updated at 8:17 p.m. EDT.
CAPE CANAVERAL, Fla. -- NASA mission managers cleared the space shuttle Atlantis and its seven-astronaut crew for a planned Thursday landing after resolving two final issues.
Late Wednesday, engineers completed studies into a small bit of fluff poking out from heat shield panels near the tip Atlantis? left wing and new data related to the shuttle?s torn engine pod blanket repaired during the shuttle?s STS-117 flight. Neither item was thought to be of major concern, but NASA officials opted to clear them just the same, the space agency said.
?We?re just going to review those two. I think we?re going to stomp them flat,? said John Shannon, NASA?s deputy shuttle program manager, late Wednesday. ?And then we?re going to be done with it and we?ll be ready to come home.?
Atlantis and its STS-117 astronaut crew are due to land on a runway here at NASA?s Kennedy Space Center (KSC) Thursday at 1:55 p.m. EDT (1755 GMT), though anticipated thunderstorms and thick clouds near the landing strip may preempt the orbiter?s Earth return, mission managers said.
?I know the forecast right now is no go, but clearly weather changes,? said Norm Knight, NASA?s ascent and entry flight director for the shuttle flight, during the afternoon briefing. ?As we get closer, we?ll get a better handle on the forecast models.?
Commanded by veteran shuttle flyer Rick Sturckow, Atlantis? seven STS-117 astronauts are wrapping up a 13-day mission that delivered a pair of new starboard solar arrays, trusses and one new crewmember to the International Space Station. The mission included four spacewalks to install the new massive girders and solar wings, as well as to furl an older solar array atop the station and staple down a loose thermal blanket on Atlantis? left aft engine pod.
During that blanket repair, engineers found that its underlying layer did not match those used in launch heating simulations, leading some to believe the area might have been subjected to ascent temperatures just slightly higher than those predicted. The mistake, while late-breaking, posed no risk to Atlantis or its crew, mission managers said.
?The engineering and safety teams believe it?s absolutely no risk at all to reentry,? Shannon said.
The bit of left wing fluff, actually a piece of frayed filler material, was seen during a second heat shield inspection of Atlantis by its astronaut crew using a sensor-laden extension of the orbiter?s robotic arm.
The survey, known as a late inspection, found no signs of damage from micrometeorites or orbital debris. Late inspections are now standard to all shuttle missions following the loss of seven astronauts and the shuttle Columbia in 2003.
After a late Wednesday meeting, mission managers cleared both issues to set the stage for Thursday?s planned landing.
?The polling was unanimous on both issues,? NASA spokesperson Allard Beutel told SPACE.com of the positive decision. ?We?re clear to land at the Kennedy Space Center, weather permitting.?
Florida landing preferred
Atlantis has enough supplies to stay in orbit until Sunday, though mission managers plan to land the shuttle by Saturday and keep the final day in reserve in case of an unexpected malfunction.
The weekend landing opportunities are largely due to the power conservation efforts by the Atlantis crew during their flight, when NASA managers were considering extending the mission a day or so to aid computer issues - since resolved - aboard the ISS.
?It?s definitely a luxury,? Knight said of the extra landing opportunities. ?Clearly we use those judiciously and we don?t treat them lightly.?
Knight said Atlantis will attempt to land at KSC during two Thursday opportunities - the first at 1:55 p.m. EDT and the second at 2:30 p.m. EDT (1830 GMT). If weather intervenes, the shuttle will wave off until Friday.
The space agency?s backup landing strip at Edwards Air Force Base in California will be called up in addition to KSC for any Friday or Saturday landing attempts, he added.
NASA prefers to land space shuttles at KSC because it is home to the orbiter?s hangars and launch sites. It allows for a faster turnaround to prime each orbiter for its next launch. Atlantis? next flight, aimed at hauling the European Space Agency?s Columbus laboratory to the ISS, is slated to liftoff in December.
Landings at Edwards Air Force Base, where orbiters are met by engineers at NASA?s Dryden Flight Research Center and ferried back to KSC atop a modified 747 jet, typically add about one extra week and a cost of $1 million to a shuttle?s turnaround time.
NASA is broadcasting the space shuttle Atlantis' STS-117 mission live on NASA TV. Click here for mission updates and SPACE.com's video feed.
SPACE.com Video Interplayer: Space Station Power Up with STS-117

IMAGES: Atlantis Shuttle?s STS-117 Launch Day

Complete Shuttle Mission Coverage