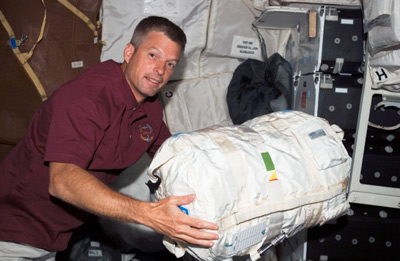 This story was updated at 12:07 p.m. EDT.
HOUSTON -- Seven astronauts aboard NASA's shuttle Atlantis will pack up their spacecraft Monday and prepare to leave the International Space Station (ISS) after one final check of the orbital laboratory's Russian computer systems.
Atlantis and ISS astronauts are hauling the last bits of cargo between their two vehicles while flight controllers on Earth test the outpost's resuscitated Russian control and navigation computers after they crashed last week.
The shuttle turned over attitude control to the station's Russian segment and thrusters controlled by the revived navigation computers after a planned maneuver by Atlantis for a wastewater dump, NASA said. U.S. navigation control systems also took control of the Russian thrusters as part of the check, the agency added.
"That will finish checking out all the attitude control systems," lead ISS flight director Kelly Beck said Sunday. "Again, we're confident it's going to work, but it will be a good double-check to make sure everything is in the proper configuration."
The Atlantis and ISS astronauts, meanwhile, are preparing for a planned Tuesday undocking of the shuttle, and are due to shut the hatches between their two spacecraft at about 6:23 p.m. EDT (2223 GMT) if the Russian attitude control system check goes well. The astronauts are currently slated to undock at about 10:40 a.m. EDT (1440 GMT) Tuesday for a planned Thursday landing.
"We look forward to winding the mission down with the undocking and the landing," Atlantis commander Rick Sturckow said while narrating his crew's daily video reel late Sunday.
Hard-earned down time
The shuttle crew is had about a half-day of down time Monday after a busy week of space station construction.
Atlantis' STS-117 crew delivered a pair of massive starboard trusses to the station last week after a June 10 docking.
Since then, the astronauts have staged four spacewalks - one more than initially planned - to install those Starboard 3/Starboard 4 segments, unfurl new solar arrays from its tip and stow away the last remaining solar wing extending from the station's mast-like Port 6 truss. They also used surgical staplers from spacecraft medical kits to repair a torn protective blanket on Atlantis' left Orbiter Maneuvering System (OMS) pod.
Overnight, ISS flight controllers successfully performed initial checks on a massive rotary joint bridging the two new starboard trusses that is designed to rotate outboard solar arrays so they can continuously face the Sun. Additional tests to check its Sun-tracking capabilities are underway and are expected to end with the joint running in full operations later today, NASA said.
Atlantis also ferried NASA astronaut Clayton Anderson to the ISS to join Expedition 15 commander Fyodor Yurchikin and flight engineer Oleg Kotov as a member of the station's crew. Anderson is relieving NASA astronaut Sunita Williams, who has lived aboard the ISS since December 2006 and broke the world record for the longest-duration spaceflight by a female astronaut on Saturday.
"I just wanted to make sure we weren't doing anything that would prevent us from dancing," Williams joked to Mission Control after asking whether any sensitive maneuvers were planned. "Alright, it's my last night!"
Late Sunday, after STS-117 spacewalkers completed the fourth and final planned spacewalk of their 13-day mission, the Atlantis astronauts added their mission patch alongside those of other past crews that have visited the ISS to a bulkhead as part of a station tradition.
The shuttle and ISS crews took some time to celebrate their docked mission with a group meal peppered with both U.S. and Russian foods.
"I believe I tried moose pate for the first time tonight," Sturckow said. "That was delicious."
NASA is broadcasting the space shuttle Atlantis' STS-117 mission live on NASA TV. Click here for mission updates and SPACE.com's video feed.
SPACE.com Video Interplayer: Space Station Power Up with STS-117

IMAGES: Atlantis Shuttle's STS-117 Launch Day

Complete Shuttle Mission Coverage