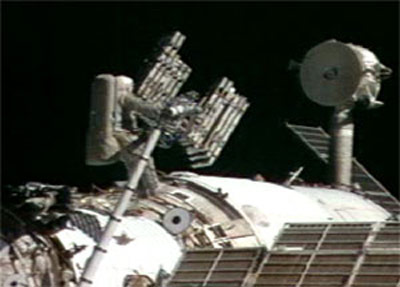 Two Russian spacewalkers will step outside the International Space Station (ISS) for the second time Wednesday to finish attaching new micrometeorite shields to their high-flying laboratory?s hull.
ISS Expedition 15 commander Fyodor Yurchikhin and flight engineer Oleg Kotov are due to begin the second spacewalk of their six-month space mission at 10:30 a.m. EDT (1430 GMT).
?It?s very important that we continue with our Russian EVAs,? Yurchikhin told reporters before a May 30 spacewalk, or extravehicular activity (EVA), also aimed at installing new ISS shielding.
Yurchikhin and Kotov are both making their second career spacewalks with today?s excursion, which also comes two days before the planned launch of NASA?s space shuttle Atlantis carrying seven astronauts and new solar arrays bound for the ISS.
Expedition 15 flight engineer Sunita Williams will watch over the progress of her two crewmates from inside the ISS and help choreograph their activities.
Guarding against space rocks
Clad in their Russian-built Orlan spacesuits, Yurchikhin and Kotov are expected to spend just over five hours attaching 12 one-inch (2.5-centimeter) thick metal panels and other equipment to the exterior of the space station?s Russian segments. The spacewalkers attached five other panels, known as Service Module Debris Panels, on the outpost?s Zvezda service module during their excursion last week.
Each panel weighs between about 15 and 20 pounds (about seven to nine kilograms) and covers a two-foot by three-foot (0.6 by 0.9 meters) patch of space station hull, NASA officials said. The shields will help guard the space station against damage from tiny space rocks -- or micrometeorites -- and orbital debris from jettisoned rocket stages, satellites and other spacecraft. The potential collision with micrometeorites and debris has been one of the top risks to the space station, NASA has said.
?We?ve been working on these for years, actually since prior to the first launch of the space station,? Kirk Shireman, NASA?s deputy ISS program manager, said of the increased shielding. ?We actually launched the space station in 1998. And through 2016, if you look at that life, there?s a lot of debris that we?ll fly through in that time frame and so that?s why it?s our highest risk.?
Outfitting ISS
In addition to installing the new station shielding, Yurchikhin and Kotov are expected to thread a 43-foot (13.1-meter) Ethernet cable along the exterior of the ISS and attach a Russian science experiment to the orbital laboratory?s hull.
The Ethernet cable, which will run along handrails mounted to the station?s Russian-built Zarya control module, is part of a computer system upgrade for the ISS. A second cable will be installed in a later spacewalk.
Biorisk, a Russian-built experiment to study the effect of weightlessness on microorganisms, will also be mounted to the space station?s Pirs docking compartment -- the starting point for today?s EVA -- during the spacewalk. Its three cylindrical sample containers will be retrieved by future spacewalkers.
?It will be the first EVAs for both of us and we?re really looking forward to performing this job,? Kotov told reporters before the two spacewalks. ?We?re very well-trained and that?s why we?re very sure of our success.?
NASA will broadcast today?s spacewalk outside the International Space Station live on NASA TV beginning at 10:00 a.m. EDT (1400 GMT). Click here for SPACE.com?s live spacewalk updates and NASA TV feed.
VIDEO: Meet the ISS Expedition 15 Crew

Complete Space Station Mission Coverage