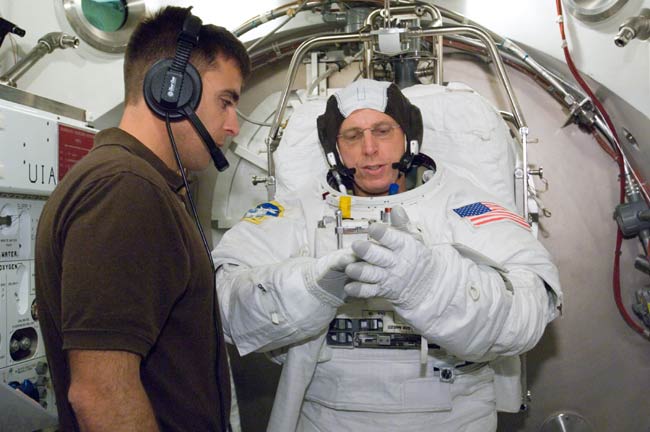 NASA astronaut Clayton Anderson, a late addition to the agency's next shuttle crew, is ramping up for a planned June 8 launch towards the International Space Station (ISS).
Originally assigned to NASA's STS-118 shuttle flight, which is due to launch in early August, Anderson moved to an earlier flight and joined the STS-117 crew last month after mission managers decided he should relieve Expedition 15 flight engineer Sunita Williams, the station's current U.S. resident, a few months early.
"It's going well," Anderson, 48, told SPACE.com of his training. "It's kind of piecemeal because we're trying to figure out parts that I trained on for STS-118 that I don't need to repeat, and which parts that I do need to take...on 117."
That training regimen swings into high gear this week, Anderson said, adding that he and STS-117 commander Rick Sturckow have been working together to decide which tasks he must rehearse for the upcoming launch of NASA's space shuttle Atlantis.
Unlike, Anderson's original shuttle flight -- which will deliver a relatively small spacer piece, storage platform and a pod full of supplies to the ISS -- NASA's STS-117 mission is hauling a massive pair of new solar arrays to the orbital laboratory. The planned 11-day spaceflight was delayed from a March 15 liftoff due to hail damage to Atlantis' external tank. Mission managers later opted to add Anderson to the mission in order to assure a return trip home for Williams, who has lived aboard the ISS since December 2006.
"We kind of knew it was coming," said Anderson, who will make his first spaceflight with the STS-117 and Expedition 15 crews. "I'll go whenever they want me to go."
Anderson said he expects to assist with robotics work using Atlantis' 50-foot (15-meter) robotic arm to deliver the space station's 17.5-ton Starboard 3/Starboard 4 truss segment and solar arrays during the STS-117 mission. He also plans to help out on Atlantis' middeck filling water bags for later transfer to the ISS alongside other cargo.
The spaceflight comes after more than two decades of NASA service by Anderson, who first began work for the space agency as an intern before securing a full-time position with the Mission Planning and Analysis Division at the Johnson Space Center in Houston, Texas in 1983.
"The most challenging part is just simply adapting to a new crew and they way they interact with each other," Anderson said of his mission switch.
Launching in June did add some scheduling challenges for Anderson's wife Susan and other family members and friends, who plan to travel to Florida for the space shot, though it does make it easier for his two children to attend the planned liftoff.
"We don't have to worry about taking them out of school...or disrupting to the start of their next year of school to go to a launch event," Anderson said of his son Cole and daughter Sutton Marie.
Some of Anderson's supplies are either already aboard the ISS or arriving early Tuesday aboard the unmanned Progress 25 cargo ship, Anderson said, adding that his Russian-built Sokol spacesuit and Soyuz seat liner will ride into space aboard Atlantis. Only a small number of items will have to wait for the STS-118 launch later this summer, he added.
Anderson plans to spend about five months in orbit, and is slated to be relieved in late October by fellow NASA astronaut Daniel Tani during the STS-120 mission to the ISS.
VIDEO: Meet the Space Station Crew of Expedition 15
SPACE.com Interplayer: Space Station Ready for Orbital Expansion
Complete Space Station Mission Coverage