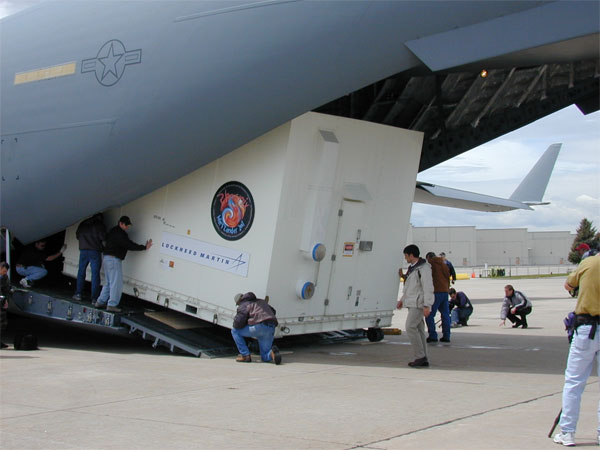 CAPE CANAVERAL, Fla. -- NASA's next mission to Mars has made one small step for a robot - safely arriving here in Florida via a cargo aircraft. The Phoenix Mars lander is now undergoing its first checkouts for a sendoff to the red planet in August.
A U.S. Air Force C-17 cargo aircraft transported Phoenix from Buckley Air Force Base, Colorado to Florida on May 7. The Mars probe was caravanned by truck to the base in a nitrogen-purged container, dispatched from the Mars lander's builder, Lockheed Martin Space Systems Company in Denver.
In an orchestrated dance of "loadmasters", Phoenix and associated hardware received tender loving care as they were tucked within the cavernous C-17 for shipment to the Kennedy Space Center's Shuttle Landing Facility in Florida.
Inside the chained down, sensor-laden, nitrogen-purged container, Phoenix itself was "double-bagged" said Tim Gasparrini, an engineering manager for Lockheed Martin Space Systems. That container maintained the spacecraft in a dry and clean state so that it can perform its science when it gets to Mars, he added.
Flight of the Phoenix
Here in Florida, work is also underway in prepping the booster for Phoenix - a Boeing-built Delta 2 rocket, handled under the auspices of the newly formed United Launch Alliance.
Targeted for an early August liftoff, Phoenix will cruise through space then land on a Martian arctic plain in May 2008. The robot is outfitted with a powerful digging arm and other instruments to determine whether the soil environment beneath the surface in that location might be a cozy hangout for microbial life.
As Phoenix was being prepared for airlift from Colorado to Florida, Ed Sedivy, Phoenix program manager at Lockheed Martin Space Systems, paced about the tarmac like an expectant father.
"It's an exciting day," Sedivy told SPACE.com. "There are only a handful of days when you are this excited. The day you win [the spacecraft contract]...the day you ship...the day you launch...and the day you land."
The flight of the Phoenix includes a nine-and-a-half month cruise to Mars, followed by a three month primary mission on Mars' surface, Sedivy noted.
The Mars lander was delivered to Florida folded inside its back shell and is now parked within a payload processing facility with its gold-colored wrappings removed May 8th. The first checkout activity will be a spin-balance test May 10 and 11.
Radar love
A major milestone, toward the end of this month, will be a landing radar integration test and launch system verification test. The last week of May will include an entry, descent and landing system verification test, followed by a guidance navigation and control test.
The Phoenix flight landing radar is a very complicated piece of equipment, Sedivy said. "It's an interesting technical challenge in itself."
That still-to-be-delivered critical hardware, built by Honeywell of Minneapolis, Minnesota, is a derivative of radar utilized by an F-16 jet aircraft. Tests are ongoing to meld landing radar hardware and software with results of drop tests and simulations of martian real estate that Phoenix will encounter on touchdown day.
Sedivy said that camera sweeps by NASA's Mars Reconnaissance Orbiter (MRO) using its High Resolution Imaging Science Experiment (HiRISE) have helped pick a Phoenix landing zone. Digital elevation maps of that zone have been produced, although more work is still to come to plot out the true landing footprint for Phoenix, he added.
Images: Visualizations of Mars
All About Mars