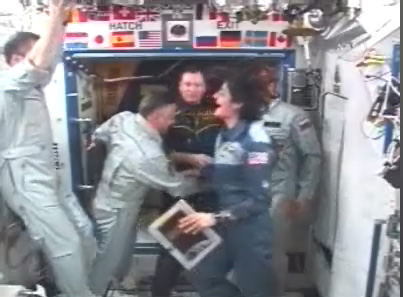 Two astronauts aboard the International Space Station (ISS) turned control of the orbital laboratory over to their replacements Tuesday. But the spaceflyers will spend one extra day in orbit after heavy rains flooded their landing site, according to Russian news reports.
ISS Expedition 14 commander Michael Lopez-Alegria, flight engineer Mikhail Tyurin and U.S. space tourist Charles Simonyi are now slated to land Saturday -- one day later than planned -- Russia's Interfax News Agency reported Tuesday.
"The area of Arkalyk is flooded due to heavy rainfall," Igor Panarin, a spokesperson for Russia's Federal Space Agency, was quoted by Interfax as saying. "This could complicate the arrival of search vehicles in the landing zone. Therefore it was decided to land the spacecraft further to the south in the area of Jezkazgan."
NASA officials said that the Expedition 14 crew's alternate landing area is northeast of Arkalyk, but southeast of the typical touchdown point for Soyuz spacecraft.
Lopez-Alegria and Tyurin are concluding a seven-month mission to the ISS that began with the September 2006 launch of their Soyuz TMA-9 spacecraft. They are due to land with Simonyi -- the fifth space tourist to visit the space station -- on April 21 at about 8:30 a.m. EDT (1230 GMT).
Simonyi, 58, is paying between $20 million and $25 million for a 13-day spaceflight under an agreement between the Federal Space Agency and the Virginia-based firm Space Adventures. A former Microsoft software developer with a lifelong interest in human spaceflight, Simonyi is documenting his spaceflight via his Web site: www.charlesinspace.com.
On Tuesday, the Expedition 14 crew turned over control of the ISS to Expedition 15 commander Fyodor Yurchikhin and flight engineers Oleg Kotov and Sunita Williams during a traditional ceremony that included ringing the ship's bell inside the station's U.S. Destiny laboratory.
"Fyodor, it's with a lot of envy and a lot of congratulations that I relinquish the good ship Alpha," said Lopez-Alegria, who, like Williams, is a U.S. Navy officer, using the station's official call sign.
Williams, who served as a member of the Expedition 14 crew, is staying on for part of the Expedition 15 mission and is due to return to Earth aboard a NASA space shuttle later this summer.
"We love our station, and we think the Expedition 15 crew will feel the same at the very end of their mission," Tyurin said during the change of command ceremony.
While Lopez-Alegria and Tyurin will have to wait one more day for their return to Earth, the landing delay does give Simonyi yet another extra day in space. Simonyi was initially prepared for an 11-day trek to the ISS -- the typical duration of a station crew swap -- though Russian mission managers extended the flight two extra days to ensure the Soyuz TMA-9 lands during daylight.
Simonyi said he had already heard that he was getting one more extra day in space.
"That's great news," he said in an audio message posted to his Web site Tuesday.
Complete International Space Station Mission Coverage
Space News TV From the 23rd National Space Symposium