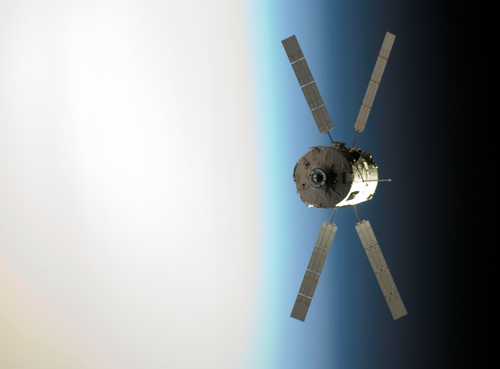 Europe's second space truck to haul cargo to the International Space Station has been christened the ?Johannes Kepler,? in honor of the German astronomer and mathematician.
The moniker, announced Thursday by the European Space Agency's (ESA), continues a naming tradition begun with Europe?s ?first space freighter, which launched to the space station in March 2008. That ship boasted the name of famed 19th century science fiction writer Jules Verne.
"We are proud that Europe's second [Automated Transfer Vehicle] will carry the name of Johannes Kepler," said Simonetta Di Pippo, ESA's Director of Human Spaceflight. "A world-renowned European scientist, his name reflects how Europe's role in human spaceflight and exploration is rooted in a long tradition of science and technological progress."
The real Johannes Kepler lived between 1571 and 1630 and is best known as the first to correctly explain planetary motion, which he described in a series of three laws. His cargo ship namesake is Europe?s second Automated Transfer Vehicle (ATV).
Each of ESA?s unmanned ATV space freighters are the size of a London double-decker bus and can haul almost eight tons of cargo, or three times the carrying capacity of the Russian automated Progress spacecraft that also service the space station.
The ATV Johannes Kepler is currently under construction at EADS Astrium in Bremen, Germany, for a planned launch next year. Its naming represents a tip of the hat to 2009 as the International Year of Astronomy, and also marks the 400th anniversary of the publication of one of Kepler's most influential works, "Astronomia Nova."
On its inaugural flight, the Jules Verne cargo ship delivered over six and a half tons of supplies to the space station, including food, clothing, propellants, water and oxygen. It also contributed to regular reboosts of the orbital complex and even served as a temporary astronaut washroom. Verne performed a final service upon departure by removing just under three tons of accumulated waste.
The space truck successfully ended its six-month mission with a fiery death dive into Earth's atmosphere to be disposed of as it burned up over the Pacific Ocean. NASA chase planes hired by ESA managed to capture the spacecraft?s re-entry on camera.
ESA has considered the possibility of creating a reusable spacecraft that could bring hardware and astronauts back down to Earth. Di Pippo even suggested converting ATV from a one-way asset into a return vehicle. But for now, Europe continues to build on the initial success of its current program.
The ATV Johannes Kepler is slated to launch toward the space station in mid-2010, ESA officials said.
New Video - Europe?s Automated Orbiter Evolves

Video - Fiery Finale: Goodbye, Jules Verne