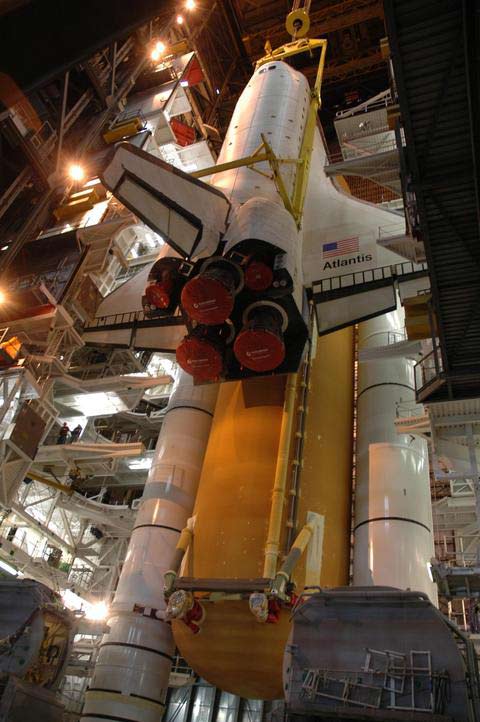 CAPE CANAVERAL - Shuttle Atlantis is scheduled to roll out to one of Kennedy Space Center's twin launch pads Thursday as NASA presses ahead with preparations for the planned March 15 launch of an International Space Station assembly mission.
Mounted atop its mobile launcher platform, the 4.5-million-pound shuttle will be moved to Kennedy Space Center's Launch Complex 39A by a giant flatbed tractor originally built to haul Saturn 5 moon rockets.
Atlantis is scheduled to emerge from the 52-story KSC Vehicle Assembly Building around 7 a.m. EST Thursday; the 3 1/2-mile trip to the pad is expected to take around six hours.
The rollout was delayed one day so engineers could tackle a technical issue with the shuttle's right-hand solid rocket booster [image].
One of three sensors that monitor chamber pressure within the booster produced erratic readings during routine pre-launch testing in the assembly building. The sensor was removed and will be replaced with a spare after the shuttle reaches the pad.
The one-day rollout delay is not expected to push back the planned March 15 launch of Atlantis and a six-man station construction crew.
"At this point, there are no technical issues that would prohibit us from targeting a March 15 launch," KSC spokeswoman Jessica Rye said.
Led by mission commander Rick Sturckow, the Atlantis astronauts aim to deliver a new 17.5-ton station truss segment [image] equipped with a new set of massive American solar wings. Now folded up in blanket boxes, the arrays will stretch 240 feet from tip-to-tip once unfurled in orbit.
The solar wing set is the third of four that will generate the electricity needed to run U.S. station systems. Its arrays will be deployed from the end of the 45-foot-long truss segment, which will be latched to the starboard side of the truss. The segment is identical to a portside girder delivered to the station during a shuttle mission last September.
Nestled in a 65-foot tall transportation canister, the prime payload for the upcoming mission was delivered to the launch pad earlier this week [image] and will be installed in the cargo bay of shuttle Atlantis next Monday.
The Atlantis astronauts will fly to KSC next week to take part in emergency training at the launch pad and a two-day practice countdown. Pilot Lee Archambault and mission specialists James Reilly, Steven Swanson, Patrick Forrester and John Olivas round out the crew.
An official launch date will be selected late this month at the conclusion of a traditional two-day flight readiness review. As it stands, Atlantis and its crew are set to blast off at 6:43 a.m. March 15. It will be the 118th mission for the shuttle program and the 28th for Atlantis.
Landing is scheduled at 1:54 a.m. EST March 26.
STS-117 Power Play: Atlantis Shuttle Crew to Deliver ISS Solar Wings
The Great Space Quiz: Space Shuttle Countdown
Complete Shuttle Mission Coverage
All About the Space Shuttle
Published under license from FLORIDA TODAY. Copyright ? 2007 FLORIDA TODAY. No portion of this material may be reproduced in any way without the written consent of FLORIDA TODAY.