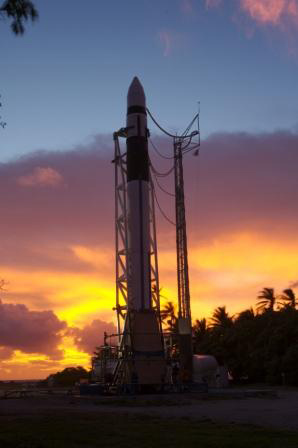 WASHINGTON - Space Exploration Technologies (SpaceX) announced Jan. 16 that it plans to attempt its second launch of the Falcon 1 rocket within the week.
The Falcon 1's first flight, conducted last March, ended in failure [image]. The rocket achieved only 30 seconds of powered flight before an engine fire traced back to a corroded nut brought the mission to an abrupt and premature conclusion [image].
In an update posted on the El Segundo, Calif.-based company's Web site, SpaceX CEO Elon Musk said the Falcon 1 is on the pad at the company's private launch complex in the Kwajalein Atoll in the Pacific Ocean and is being readied for a static fire test currently planned for Jan. 18 [image]. If all goes smoothly, according to Musk, SpaceX will attempt to launch during a two-day window that opens Jan. 21. He also said that SpaceX is working with range officials "to secure a couple of additional days as contingency."
"Should we go beyond that, which is still a good possibility as we work with the upgraded vehicle, pad, and procedures, the next available launch window is mid-February," Musk wrote.
The upcoming launch is a demonstration flight paid for by the U.S. Defense Advanced Research Projects Agency (DARPA), which also paid for the Falcon 1's debut launch.
Musk said a recently completed Flight Readiness Review concluded that the rocket, ground equipment and launch team are ready to go.
"The upgrades to the vehicle, Kwajalein launch facilities and our launch procedures have proven quite effective, and we have had a relatively smooth launch campaign up to this point," Musk wrote. "A number of non-critical issues arose during the wet-dress [rehearsal] and are being resolved, but we have seen nothing to date that should delay our launch schedule."