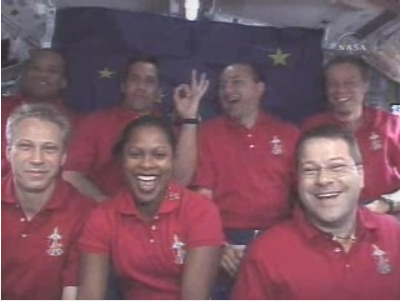 CAPE CANAVERAL, Fla. -- NASA's space shuttle Discovery and its seven-astronaut crew are cleared to come home Friday, though where they will ultimately land remains in question.
"Discovery is in great shape to land tomorrow," John Shannon, head of the shuttle's STS-116 Mission Management Team, said during a briefing late Thursday.
A final inspection of Discovery heat shield by its STS-116 crew yielded no concerns, Shannon said, adding that landing site weather is the mission's only question mark.
NASA is bringing up two backup landing sites in California and New Mexico in addition to Discovery's primary target here at the Kennedy Space Center (KSC).
Discovery's STS-116 crew is due to land at KSC's Shuttle Landing Facility at about 3:56 p.m. EST (2056 GMT), but carry enough supplies to hold out until Saturday if required [image].
The astronauts are completing a 13-day mission to the International Space Station (ISS), where they rewired the orbital laboratory's power grid, ferried a new crewmember to join its Expedition 14 crew and installed a new piece of the outpost's main truss. Earlier today, the crew deployed a small experimental satellite dubbed ANDE to measure the effects of atmospheric drag on spacecraft [image].
Landing preparations
The threat of rain -- which can damage shuttle heat shields if flown through -- and low clouds currently plague a planned KSC landing. High winds anticipated at California's Edwards Air Force Base are also a concern Friday.
Mission Control told Discovery's STS-116 mission commander Mark Polansky Thursday that it will be a real-time call Friday on where the seven astronauts eventually land.
"Just another standard landing," Polansky said.
At NASA's third landing option - Northrup Strip at White Sands Space Harbor in New Mexico - the weather Friday is expected to be acceptable, but the runway lacks much of the basic hardware and infrastructure to handle an orbiter after it returns to Earth.
Discovery's commander said Thursday that he's playing no favorites.
"We've trained extensively at all three sites, so we're very familiar with all of them," Polansky told ABC News in an interview on NASA TV. "We would hope to go to Florida and KSC. That's where the vehicle will be processed for its next mission, that's where our families will most likely be waiting for us, so that's always a plus."
NASA has landed an orbiter at White Sands' Northrup Strip only once in its 25-year history of shuttle flight during the STS-3 mission in 1982 aboard Columbia, which suffered brake damage and extensive contamination from gypsum dust.
Since then, a new towing area and concrete pad have been installed to protect the orbiter against the dust from the gypsum-covered lakebed runway [image].
"So we feel really good that the gypsum problem is taken care of once we get the vehicle off the lakebed," Shannon said, adding that runway is flat and laser-leveled. "It is just one of the best places you'd ever want to land anything."
NASA officials expect it would take between 45 and 60 days to return Discovery to KSC from White Sands, as compared to the traditional week of extra activity required to safe an orbiter at Edwards, hoist it atop its modified 747 jet carrier craft for the ferry ride back to its Florida launch site.
Shuttle return rundown
Norm Knight, NASA's entry flight director for Discovery's Friday landing, said shuttle's first landing opportunity opens during orbit 202 here at KSC, and requires the orbiter to fire its engines at 2:48 p.m. EST (1949 GMT) to make a 3:56 p.m. EST to touchdown in Florida.
If Discovery's crew waits until their 203rd orbit to land, they could aim first for Edwards and then preferably KSC around 5:30 p.m. EST (2230 GMT), though White Sands is also available on that pass.
Additional landing opportunities arise during the shuttle's next orbit, first at 7:00 p.m. EST (0000 Dec. 23 GMT) at Edwards, and then on White Sands' Northrup Strip two minutes later.
One last landing opportunity at Edwards during Discovery's 205th Earth orbit would put touchdown at 8:36 p.m. EST (0136 Dec. 23 GMT) before its crew would have to reset for Saturday.
"The strategy going into tomorrow is to pick a safe landing site," Knight said. "And if it's safe to do so, we will land the vehicle."
Images: The Spacewalks of NASA's STS-116
Images: Discovery's STS-116 Launch Day Gallery
Mission Discovery: The ISS Rewiring Job of NASA's STS-116
Complete Space Shuttle Mission Coverage
The Great Space Quiz: Space Shuttle Countdown
All About the Space Shuttle