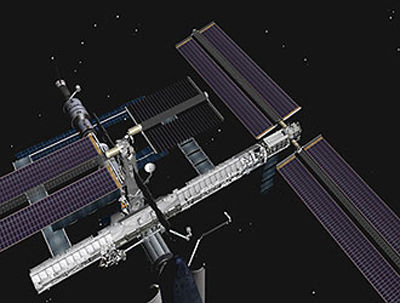 HOUSTON -- Astronauts aboard the International Space Station (ISS) partially tucked away one of the orbital laboratory's solar wings Wednesday and started up a power-producing paddlewheel on the outpost's port side.
After more than 40 attempts and six hours of work to stow a six-year-old solar array on the station's mast-like Port 6 (P6) truss, the joint ISS and Discovery shuttle crews settled for a semi-retracted state that was enough to allow a newer set of solar wings to begin tracking the Sun [image].
"It just wasn't going to work for us today, but that stuff happens and I'm sure we'll get through it," said Expedition 14 commander Michael Lopez-Alegria told flight controllers, apparently disappointed in the partial array retraction.
"Well Mike, actually, we consider it a success," NASA astronaut Steve Robinson, serving as spacecraft communicator, replied adding that the P6 array was hauled in enough to activate the station's massive port Solar Alpha Rotary Joint (SARJ) [image]. "We're looking at the SARJ rotating on the big screen and up there and we're quite happy about it."
The portside SARJ joint allows the station's Port 3/Port 4 (P3/P4) solar arrays to rotate like a paddlewheel and efficiently generate power by tracking the Sun while the ISS orbits the Earth [image]. That rotation is vital for the space station's future, since the P3/P4 solar arrays will serve as the prime source of power after two planned spacewalks set for Thursday and Saturday of this week.
Robinson added that mission controllers are now discussing whether to add additional tasks to the planned Saturday spacewalk for Discovery's STS-116 crew, add a fourth spacewalk altogether to the mission, or reserve the remaining P6 array retraction for a later ISS crew-only extravehicular activity (EVA) [image].
Stop and go retraction
Wednesday's retraction work marked the first time astronauts attempted to furl the 115-foot (35-meter) P6 array, known as P6-4B, since the solar wing's initial deployment in December 2000.
Retraction began in earnest at about 1:28 p.m. EST (1828 GMT), but astronauts quickly found that the array, which originally stretched out over the P3/P4 truss, was prone to errant folds [image]. Slack in some array guide wires also caused some strife.
"It's kind of like folding a map up," said Discovery's STS-116 commander Mark Polansky said as he watched the process. "You have the folds in the paper, and if you start folding it and the fold is going the wrong way, you can try a little bit but there gets a point where it just bows out and there's nothing you can do other than to pop it back in place or unfold it and try again."
That prompted astronauts aboard the ISS to retract the P6-4B array until an errant fold occurred, then extend the solar wing back out and try again, a technique that newly arrived ISS astronaut Sunita "Suni" Williams said produced favorable results.
"Okay Suni, that's good news to hear. You've got a bunch of guys about to turn blue here," astronaut Terry Virts told the ISS crew, prompting laughs at NASA's Mission Control here since flight controllers said the same thing to Neil Armstrong and Buzz Aldrin after their 1969 Moon landing.
Solar array rotation begins
In order to begin rotating the P3/P4 truss, astronauts had to retract at least 40-percent of the P6-4B array into its storage boxes.
Each U.S.-built solar array aboard the ISS is made up of two "blankets" connected to a pop-up mast divided into 31 ? sections known as bays. To rotate the P3/P4 arrays, ISS and Discovery astronauts could leave a maximum of 19 mast bays of the P6 array still deployed.
After hours of back and forth motion, the astronauts managed to retract the array enough to leave about 17 ? bays exposed.
That gave ISS flight controller the room they needed to commence rotation of P3/P4, which began at about 8:00 p.m. EST (0100 Dec. 14 GMT). They also began filling an ISS cooling system with its ammonia coolant.
Today's array rotation and retraction work, along with the remaining STS-116 spacewalkers, are vital steps building up the ISS for the arrival of future modules and laboratories, NASA officials said.
"The station, for all this time, has been in this infant stage," John Curry, NASA's ISS flight director for the STS-116 mission. "We need to go to the permanent system so that we can add the Japanese module Kibo and the [European Space Agency's] Columbus later."
Those modules are due to arrive at the ISS in 2007 and 2008, he added.
Images: Discovery's STS-116 Launch Day Gallery
STS-116 Video: Power is Everything
STS-116 Video: Building Blocks
Mission Discovery: The ISS Rewiring Job of NASA's STS-116
Complete Space Shuttle Mission Coverage
The Great Space Quiz: Space Shuttle Countdown
All About the Space Shuttle