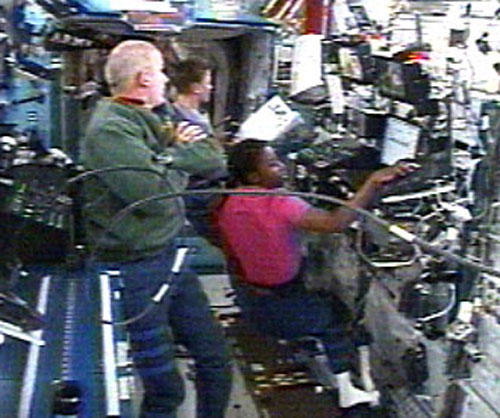 HOUSTON - The astronauts aboard the space shuttle Discovery will take a second look at the orbiter's heat shield today, but are quite content with how pristine the spacecraft appears to date.
STS-121 pilot Mark Kelly and mission specialist Stephanie Wilson are set to guide Discovery's sensor-laden inspection boom to several areas that have piqued interest from flight controllers. The shuttle crew is scheduled to spend about four hours today on focused inspections of Discovery's heat-resistant tiles and wing leading edge panels.
"At this point we're really satisfied," Kelly told CBS News Radio during a series of interviews from space. "We haven't really had many problems with Discovery."
Early reports from image analysts on Earth have turned up few concerns over the shuttle's well-being or any doubts of its ability to return home safely. Image analysis is still ongoing, but mission managers said Thursday they anticipated clearing the orbiter's heat shield by the end of the weekend.
"I'm not all surprised," shuttle commander Steven Lindsey told Fox News Radio. "We're obviously really pleased that things are going well and hats off to the shuttle team."
Orbital work
Lindsey and his seven astronaut crew are in the fourth day of a 12-day mission - a potential one-day extension is expected today - to the International Space Station (ISS). They docked at the orbital laboratory Thursday after a July 4th launch, and are the first human visitors in three months for the station's two Expedition 13 astronauts.
"Yes, it is a full house," said NASA astronaut Jeffrey Williams, a flight engineer for the Expedition 13 mission, to flight controllers later Thursday. "The climate here has changed significantly."
Discovery's STS-121 mission is NASA's second orbiter test flight since the 2003 Columbia accident and has already fulfilled a major flight goal - returning the ISS to its three-person crew capacity - when it ferried European Space Agency (ESA) astronaut Thomas Reiter to the orbital laboratory on Thursday.
The STS-121 crew also delivered a pressurized cargo pod, the Italian-built Leonardo module, to the ISS earlier today, and plans to conduct the mission's first spacewalk on Saturday.
"Today, we're gathering up our tools and equipment," STS-121 spacewalker and mission specialist Michael Fossum said. "We'll be setting up the space suits and doing some check outs."
Fossum and fellow STS-121 spacewalker Piers Sellers will safeguard a cable cutter on the station's railcar-like Mobile Transporter, to prevent the accidental severing of a critical data and video cable during Saturday's planned extravehicular activity. They will then stand at the end of Discovery's 50-foot (15-meter) orbital boom - which itself will sit at the end of the orbiter's already 50-foot (15-meter) robotic arm - to test whether the outstretched 100-foot (33-meter) appendage can function as a stable work platform for heat shield repairs to Discovery's undercarriage.
That first spacewalk is set to begin at 9:13 a.m. EDT (1313 GMT) on Saturday.
A nice ride
Like several of his crewmates, Fossum is making his first spaceflight during Discovery's STS-121 mission. The feeling during launch, as Discovery first throttled down then ramped back up to reach orbit, was something else, he said.
"It was just better than I ever expected," Fossum told ABC News Radio. "You really felt zooming, if you will, and the pressure kept building until you reach three Gs and then nothing. You're in space."
Lindsey told reporters that he expected to be unnerved Thursday when he guided Discovery through an orbital back flip to expose its tile-lined belly to the ISS crew, and he wasn't disappointed.
"The vehicle reacted exactly as I expected," Lindsey said. "I would tell you though, I don't like being upside down and out sight of the space station at 600 feet below it."
But he and his crewmates - especially Kelly and Sellers, who have flown to the ISS before - were impressed by how neat and tidy the Expedition 13 crew had prepared the station for their visit.
"There is nothing quite to describe what it's like...to go dock with another vehicle in space, and then to open the hatches and then go from your vehicle into a new vehicle," Lindsey said. "It's really a neat feeling."
Gallery: Shuttle's First Flight
Gallery: Rare Space Shuttle Images
Shuttle Discovery: Complete Mission Coverage
Great Space Quizzes: Space Shuttle Countdown
Great Space Quizzes: The Space Shuttle
Great Space Quizzes: Life in Orbit