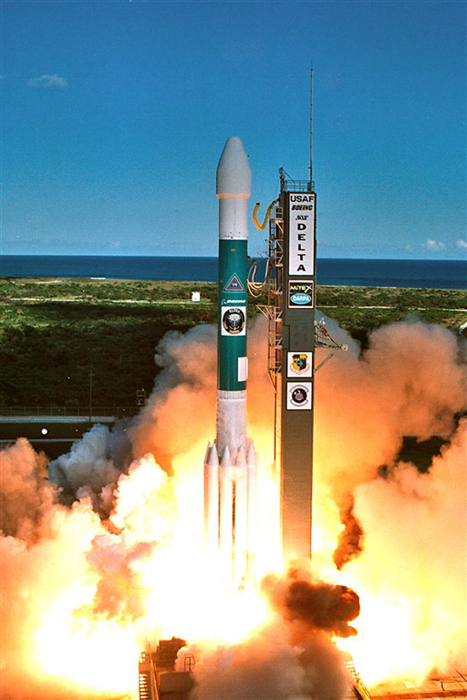 An experimental U.S. military project to characterize the performance of two micro-satellite trailblazers operating 22,300 miles above Earth and a prototype maneuvering motor for small spacecraft began with a beautiful blastoff from Cape Canaveral Wednesday evening.
The Micro-Satellite Technology Experiment, or MiTEx, was successfully delivered into space by Boeing's workhorse Delta 2 rocket. Launch from pad 17A occurred at 6:15 p.m. EDT (2215 GMT) after a short delay to clear both a technical issue with the payload and any boats from the restricted waters under the rocket's flight path.
The swift half-hour ascent by the three-stage rocket put MiTEx into an elliptical geosynchronous transfer orbit to mark the 67th consecutive successful Delta 2 mission dating back to 1997 and the 120th success overall in 122 flights since 1989.
The Delta's job has been completed but the year-long missions for the two 500-pound micro-satellites of MiTEx can't begin quite yet. The miniature spacecraft are relying on their Naval Research Laboratory-developed upper stage rocket motor to boost them from the current launch orbit to the final destination -- a circular geostationary orbit over the equator.
The Defense Advanced Research Projects Agency, Air Force and Navy have collaborated to fly this space mission to test technologies that could be incorporated in future military programs. MiTEx will prove whether the technologies -- for satellites and upper stages -- are deemed worthy or simply need more work.
According to information about MiTEx provided to Spaceflight Now by DARPA officials, the major goals of the project include:
Develop and flight-test a new experimental upper stage
Investigate and demonstrate advanced space technologies such as lightweight power and propulsion systems, avionics, and spacecraft structures; commercial-off-the-shelf processors; affordable, responsive fabrication/build-to-launch techniques; and single-string components
Demonstrate a one-year lifetime for small satellites built using these new technologies and techniques
Demonstrate the ability to insert small satellites into geostationary orbit
Gain experience in the operations and determine the potential utility of small satellites for future Defense Department missions in a geostationary orbit
The new upper stage burns monomethylhydrazine and nitrogen tetroxide. It is equipped with a 90-pound-force engine as well as a half-dozen five-pound-force engines.
Specific technologies being tested on the stage include:
Platinum/rhodium bi-propellant attitude control thrusters
High-performance coated columbium delta-V thruster
Commercial off-the-shelf manual valve tested to aerospace standards
Light-weight Inconel-718 composite overwrap pressure vessels
Lightweight titanium propellant tanks with internal propellant management devices
Triple junction solar cells
Lithium-ion batteries
A low-cost/high-performance star tracker
The micro-satellites are bound for geostationary orbit, a unique vantage point 22,300 miles above the equator that allows spacecraft to match the planet's rotation and appear fixed over one location.
Geostationary orbit is the home of government and commercial communications satellites, plus spy spacecraft for eavesdropping reconnaissance missions and missile-launch detection.
Once the MiTEx upper stage achieves that orbit, the micro-satellite pair will be deployed from the motor to begin running their experiments for the benefit of military planners.
"The satellites will conduct a variety of experiments in autonomous operations and maneuvering and station-keeping. MiTEx will also demonstrate the ability to launch multiple small satellites into GEO orbit," according to DARPA officials.
Orbital Sciences built one satellite and Lockheed Martin the other.
"Since (they were) built by different companies, they are not identical, but both will investigate and demonstrate high payoff technologies. Immediately after release, the spacecraft will commence independent operations," DARPA officials said.
Meanwhile, the Delta launch team has little time to savor Wednesday's success. About 60 workers and managers involved in the MiTEx liftoff must get in position to support next Tuesday's Delta 4 rocket launch from Vandenberg Air Force Base, California. That classified liftoff carrying a national security spy satellite will happen sometime between 7 and 9 p.m. local time (10 p.m. - 12 a.m. EDT).
For the rest of the Cape crew, assembly of another Delta 2 rocket is underway at pad 17B to launch NASA's STEREO solar observing probes July 22. The first stage and some of its strap-on solid boosters have been erected at the pad. Now that MiTEx is on its way, preparations for STEREO can proceed in full force.
"We've taken a break in the action while we get MiTEx (launched). Everything is secured and we're ready to resume STEREO the day after we launch MiTEx," Rick Navarro, Boeing's director of Delta launch operations, said in an interview this week.
Pad 17A will be cleaned up from the MiTEx launch and readied to support the next Global Positioning System satellite liftoff currently planned for September.
"Busy and exciting times," Navarro said.
Copyright 2006 SpaceflightNow.com, all rights reserved.