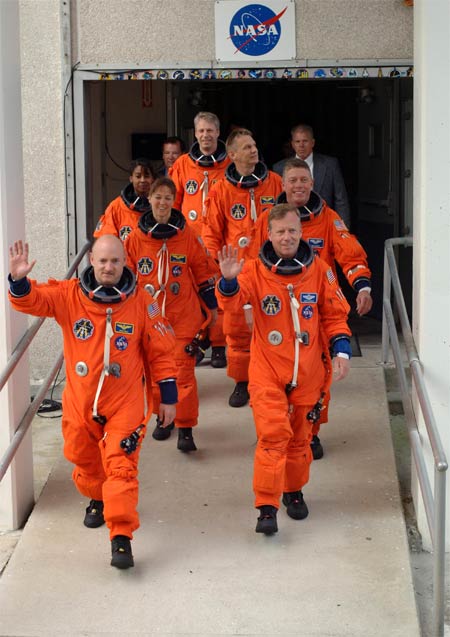 CAPE CANAVERAL, Fla. - Seven astronauts aborted the launch of the space shuttle Discovery just seconds before a simulated liftoff Thursday during a dress rehearsal of their planned July 1 space shot.
A mock main engine shutdown four seconds before "liftoff" prompted the abort and escape exercise for the STS-121 astronauts, NASA's second shuttle crew to launch since the 2003 Columbia accident, during a two-day training session here at the Kennedy Space Center (KSC).
"It went very well, we had a good test," NASA KSC spokesperson Bruce Buckingham told reporters after the training session, adding that the Discovery orbiter could have launched today if the simulation were real. "I would have been here on launch day saying we had no problems at all."
Thursday's mock countdown was part of the STS-121 crew's Terminal Countdown Demonstration Test (TCDT), a two-day activity that allows astronaut crews to rehearse the final hours before launch alongside pad workers and flight controllers.
"The training we get here is invaluable," STS-121 commander Steve Lindsey said Wednesday in a press briefing. "There's really only one other time we get to get inside the vehicle."
Shuttle crews also inspect their spacecraft during the Crew Equipment Interface Tests (CEITs) that precede each shuttle launch. The STS-121 crew arrived at KSC Tuesday for their TCDT training one day later than expected due to stormy weather. They rehearsed some launch pad escape procedures and attending mission briefings on Wednesday.
"It's close to the simulator...but it's a little bit different," said Lindsey, a three-time shuttle flyer, of the TCDT training. "This is my fourth time doing it and I still get excited."
NASA's STS-121 shuttle flight will mark the second post-Columbia mission after the July 2005 launch of the STS-114 return to flight space shot. The mission, the second of two test flights to check orbiter inspection and repair methods, will fly to the International Space Station (ISS) on a 13-day spaceflight.
Hundreds of NASA shuttle engineers, workers and mission managers are expected to begin a two-day meeting at KSC Friday to pick a final launch date for the STS-121 mission, Buckingham said.
Discovery's launch window stretches between July 1 and July 19, with another flight opportunity in late August.
A clean simulation
Shuttle astronauts, pad close-out crews and launch controllers worked smoothly through today's launch simulation, which began at about 7:45 a.m. EDT (1145 GMT) when the STS-121 crew walked out to their AstroVan in their orange flight suits.
"We did not throw any gremlins into the mix like we do in some of our simulations," Buckingham said. "This was basically a clean, crisp dress rehearsal like one we do anytime before launch."
There were a few minor glitches, associated with the simulation and not the actual countdown, but Buckingham assured that there was no cause for concern for an actual space shot.
"It's not something that would have been a problem on launch day," Buckingham said.
Lindsey and his fellow STS-121 astronauts are expected to return to Discovery at Pad 39B later today to survey the orbiter's payload bay. Lindsey is expected to speak with the media Friday before he and his crewmates return to NASA's Johnson Space Center in Houston later that day.
"Just being down here and seeing the vehicle on the pad and seeing everybody really excited, it makes it all seem very, very real," Lindsey said of the Discovery's upcoming launch.
Return to Flight: NASA's Road to STS-121