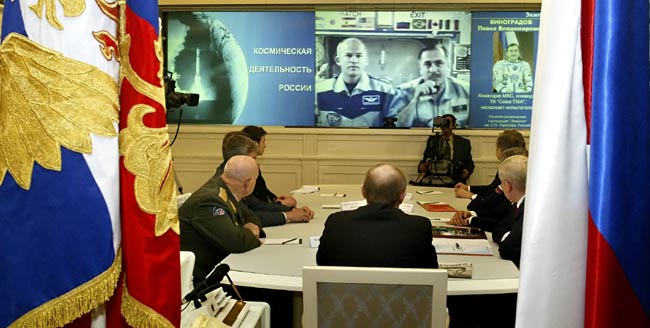 MOSCOW (AP) - Russian President Vladimir Putin chatted Wednesday with the U.S.-Russian crew on the International Space Station via a televised hookup marking the 45th anniversary of Yuri Gagarin's flight to space, wishing them a successful mission and hailing international cooperation in the cosmos.
"It is a pleasure to see that representatives of Russia and the United States are working together on the same platform, the International Space Station,'' Putin told Russian cosmonaut Pavel Vinogradov and U.S. astronaut Jeff Williams as Russia marked Cosmonauts Day, marking Gagarin's pioneering orbit around the Earth on April 12, 1961.
Putin asked Williams through an interpreter how the Russian Soyuz spacecraft compares to the U.S. shuttle.
Williams answered him in Russian, saying he liked both ships.
"Soyuz is a very good ship, but flying the shuttle, of course, is also very interesting,'' Williams said. "They complement each other.''
The American space program has depended on the Russians for cargo and astronaut delivery since the February 2003 Columbia disaster grounded the shuttle fleet. The shuttle Discovery visited the station last July but problems with the external fuel tank's foam insulation have cast doubt on when shuttles might return to flight.
Vinogradov thanked Putin on behalf of the crew, saying his support for the space research was very important. "It's important not only for us cosmonauts, but for scientists and experts as well,'' he said.
Vinogradov jokingly invited Putin to visit the station.
"I would like to invite Vladimir Vladimirovich to visit us. He has been out to sea in a submarine, has learned how to operate strategic aircraft and feels at home in the Su-27 fighter,'' Vinogradov said in reference to Putin taking the co-pilot seats in a Su-27 fighter and a Tu-160 strategic bomber and watching naval maneuvers from a nuclear submarine.
"Maybe during vacation,'' Putin answered.
Vinogradov and Williams arrived at the station on April 1 together with Brazil's first astronaut, Marcos Pontes, who spent a week in orbit and returned to Earth on Sunday with the station's previous crew, Russian Valery Tokarev and American Bill McArthur.
Putin also spoke with Pontes, Tokarev and McArthur via a televised hookup with the Star City cosmonauts' training center, where they are undergoing post-flight rehabilitation. He congratulated the Brazilian on his mission.
"That was a big even not only for Brazil, but for the entire space community,'' Putin said. "Another powerful nation has joined the countries exploring space, and it will bring a significant contribution to common efforts.''