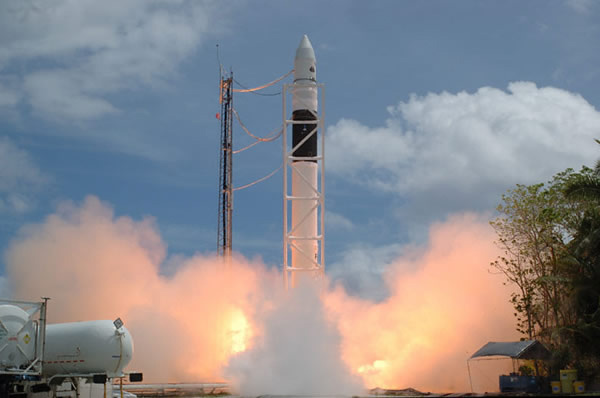 This story was updated at 9:58 a.m. EST.
After three failed attempts, the private launch firm Space Exploration Technologies (SpaceX) is once more set to debut its Falcon 1 rocket in a Friday space shot.
SpaceX officials delayed the launch 24 hours to allow additional time to system checks and reviews.
"We are feeling more and more confident with each countdown attempt," said Elon Musk, founder of the El Segundo, California-based SpaceX, via e-mail from the firm's launch site. "It is also worth noting that four countdown attempts is actually a small number for a brand new rocket from a brand new launch site.
The two-stage Falcon 1 rocket is slated to launch spaceward at 4:00 p.m. EST (2100 GMT) from its equatorial staging ground on the Kwajalein Atoll in the Pacific Ocean's Marshall Islands. The launch window closes at 10:00 p.m. EST (0300 March 24 GMT), SpaceX officials said.
A series of engine tests over the last week have raised no serious issues, though SpaceX engineers are trying to cover all their bases.
"Some people out here think that everything should work the first time, which is not realistic," Musk said.
SpaceX's first Falcon 1 rocket is slated to orbit the $800,000 FalconSat-2 spacecraft, a cube-shaped probe built by U.S. Air Force Academy cadets to study the effects of space plasma on communications and global positioning satellites. The small spacecraft weighs about 43-pounds (19.5-kilograms) and measures 12.5 inches (32 centimeters) per side. The U.S. Air Force and Defense Advanced Research Projects Agency (DARPA) are supporting the $6.7 million launch.
FalconSat-2's mission has suffered three false starts due to technical issues. A computer glitch and liquid oxygen leak forced SpaceX launch controllers to abort an attempted space shot on Nov. 26, while a structural issue prompted a Dec. 19 scrub. Unsatisfactory vehicle tests led to the third scrub.
But each of those attempts also yielded valuable experience for SpaceX launch crews and flight controllers, Musk said.
"Even if the launch is not completely successful, we will be able to gather a lot of good data," he added.
Falcon 1 is the first of a planned family of rockets which SpaceX hopes will ferry ever-larger payloads into orbit. The firm is also developing a heavy-lift Falcon 9 rocket and its Dragon reusable crew and cargo capsule for servicing flights to the International Space Station (ISS).
The first stage of Falcon 1 is designed to parachute to an ocean landing where it can be retrieved by recovery crews for later refurbishment and a future launch. The liquid oxygen and kerosene-powered rocket stands about 68 feet (21 meters) tall and is capable of delivering about 77,000 pounds of thrust, SpaceX officials said.
In addition to its Kwajalein Atoll launch site, the rocket is also designed to launch from California's Vandenberg Air Force Base, where Musk expects Falcon 1's second mission to begin.